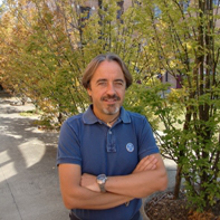 SELVA Maurizio
Position

Full Professor
Roles

Management Committee of the University Scientific Instrumentation Service Center (CSA)'s Member
Department of Molecular Sciences and Nanosystems' Director

Telephone

041 234 8687
E-mail
Fax

041 234 8979
Scientific sector (SSD)

CHIMICA ORGANICA [CHIM/06]
Website

www.unive.it/persone/selva (personal record)

Office

Department of Molecular Sciences and Nanosystems (Department Director)
Website: https://www.unive.it/dep.dsmn
Where: Campus scientifico via Torino
Room: office 222-223 (Epsilon building, 2nd floor) / research lab 201-202 (Epsilon building, 2nd floor)
Dati relazione
Periodo di riferimento

01/01/2018 - 31/12/2020
Afferenza

Dipartimento di Scienze Molecolari e Nanosistemi
Ruolo

Professori Ordinari
Attività didattica
| A.A. | Insegnamento | Codice | Voto | Voto medio area |
| --- | --- | --- | --- | --- |
| 2017/2018 | CHIMICA ORGANICA 2 E LABORATORIO | CT0055 | 3.6 | 3.2 |
| 2017/2018 | SINTESI ORGANICHE ECO-COMPATIBILI E LABORATORIO | CM0348 | 3.4 | 3.2 |
| 2019/2020 | CHIMICA ORGANICA 2 E LABORATORIO | CT0055 | 8.2 | 7.9 |
| 2019/2020 | SINTESI ORGANICHE ECO-COMPATIBILI E LABORATORIO | CM0348 | 7.5 | 7.9 |
Tesi
| Anno solare | Tipologia | Tesi Relatore | Tesi Correlatore |
| --- | --- | --- | --- |
| 2018 | Corso di laurea | 1 | |
| 2018 | Corso di laurea magistrale | 1 | |
Finanziamenti
Added-value chemical products and energy from bio-waste: (Anaerobic Digestion and Microalgae) integrated bio-phys-chem processes for a circular economy approach
Erasmus + ICM KA107 con il Giappone 2018
Estrazioni "green" di prodotti naturali da matrici arboree e di scarto agricolo e loro valorizzazione in prodotti per la cosmesi
FISH-MeeTing: sustainable recovery and valorisation of fish wastes processing
Green Organic Agents for Sustainable Tanneries (GOAST)
Sustainable Valorization of Non-Edible Residues of the Aquaculture and Fish Processing Industries: learning from the Australian Standard
Valorisation of the terpene fraction of agro-food waste: green extractions with supercritical carbon dioxide for the formulation of nutraceutical and cosmetic products with antioxidant and anti-inflammatory activity
Valorizzazione di scarti del comparto confetturiero: estrazioni ecocompatibili con anidride carbonica supercritica per la formulazione di nuovi prodotti nutraceutici e cosmetici
Ricerche sviluppate e in corso
Chimica del glicerolo
Derivati da biomasse per prodotti chimici ad alto valore aggiunto
Formazione del legame C-C in CO2 supercritica
Sintesi pulite: dialchilcarbonati, liquidi ionici funzionali e loro applicazioni
Pubblicazioni realizzate nel triennio
Davide Rigo, Roberto Calmanti, Alvise Perosa, Maurizio Selva (2020), A transesterification-acetalization catalytic tandem process for the functionalization of glycerol: the pivotal role of isopropenyl acetate in GREEN CHEMISTRY, vol. 22, pp. 5487-5496 (ISSN 1463-9262) (Articolo su rivista)
Rigo, D., Calmanti, R., Perosa, A., & Selva, M. (2020), A transesterification–acetalization catalytic tandem process for the functionalization of glycerol: the pivotal role of isopropenyl acetate in GREEN CHEMISTRY, vol. 22 (ISSN 1463-9270) (Articolo su rivista)
Giulia Fiorani, Claudia Crestini, Maurizio Selva, Alvise Perosa (2020), Advancements and Complexities in the Conversion of Lignocellulose Into Chemicals and Materials in FRONTIERS IN CHEMISTRY, vol. 8, pp. 797 (ISSN 2296-2646) (Articolo su rivista)
Cailotto, Simone; Negrato, Matteo; Daniele, Salvatore; Luque, Rafael; Selva, Maurizio; Amadio, Emanuele; Perosa, Alvise (2020), Carbon dots as photocatalysts for organic synthesis: metal-free methylene–oxygen-bond photocleavage in GREEN CHEMISTRY, vol. 22, pp. 1145-1149 (ISSN 1463-9262) (Articolo su rivista)
Maurizio Selva (2020), Nano-technologies for the sustainable valorisation of biowastes in CURRENT OPINION IN GREEN AND SUSTAINABLE CHEMISTRY, vol. 24, pp. 38-41 (ISSN 2452-2236) (Articolo su rivista)
Amadio E.; Cailotto S.; Campalani C.; Branzi L.; Raviola C.; Ravelli D.; Cattaruzza E.; Trave E.; Benedetti A.; Selva M.; Perosa A. (2020), Precursor-Dependent Photocatalytic Activity of Carbon Dots in MOLECULES, vol. 25, pp. 101 (ISSN 1420-3049) (Articolo su rivista)
Carlotta Campalani, Emanuele Amadio, Simone Zanini, Stefano Dall'Acqua, Marina Panozzo, Sara Ferrari, Gabriele De Nadai, Stefano Francescato, Maurizio Selva, Alvise Perosa (2020), Supercritical CO2 as a green solvent for the circular economy: extraction of fatty acids from fruit pomace in JOURNAL OF CO2 UTILIZATION, vol. 41, pp. 101259 (ISSN 2212-9839) (Articolo su rivista)
Campalani, Carlotta; Chioggia, Francesco; Amadio, Emanuele; Gallo, Michele; Rizzolio, Flavio; Selva, Maurizio; Perosa, Alvise (2020), Supercritical CO2 extraction of natural antibacterials from low value weeds and agro-waste in JOURNAL OF CO2 UTILIZATION, vol. 40, pp. 101198 (ISSN 2212-9820) (Articolo su rivista)
Calmanti R.; Selva M.; Perosa A. (2020), Tungstate ionic liquids as catalysts for CO2 fixation into epoxides in MOLECULAR CATALYSIS, vol. 486, pp. 110854 (ISSN 2468-8231) (Articolo su rivista)
Thomas Maschmeyer, Rafael Luque, Maurizio Selva (2020), Upgrading of Fish Biowastes for High Added-Value Molecules and Bio(nano)-materials in CHEMICAL SOCIETY REVIEWS, vol. 49, pp. 4527-4563 (ISSN 0306-0012) (Articolo su rivista)
Selva, Maurizio; Perosa, Alvise; Fiorani, Giulia (2020), Phosphonium salts and P-ylides , Organophosphorus Chemistry: Volume 49, Cambridge, Royal Society of Chemistry, vol. 49, pp. 148-197 (ISBN 978-1-78801-864-7) (Articolo su libro)
Belle, A; Tabanelli, T; Fiorani, G; Perosa, A; Cavani, F; Selva, M; (2019), A Multiphase Protocol for Selective Hydrogenation and Reductive Amination of Levulinic Acid with Integrated Catalyst Recovery in CHEMSUSCHEM, WILEY-V C H VERLAG GMBH, vol. 12, pp. 3343-3354 (ISSN 1864-5631) (Articolo su rivista)
Rigo, Davide; Fiorani, Giulia; Perosa, Alvise; Selva, Maurizio (2019), Acid-Catalyzed Reactions of Isopropenyl Esters and Renewable Diols: A 100% Carbon Efficient Transesterification/Acetalization Tandem Sequence, from Batch to Continuous Flow in ACS SUSTAINABLE CHEMISTRY & ENGINEERING, vol. 7, pp. 18810-18818 (ISSN 2168-0485) (Articolo su rivista)
Maurizio Selva, Alvise Perosa, Daily Rodríguez-Padrón, Rafael Luque (2019), Applications of Dimethyl Carbonate for the chemical upgrading of bio-sourced platform chemicals in ACS SUSTAINABLE CHEMISTRY & ENGINEERING, vol. 7, pp. 6471-6479 (ISSN 2168-0485) (Articolo su rivista)
Maurizio Selva; Rafael Luque (2019), Benign-by-design advanced nanomaterials for environmental and energy-related applications in CURRENT OPINION IN GREEN AND SUSTAINABLE CHEMISTRY, vol. 15, pp. 98-102 (ISSN 2452-2236) (Articolo su rivista)
Roberto Calmanti, Emanuele Amadio, Alvise Perosa, Maurizio Selva (2019), Reaction of Glycerol with Trimethyl Orthoformate: Towards the Synthesis of New Glycerol Derivatives in CATALYSTS, vol. 9, pp. 534 (ISSN 2073-4344) (Articolo su rivista)
Ellen Hemming, Anthony Masters, Alvise Perosa, Maurizio Selva, Thomas Maschmeyer (2019), Single-Step Methylation of Chitosan Using Dimethyl Carbonate as a Green Methylating Agent in MOLECULES, vol. 24, pp. 3986 (ISSN 1420-3049) (Articolo su rivista)
Chunping Xu, Mahmoud Nasrollahzadeh, Maurizio Selva, Zahra Issaabadi, Rafael Luque (2019), Waste-to-wealth: biowaste valorization into valuable bio(nano)materials in CHEMICAL SOCIETY REVIEWS, vol. 48, pp. 4791-4822 (ISSN 0306-0012) (Articolo su rivista)
Selva, Maurizio; Perosa, Alvise; Fiorani, Giulia; Cattelan, Lisa (2019), CHAPTER 14. CO2 and Organic Carbonates for the Sustainable Valorization of Renewable Compounds in Maurizio Selva, Alvise Perosa, Giulia Fiorani, Lisa Cattelan, Green Synthetic Processes and Procedures, Cambridge, Royal Society of Chemistry, pp. 319-342 (ISBN 978-1-78801-512-7) (Articolo su libro)
Selva, M.; Perosa, A.; Fiorani, G. (2019), Phosphonium Salts and P-Ylides , Organophosphorus Chemistry in RSC CATALYSIS SERIES, Cambridge, Royal Society of Chemistry, vol. 48, pp. 145-198 (ISBN 9781788017237) (ISSN 1757-6725) (Articolo su libro)
Cailotto, Simone; Amadio, Emanuele; Facchin, Manuela; Selva, Maurizio; Pontoglio, Enrico; Rizzolio, Flavio; Riello, Pietro; Toffoli, Giuseppe; Benedetti, Alvise; Perosa, Alvise (2018), Carbon-dots from sugars and ascorbic acid: Role of the precursors on morphology, properties, toxicity and drug uptake in ACS MEDICINAL CHEMISTRY LETTERS, vol. 9, pp. 832-837 (ISSN 1948-5875) (Articolo su rivista)
Cailotto, Simone; Mazzaro, Raffaello; Enrichi, Francesco; Vomiero, Alberto; Selva, Maurizio; Cattaruzza, Elti; Cristofori, Davide; Amadio, Emanuele; Perosa, Alvise (2018), Design of Carbon Dots for Metal-free Photoredox Catalysis in ACS APPLIED MATERIALS & INTERFACES, vol. 10, pp. 40560-40567 (ISSN 1944-8244) (Articolo su rivista)
Fiorani, G.; Perosa, A.; Selva, M. (2018), Dimethyl carbonate: a versatile reagent for a sustainable valorization of renewables in GREEN CHEMISTRY, vol. 20, pp. 288-322 (ISSN 1463-9262) (Articolo su rivista)
Lisa Cattelan, Giulia Fiorani, Maurizio Selva, Alvise Perosa (2018), Greener and Sustainable Applications of Phosphorous and Sulfur Ylides in ALDRICHIMICA ACTA, vol. 51, pp. 63-75 (ISSN 0002-5100) (Articolo su rivista)
Calmanti, Roberto; Galvan, Manuele; Amadio, Emanuele; Perosa, Alvise; Selva, Maurizio* (2018), High-Temperature Batch and Continuous-Flow Transesterification of Alkyl and Enol Esters with Glycerol and Its Acetal Derivatives in ACS SUSTAINABLE CHEMISTRY & ENGINEERING, vol. 6, pp. 3964-3973 (ISSN 2168-0485) (Articolo su rivista)
Lisa Cattelan, Giulia Fiorani, Alvise Perosa, Thomas Maschmeyer, Maurizio Selva (2018), Two-step Synthesis of Dialkyl Carbonates through Transcarbonation and Disproportionation Reactions Catalyzed by Calcined Hydrotalcites in ACS SUSTAINABLE CHEMISTRY & ENGINEERING, vol. 6, pp. 9488-9497 (ISSN 2168-0485) (Articolo su rivista)
Maurizio Selva, Alvise Perosa, Giulia Fiorani (2018), Phosphonium salts and P-ylides , Organophosphorus Chemistry: Volume 47 in ORGANOPHOSPHORUS CHEMISTRY, Cambridge, The Royal Society of Chemistry, vol. 47, pp. 158-211 (ISBN 978-1-78801-068-9) (ISSN 0306-0713) (Articolo su libro)
Tesi di dottorato interateneo
a) Tesi di dottorato in Chimica (sede amm.va Università degli studi di Trieste - anno: 2018 - n° tesi 1 (candidata: Lisa Cattelan)
b) Tesi di dottorato in Chimica (sede amm.va Università degli studi di Trieste - anno: 2020 - n° tesi 1 (candidato: Alessandro Bellè)
Partecipazione come referee di progetti di ricerca nazionali ed internazionali
Maurizio Selva fa parte dell'Albo dei revisori (aggiornamento 2014) predisposto dal MIUR per i seguenti settori ERC:
- Organic chemistry, PE5_17
- Ionic liquids, PE5_5
- Heterogeneous catalysis, PE4_10
Partecipazione a comitati editoriali di riviste/collane scientifiche
- Guest Editor of the special issue "Catalytic transformations of Glycerol" of the journal Catalysts (open acess, MDPI), 2019
Descrizione dell'attività di ricerca svolta nel triennio e gli obiettivi futuri
Nel triennio di riferimento (2018-2020), i principali interessi di ricerca di Maurizio Selva sono stati nel campo della Chimica Organica, con enfasi nel settore delle metodologie sostenibili per: i) la trasformazione di substrati rinnovabili, reagenti e catalizzatori puliti e solventi eco-compatibili, e ii) l'intensificazione dei processi, l'implementazione di sistemi multifase e protocolli estrattivi per la valorizzazione di molecole bio-based e biopolimeri, in particolare attraverso tecnologie supercritiche che utilizzano CO2 densa. In questo ambito, i risultati finora raggiunti dal Prof. Selva hanno stimolato sia analisi speculative sui meccanismi di reazione sia studi per applicazioni su larga scala (pilota) come testimoniato dalla pubblicazione di 21 articoli peer-reviewed sulle principali riviste scientifiche internazionali e 4 capitoli di libri (periodo 2018-2020).
In linea con i progetti di ricerca recentemente finanziati di cui il Prof. Selva è responsabile scientifico [a) 2022-2024: Cariplo Foundation, "Photo- and Mechano- Chemistry for the Upgrading of Agro- and Sea-food Waste to advanced polymers and nanocarbon materials"; b) 2020-2022: CariVerona Foundation, "Enhancement of agro-food waste for new green cosmetics"; c) 2022-2024: Grant PON Ricercatore a tempo determinato (Rtd-A) su tematiche green, "Biowaste as a raw material for the synthesis of biofilms with advanced properties."], gli obiettivi futuri delle proprie attività saranno incardinati nelle tematiche i)-ii) più sopra descritte, con attenzione allo sviluppo di protocolli a bassa impronta di carbonio per l'upgrading chimico di composti e polimeri estratti da biowaste di origine agricola ed ittica.
Menzioni e premi ricevuti
Il lavoro scientifico:
- Giulia Fiorani, Alvise Perosa, and Maurizio Selva "Dimethyl Carbonate: a Versatile Reagent for a Sustainable Valorization of Renewables", Green Chem. 2018, 20, 288 – 322; DOI: 10.1039/C7GC02118F
del quale il prof. Selva è corresponding Author, ha ricevuto la seguente menzione:
"as of July/August 2020, this highly cited paper received enough citations to place it in the top 1% of the academic field of Chemistry based on a highly cited threshold for the field and publication year."

Il lavoro scientifico:
- Chunping Xu, Mahmoud Nasrollahzadeh, Maurizio Selva, Zahra Issaabadi, Rafael Luque, "Waste-to-wealth: biowaste valorization into valuable bio(nano)materials", Chem. Soc. Rev. 2019, 48, 4791-4822, DOI: 10.1039/c8cs00543e
del quale il prof. Selva è corresponding Author, ha ricevuto la seguente menzione:
"This work was on top 1% across Royal Society of Chemistry journals in terms of citations in 2020."
Seminari su invito tenuti presso altre Università, Centri di Ricerca, Aziende, etc.
Seminario:
"Batch and Continuous-Flow Reactions of Glycerol"
tenuto presso l'Università di Malaga (Spagna) il 23 novembre 2018 e presso l'Università di Cordoba(Spagna) il 13 dicembre 2018.
Seminario/meetings sul progetto: "Sustainable Valorization of Non-Edible Residues of the Aquaculture and Fish Processing Industries: learning from the Australian Standard", tenuto il 31 maggio 2019 presso la Deakin University (Melbourne, Australia; organizzatore: Prof. C. Barrows) e l'azienda Mantzaris Fisheries Pty Ltd (North Geelong, Vic, Australia)
Altre attività scientifiche
Organizzazione e direzione scientifica del convegno "Green Challenges for Sustainable Value Chains, Sfide per la valorizzazione sostenibile di risorse rinnovabili" tenutosi il 28 giugno 2019, a ridosso dell'assemblea annuale del Cluster SPRING sugli obiettivi principali del Cluster: i) Utilizzo di risorse rinnovabili come materie prime; ii) Creazione di filiere e bio-raffineria integrate nel territorio; iii) Sviluppo di nuovi prodotti bio-based; iv) Attuazione di azioni di supporto all'attività di ricerca e sviluppo nell'ambito
Componente di Collegi didattici, Comitati e Commissioni di Dipartimento, Commissioni di Ateneo
Il prof. Selva è delegato AQ (dal 2017 ad oggi) e al placement (dal 2020 ad oggi) e componente (dal 2020 ad oggi) del comitato per la ricerca del dipartimento di Scienze Molecolari e Nanosistemi. E' inoltre membro del collegio del dottorato interateneo in Chimica (dal 2014 ad oggi) e delegato a rappresentare l'Ateneo Ca' Foscari nel cluster nazionale scientifico-tecnologico SPRING (dal 2014 ad oggi).