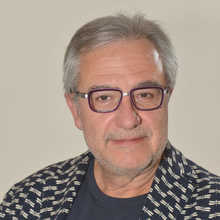 BARBIERI Giuseppe
Position

Full Professor
Roles

Department of Philosophy and Cultural Heritage's Director
Representative of the teaching staff in the Academic Senate

Telephone

041 234 6247
E-mail
Fax

041 234 6210
Scientific sector (SSD)

STORIA DELL'ARTE MODERNA [L-ART/02]
Website

www.unive.it/persone/figaro (personal record)

Office

Department of Philosophy and Cultural Heritage (Department Director)
Website: https://www.unive.it/dep.fbc
Where: Malcanton Marcorà

Office
Dati relazione
Periodo di riferimento

01/11/2019 - 31/10/2022
Afferenza

Dipartimento di Filosofia e Beni Culturali
Ruolo

Professori Ordinari
Attività didattica
| A.A. | Insegnamento | Codice | Voto | Voto medio area |
| --- | --- | --- | --- | --- |
| 2019/2020 | METODI, APPROCCI E STRUMENTI PER L'ARTE CONTEMPORANEA | FM0427 | 8.4 | 8.3 |
| 2020/2021 | ARTE MODERNA E CONTEMPORANEA | EM3E17 | 7.5 | 7.8 |
| 2020/2021 | METODI, APPROCCI E STRUMENTI PER L'ARTE CONTEMPORANEA | FM0427 | 6.8 | 8.3 |
| 2021/2022 | METODI, APPROCCI E STRUMENTI PER LA STORIA DELL'ARTE | FM0562 | 7 | 8.2 |
Tesi
| Anno solare | Tipologia | Tesi Relatore | Tesi Correlatore |
| --- | --- | --- | --- |
| 2019 | Corso di laurea | 2 | |
| 2019 | Corso di laurea magistrale | 4 | |
| 2020 | Corso di laurea | 1 | |
| 2020 | Corso di laurea magistrale | 2 | 2 |
| 2021 | Corso di laurea magistrale | 2 | 3 |
Finanziamenti
MeC - Meanings of Care: An interdisciplinary socio-historical investigation into narratives and representations of eldercare in Italy since the early 20th Century
MeC - Meanings of Care: An interdisciplinary socio-historical investigation into narratives and representations of eldercare in Italy since the early 20th Century
Ricerche sviluppate e in corso
Collezionismi russo e strategie espositive
Il realismo socialista nelle arti figurative
Alexander Ponomarev: the Second Voyage.
Arte e ambiente. Sostenibilità e strategie artistiche del contemporaneo
Centro multimediale e laboratorio di arti visive sulla figura e l'opera del Pordenone
Collezionismo italiano e pittura russa in Italia
Digital Humanities
Fruizione multimediale dell'opera d'arte contemporanea
Il problema storiografico delle ville venete e l'impiego delle ICT per la loro fruizione
Jurij Lotman e la semiotica delle arti visive
La decorazione degli edifici pubblici e privati in Trentino Alto Adige (XX secolo)
Momenti e figure dell'arte russa tra XIX e XXI secolo
Protostoria del Cultural Heritage
Tiziano: il nudo femminile in Tiziano e nella pittura veneta del Rinascimento
Underground moscovita anni 60-70 nelle arti figurative
Pubblicazioni realizzate nel triennio
Silvia Burini; Giuseppe Barbieri (2022), AES+F , New York, Rizzoli (ISBN 978-88-918312-3-1) (Monografia o trattato scientifico)
Barbieri (2021), Jurij Lotman, la retorica iconica e il dibattito sulla vita delle immagini , Protagonisti e temi della critica d'arte nella prima metà del '900, Mantova, Universitas Studiorum S.R.L., pp. 27-43, Convegno: Protagonisti e temi della critica d'arte nella prima metà del '900, 13 giugno 2019 (ISBN 978-88-3369-120-6) (Articolo in Atti di convegno)
Silvia Burini; Giuseppe Barbieri (2020), Alexander Ponomarev. The Second Voyage , Milano, New York, Rizzoli New York, pp. 27-186 (ISBN 978-88-918228-3-3) (Monografia o trattato scientifico)
Burini Silvia; Barbieri Giuseppe (2020), Cristina Finucci. Help , New York, Rizzoli, pp. 45-139 (ISBN 978-8-8918-3088-3) (Monografia o trattato scientifico)
Giuseppe Barbieri (2020), Epiphanies in Space / Epifanie dello spazio , Valery Koshlyakov. Architetture celesti, Milano, Skira, pp. 73-98 (ISBN 9788857243818) (Articolo su libro)
Giuseppe Barbieri (2020), Jurij Lotman, Aleksandr Ponomarëv i venecianskij Renessans: oziraja perspektivy i pereskaja granicy / Jurij Lotman, Alexander Ponomarev and the Venetian Renaissance: reviewing the field and crossing the limit , Granicy normy: transformacija gumanizma v russkoj i evropejskoj kul'ture Novogo i Novejšego vremeni, Mosca, Gosudarstvennyj institut iskusstvoznanija, pp. 431-441 (ISBN 978-5-98287-167-1) (Articolo su libro)
Burini S.; Giuseppe Barbieri (2019), Gely Korzhev. Back to Venice , Gely Korzhev. Back to Venice, Crocetta del Montello (TV), Grafiche Antiga, pp. 13-40 (ISBN 978-88-8435-145-6) (Articolo su libro)
Barbieri Giuseppe (2019), Un confronto tra evidenti "assurdità" , Kandinskij Gonˇcarova Chagall. Sacro e bellezza nell'arte russa, Milano, Skira, pp. 13-17 (ISBN 978-88-572-4286-6) (Articolo su libro)
Burini S., Barbieri Giuseppe, Cavallaro Alessia (2019), Kandinskij, Gončarova, Chagall. Sacro e bellezza nell'arte russa. , Milano, Skira, Convegno: Kandinskij, Gončarova, Chagall. Sacro e bellezza nell'arte russa., 5 ottobre 2019 - 26 gennaio 2020 (ISBN 9788857242866) (Catalogo di Mostra)
Partecipazione come referee di progetti di ricerca nazionali ed internazionali
PROGETTO UNIV. NAVARRA (SPAGNA) – valutazione per porgetto Center of Humanities – Univ. Navarra
Partecipazione a comitati editoriali di riviste/collane scientifiche
Descrizione dell'attività di ricerca svolta nel triennio e gli obiettivi futuri
L'attività di ricerca nel corso del triennio è stata severamente vincolata, da un lato, dall'onerosa carica accademica ricoperta, in una congiuntura segnata, per di più, dalla pandemia, lutti familiari, incidenti fisici di una qualche gravità. Lo scoppio del conflitto tra Federazione Russa e Ucraina ha congelato, dall'altro, la vasta e consolidata attività di networking scientifico con la Russia e arrestato progetti di ricerca già ampiamente sviluppati che dovevano culminare in tre importanti iniziative di carattere espositivo, ciascuna dotata di catalogo in cui presentare saggi e schede: la mostra sull'opera di Tair Salakov per la Biennale di Arti Visive (Venezia, 2022), in collaborazione con il Museo Nazionale di Baku; il rinnovo dell'allestimento della sezione museale dedicata alle icone nella sede vicentina delle Gallerie d'Italia, con l'individuazione e la presentazione di artisti contemporanei in dialogo; soprattutto la grande mostra dedicata a Vasilj Kandinskij, la cui inaugurazione alle Scuderie del Quirinale era prevista per lo scorso 1 dicembre.
Questi consistenti vincoli non hanno tuttavia impedito la realizzazione di tre importanti monografie in lingua inglese con una prestigiosa casa editrice (Rizzoli New York), né indagini che si sono tradotte in pubblicazioni o in corso di stampa (come un lungo saggio sull'iconografia del lupo tra Medio Evo e Prima Età Moderna) o appena successive ai margini temporali qui considerati (in un ampio articolo su rivista sull'importanza del concetto di Altersstil nella riflessione di Fred Licht e nell'opera del pittore americano William Congdon) o in via di ultimazione (come un saggio sui rapporti tra lo scrittore Luigi Meneghello e la storia dell'arte in uscita negli atti complessivi delle celebrazioni del primo centenario della sua nascita).
Altri progetti sono stati avviati, a partire dall'esigenza di costituzione di un altro network istituzionale e scientifico che consenta di non dissipare l'esperienza maturata nelle attività scientifiche del Centro Studi sulle Arti della Russia, coinvolgendo interlocutori di nazioni ex-sovietiche non direttamente impegnate nel conflitto in atto (Armenia, Uzbekistan, Azerbaigian) e/o raccolte di arte russa collocate al di fuori del territorio della Federazione (segnatamente in Grecia, a Salonicco). Anche in questa direzione va l'ambizioso e complesso progetto espositivo, concepito con Silvia Burini, sui rapporti tra pratiche artistiche, sensibilità ambientali e attenzione ai mutamenti climatici dalla fine del XIX sec. ai giorni nostri (di possibile realizzazione nel corso del 2024), come pure l'impegno già assunto e per altro dispiegato anche nel triennio censito, per la realizzazione di due mostre sull'identità culturale e sul patrimonio storico-artistico dell'Uzbekistan (primavera 2024).
Relazioni invitate presso convegni o workshops
15 novembre: San Petroburgo, Museo Ermitage, intervento, su invito, all'VIII Cultural Forum per il panel "Museum Universities: Development and Implementation of Pioneering Youth Educational Strategies"
- 12 maggio 2022 "Il metodo Lotman" Giornata internazionale di studi: relazione invitata "Jurij Lotman e la cartografia"
Seminari su invito tenuti presso altre Università, Centri di Ricerca, Aziende, etc.
- 17 novembre 2021: Firenze, Uffizi,"Il sigillo dell'angelo: icone russe dalle collezioni italiane" (con Silvia Burini)
Altre attività scientifiche
- da febbraio 2022-2023: membro del Comitato Nazionale per le celebrazioni del I centenario della nascita di Luigi Meneghello
Incarichi accademici e attività organizzative
- direttore del Dipartimento di Filosofia e Beni Culturali (2018-2023)
- membro del Senato Accademico di Ca' Foscari
- co-direttore del Centro Studi sulle Arti della Russia di Ca' Foscari (CSAR)
Componente di Collegi didattici, Comitati e Commissioni di Dipartimento, Commissioni di Ateneo
Membro Collegio del Dottorato in Storia delle Arti, Università Ca' Foscari, Venezia