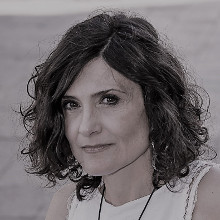 DREON Roberta
Position

Associate Professor
Roles

Delegated to Humanities Research

Telephone

041 234 7243
E-mail
Fax

041 234 7350
Scientific sector (SSD)

ESTETICA [M-FIL/04]
Website

www.unive.it/persone/robdre (personal record)

Office
Dati relazione
Periodo di riferimento

01/12/2017 - 30/11/2020
Afferenza

Dipartimento di Filosofia e Beni Culturali
Ruolo

Professori Associati
Attività didattica
| A.A. | Insegnamento | Codice | Voto | Voto medio area |
| --- | --- | --- | --- | --- |
| 2017/2018 | ESTETICA I | FT0280 | 3.2 | 3.3 |
| 2017/2018 | ESTETICA II | FT0281 | 3.3 | 3.3 |
| 2017/2018 | ESTETICA SP. | FM0068 | 3.2 | 3.3 |
| 2017/2018 | RICEZIONE ARTISTICA E COMUNICAZIONE | EM3F16 | 3.5 | 3.1 |
| 2018/2019 | ESTETICA I | FT0280 | 3.3 | 3.3 |
| 2018/2019 | RICEZIONE ARTISTICA E COMUNICAZIONE | EM3F16 | 3.4 | 3.1 |
| 2019/2020 | ESTETICA I | FT0280 | 7.8 | 8.3 |
| 2019/2020 | ESTETICA II | FT0281 | | |
| 2019/2020 | ESTETICA SP. | FM0068 | 8.4 | 8.3 |
| 2019/2020 | RICEZIONE ARTISTICA E COMUNICAZIONE | EM3F16 | 8.3 | 7.6 |
Tesi
| Anno solare | Tipologia | Tesi Relatore | Tesi Correlatore |
| --- | --- | --- | --- |
| 2017 | Corso di laurea | 4 | |
| 2017 | Corso di laurea magistrale | 4 | 5 |
| 2018 | Corso di laurea | 1 | |
| 2018 | Corso di laurea magistrale | 9 | 3 |
Finanziamenti
Prin 2015: Il problema dell'indeterminatezza: significato, conoscenza, azione (coordinatore scientifico Luigi Perissinotto)
Ricerche sviluppate e in corso
Estetica e politica tra Dewey e Marcuse
Implicazioni estetiche in economia e nel management
Per una antropologia pragmatista: sensibilità, abiti ed enlanguaged experience
Per una storia del concetto di genio
aspetti estetici del linguaggio, tra comunicazione ordinaria e discorso letterario
cognizione, affettività e linguaggio tra pragmatismo e teorie della mente embodied, embedded, enacted ed extended
dibattito estetologico contemporaneo: prospettive e limiti dell'estetica evoluzionistica
estetica pragmatista, John Dewey
filosofia e psicologia tra pragmatismo e fenomenologia
il ruolo dell'estetico nella costituzione dell'identità umana tra natura e cultura
il tema delle emozioni in ambito pragmatista
Pubblicazioni realizzate nel triennio
DREON Roberta (2020), Dewey After the End of Art. Evaluating the "Hegelian Permanent Deposit" in Dewey's Aesthetics in CONTEMPORARY PRAGMATISM, vol. 17/2020, pp. 146-169 (ISSN 1875-8185) (Articolo su rivista)
DREON ROBERTA (2020), Désaturer et naturaliser l'esprit. Deux usages du pragmatisme. Quelques notes sur le livre de Pierre Steiner in EUROPEAN JOURNAL OF PRAGMATISM AND AMERICAN PHILOSOPHY, vol. XII (ISSN 2036-4091) (Articolo su rivista)
Dreon, Roberta (2020), James on the stream of language: with some remarks on his influence on Wittgenstein in COGNITIO, vol. 21, pp. 68-82 (ISSN 2316-5278) (Articolo su rivista)
Dreon, Roberta (2020), Pragmatist Tools for Exploring the "Fabric of Experience". John Ryder's "Knowledge, Art, and Power. An Outline of a Theory of Practice". in PRAGMATISM TODAY, vol. 11, pp. 146-153 (ISSN 1338-2799) (Articolo su rivista)
Dreon, Roberta (2020), Debiti filosofici. Per Rosa Calcaterra , Esperienza, contingenza, valori. Saggi in onore di Rosa M. Calcaterra in QUODLIBET STUDIO. DISCIPLINE FILOSOFICHE, Macerata, Quodlibet, vol. 1, pp. 63-66 (ISBN 9788822905765) (Articolo su libro)
DREON Roberta (2020), Dewey's Fully Embedded Ethics , John Dewey's Ethical Theory. The 1932 Ethics in ROUTLEDGE STUDIES IN AMERICAN PHILOSOPHY, New York, Routledge, pp. 181-196 (ISBN 978-0-367-20159-3) (Articolo su libro)
Dreon (2019), Framing Cognition. Dewey's Potential Contributions to Some Enactivist Issues in SYNTHESE, vol. Radical Views on Cognition, pp. 1-22 (ISSN 0039-7857) (Articolo su rivista)
Dreon (2019), Gesti emotivi e gesti verbali. L'eredità di George Herbert Mead sulla genesi del linguaggio umano in SISTEMI INTELLIGENTI, vol. 2019, pp. 115-133 (ISSN 1120-9550) (Articolo su rivista)
Dreon, Roberta (2019), Il discreto e il continuo nel linguaggio in ERMENEUTICA LETTERARIA, vol. XV, pp. 119-131 (ISSN 1827-8957) (Articolo su rivista)
Dreon (2019), A Pragmatist View of Emotions. Tracing its Significance for the Current Debate , The Value of Emotions for Knowlwdge, Palgrave, pp. 73-99 (ISBN 978-3-030-15666-4) (Articolo su libro)
Dreon Roberta (2019), Aesthetic Consumptions and Anthropological Needs , Aesthetics, Literature, and Life. Essays in Honor of Jean-Pierre Cometti, Mimesis International, pp. 213-234 (ISBN 8869771806; 978-8869771804) (Articolo su libro)
Dreon, Roberta (2019), Il naturalismo culturale di Dewey , Le varietà del naturalismo in PHILOSOPHICA, Venezia, Edizioni Ca' Foscari - Digital Publishing, vol. 4, pp. 154-169 (ISBN 978-88-6969-325-0) (ISSN 2610-8933) (Articolo su libro)
Dreon (2019), On a Certain Vagueness in the Definition of Art. Margolis' Aesthetics and Wittgenstein' Legacy , Paolozzi & Wittgenstein. The Artist and the Philosopher, Palgrave, pp. 160-177 (Articolo su libro)
(a cura di) Dreon, Roberta; Perissinotto, Luigi (2019), Vaghezza e linguaggio tra filosofia e letteratura in Dreon, Roberta; Perissinotto, Luigi in ERMENEUTICA LETTERARIA, Fabrizio Serra, vol. XV, pp. 1-131 (ISSN 1827-8957) (Curatela)
Dreon Roberta, Boncompagni Anna (2018), Introduction: On Some Varieties of Immediate Experience - Between Wittgenstein and Pragmatism in PRAGMATISM TODAY, vol. 9, pp. 5-8 (ISSN 1338-2799) (Articolo su rivista)
Dreon Roberta (2018), Is There Any Room for Immediate Experience? Looking for an Answer in Dewey (and Wittgenstein) via Peirce and James in PRAGMATISM TODAY, vol. 9, pp. 59-63 (ISSN 1338-2799) (Articolo su rivista)
roberta dreon (2018), La "distincion de lo estetico" en clave pragmatista. Dewey, Gadamer y la antropologia de la cultura , John Dewey: una estetica de este mundo, Prensas de la Univesidad de Zaragoza, vol. 1 (Articolo su libro)
Dreon R. (2018), Artification , International Lexicon of Aesthetics, Milano-Udine, Mimesis (Voce in dizionario/enciclopedia)
(a cura di) Dreon Roberta, Boncompagni Anna (2018), Varieties of Immediate Experience in Dreon Roberta (anche curatrice), Boncompagni Anna (anche curatrice), Luigi Perissinotto, Michela Bella, Alice Morelli, Marilena Andronico, Vincent Colapietro, Angel Faerna, Giovanni Tuzet, Barbara Formis in PRAGMATISM TODAY, CEPF, vol. 9, pp. 1-150 (ISBN ISSN 1338-2799) (ISSN 1338-2799) (Curatela)
Dreon Roberta (2017), Sortir de la tour d'ivoire. L'esthétique inclusive de John Dewey aujourd'hui in Collection "Saggio Casino" diretta da Olivier Quintyn, Paris, Questions thèoriques, pp. 1-299 (ISBN 978-2-917131-47-3) (Monografia o trattato scientifico)
Calcaterra, Rosa Maria; Roberta, Dreon (2017), Introduction to Pragmatism and Psychologism in EUROPEAN JOURNAL OF PRAGMATISM AND AMERICAN PHILOSOPHY, vol. IX, pp. 1-9 (ISSN 2036-4091) (Articolo su rivista)
Dreon, Roberta (2017), L'esthétique, l'artistique et l'humain: continuité et différence entre art et expérience chez Dewey , Après l'art comme expérience. Esthétique et politique aujourd'hui à la lumière de John Dewey in SAGGIO CASINO, Paris, Questions téoriques, pp. 57-91 (ISBN 9782917131497) (ISSN 2100-3920) (Articolo su libro)
DREON, Roberta (2017), On Joseph Margolis' Philosophy. An Introduction in DREON, Roberta e MARGOLIS, Joseph, Three Paradoxes of Personhood: The Venetian Lectures in Philosophy, Milano-Udine, Mimesis International, vol. 21, pp. 9-30 (ISBN 9788869771040) (ISSN 9788869771040) (Articolo su libro)
(a cura di) Calcaterra, Rosa Maria; Roberta, Dreon (2017), Pragmatism and Psychologism (numero monografico della rivista European Journal of Pragmatism and American Philosophy) in EUROPEAN JOURNAL OF PRAGMATISM AND AMERICAN PHILOSOPHY, revues.org, vol. IX (ISSN 2036-4091) (Curatela)
(a cura di) DREON, Roberta (2017), Three Paradoxes of Personhood: The Venetian Lectures in MARGOLIS, Joseph, DREON, Roberta in Philosophy, Milano-Udine, Mimesis International, vol. 21, pp. 1-146 (ISBN 9788869771040) (Curatela)
Pubblicazioni in corso di stampa
Roberta Dreon Human Landscapes. Contributions to a Pragmatist Anthropology in American Philosophy and Cultural Thought, Abany, NY, SUNY Press (ISBN 978-1-4384-8821-9) (Monografia o trattato scientifico)
Tesi di laurea/dottorato anno solare
- Francesco Ragazzi, La concezione della storia nella filosofia analitica dell'arte, dottorando in cotutela con Paris 1 - relatrice dal 2018
- Riccardo Valenti, Il concetto di passività in Merleau-Ponty, dottorando in cotutela con Paris 1 - relatrice dal 2020

- Carlos Vara Sanchez, Il ritmo nell'esperienza estetica - vincitore di un grant Marie Curie - supervisore dal 2018
Partecipazione a comitati editoriali di riviste/collane scientifiche
- Filosofia e Teologia
- Ermeneutica letteraria - comitato scientifico
- Aisthesis (reviewer)
- European Journal of Pragmatism and American Philosophy (co-editor in chief dal 2019)
- Venezia Arti (fino al 2018)
- The Journal for the Philosophy of Language, Minds and the Arts (comitato scientifico)
Descrizione dell'attività di ricerca svolta nel triennio e gli obiettivi futuri
Nel corso del triennio ho portato avanti ricerche su tre temi fondamentali: sensibilità e filosofia delle emozioni, teoria degli abiti, intreccio tra esperienza e linguaggio nell'ambiente umano, grazie anche al periodo di Visiting Professorship condotto presso la Morris Library della Southern Illinois University nel corso di un anno sabbatico (2018/2019). Tali ricerche sono confluite in un volume di antropologia filosofica, di imminente pubblicazione presso SUNY Press (aprile 2022), dal titolo "Human Landscapes. Contributions to a Pragmatist Antrhopology".
Ho condotto una serie di ricerche su vari temi, che sono in gran parte approdate a pubblicazioni. Tra le altre menziono: l'influsso della filosofia di Hegel sull'estetica di Dewey, i rapporti tra pragmatismo ed enattivismo, la questione della genesi del linguaggio in Mead e in James, il naturalismo culturale, la vaghezza nella definzione dell'arte.
Altri prodotti scientifici
Marzo-aprile 2019: Visiting Professor presso il Department of Philosophy, Southern Illinois University, Carbondale, Illinois, U.S.A.
Relazioni invitate presso convegni o workshops
• April 2017: "Creatures of habits" – International conference "The Pragmatist turn and embodied cognition", Parma, Italy (organized by Fausto Caruana and Italo Testa)
• April 2017: "Sensitivity in language. A Pragmatist perspective in reading literature" – International conference "Pragmatism between past and present", University of Roma Tre
• May 2017: "Sensitivity in language. A Pragmatist perspective in reading literature" – International conference "Percezione, cognizione e semiotica", Bologna (organized by Claudio Paolucci)
• May 2017: "Emotional and verbal gestures. Mead's investigations on the sensitive roots of language" – International conference "Feeling reasons. The role of emotions in reasoning", University of Edinburgh (organized by Laura Candiotto)
• September 2017: "L'esperienza si dice in molti modi. Un punto di vista deweyano sull'immediato, il qualitativo, l'estetico" – Conference "Immediatezza ed esperienza. Tra Wittgenstein e il pragmatismo", University of Florence (organized by Anna Boncompagni and Roberta Lanfredini)
• October 2017: "Una certa vaghezza nella definizione dell'arte. L'estetica di Margolis e l'eredità di Wittgenstein" – PRIN Conference on "Relativismo e indeterminatezza", Ca' Foscari University, Venice
• October 2017: "Emotional and verbal gestures. Mead's investigations on the sensitive roots of language" – International Conference "The Pragmatist attitude. Habits, practices and gestures in a pluralistic landscape", University of Roma Tre
• November 2017: "Mead on emotions in the genesis of language" – International conference "Emotions between aesthetics and ethics", University of Pisa (organized by Alessandra Fussi and Alberto Siani)
• "Pragmatists emotions or why it can be fruitful to revive an old debate" – International workshop "New perspectives on Pragmatism and cognitive science: social cognition and emotions", Paris, Université de Technologie de Compiègne (Sorbonne University) (organized by Pierre Steiner)
• March 2018: "Il naturalismo culturale di Dewey. Il caso della mente" – PHD Workshop, "Le varietà del naturalism", Ca' Foscari University – Paris 1 University, Venice
• June 2018: "John Ryder, Making our way. An outline of a theory of experience. A reading" – "Conversations across the borders. Tenth CEPF international conference", Prague University
• June 2018: "Emotional and verbal gestures. Mead on the sensitive roots of language" - "Third European Pragmatism Conference", University of Helsinki
• March 2019: Workshop "Philosophical collaboration"- Southern Illinois University, Carbondale
• April 2019: "Looking at human sensibility by Pragmatist means. In search for a rounded portrait" - American Institute for Philosophical and Cultural Thought, Illinois (U.S.)
• June 2019: Presentation of the book by Matteo Santarelli "La vita interessata. Una proposta teorica a partire da John Dewey" – University of Bologna
• June 2019: "The stream of language: Did Wittgenstein misunderstand James?" – Conference on "Wittgenstein and Pragmatism", University of Rome 1 "La Sapienza"
• November 2019: "Dewey after the end of art. Evaluating the "Hegelian permanent deposit" in Dewey's aesthetics" – 19th International Meeting on Pragmatism, Pontificia Universidade Catolica de Sao Paulo
• February 2020: "Definire l'arte? Risorse concettuali e non" – Bocconi University, Milan, organized by Giovanni Tuzet
• May 2020 (video-conference): "Dalle entità artistiche alle pratiche culturali. La svolta antropologica nell'estetica di Joseph Margolis"- University of Tourin, organized by Davide Dal Sasso
• April 2020 (video-conference): "Habitus e abiti: Comedies of Similarity? Tra Dewey e Bourdieu"- University of Parma, organized by Italo Testa
• October 2020 (video-conference): "L'estetica di Dewey: un approccio comparativo" – University of Pisa, organized by Alberto Siani
• December 2020 (video-conference): "More than action and perception. A pragmatist view on sensibility" – University of Kassel, Online Workshop "Philosophical alliances in cognitive sciences. The case of Pragmatism and Enactivism", organized by Flavio Artese and Mark-Oliver Casper
Altre attività scientifiche
Peer review di articoli per riviste scientifiche, tra cui segnalo: European Journal of Pragmatism and American Philosophy, Ermeneutica letteraria, Noema, Synthese
Altre attività didattiche
• Marzo 2019: seminario con Kenneth Stikkers sui "Principi di psicologia" di William James
• Aprile 2019: seminario con Kenneth Stikkers sui "Saggi sull'empirismo radicale" di William James e su "The Need for a Recovery of Philosophy di John Dewey
• Luglio 2017: Lezione presso la International Summer School of Phenomenology, Venezia, sul tema "Merleau-Ponty from Perception to Language"
• Luglio 2017: Workshop presso l'International Summer School "Contemporary Art in the Global Present", Venice-Cologne on the subject "Aesthetics, Art and Politics" with Daniele Goldoni, Diego Mantoan, and Dario Pinton
Incarichi accademici e attività organizzative
- Componente del Consiglio di Disciplina di Ateneo dal 2018 a ora (mandato rinnovato per il secondo triennio)
- Delegata della Rettrice per la ricerca di area umanistica (dal settembre 2020 a oggi)
- Rappresentante per l'area filosofica, pedagogica e sociologica del DFBC nel consiglio BAUM (dal 2020)
Componente di Collegi didattici, Comitati e Commissioni di Dipartimento, Commissioni di Ateneo
- Componente del collegio didattico EGART fino all'estate 2020
- Componente del gruppo AQ Egart fino all'estate 2020
- Delegata all'Open Day di Dipartimento per il 2018/2019
- Responsabile di tre accordi Erasmus