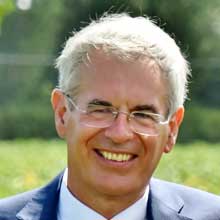 Dati relazione
Periodo di riferimento

22/09/2017 - 21/09/2020
Afferenza

Dipartimento di Scienze Ambientali, Informatica e Statistica
Ruolo

Professori ordinari
Attività didattica
| A.A. | Insegnamento | Codice | Voto | Voto medio area |
| --- | --- | --- | --- | --- |
| 2017/2018 | ENVIRONMENTAL ECONOMICS AND SUSTAINABLE DEVELOPMENT | CM0444 | 3.3 | 3.2 |
| 2017/2018 | SOSTENIBILITÀ AMBIENTALE | CM0487 | 3.4 | 3.2 |
| 2018/2019 | ENVIRONMENTAL ECONOMICS AND SUSTAINABLE DEVELOPMENT | CM0444 | 3.2 | 3.2 |
| 2018/2019 | SOSTENIBILITÀ AMBIENTALE | CM0487 | 3.6 | 3.2 |
| 2019/2020 | ENVIRONMENTAL ECONOMICS AND SUSTAINABLE DEVELOPMENT | CM0444 | | |
| 2019/2020 | SOSTENIBILITÀ AMBIENTALE | CM0487 | | |
Tesi
| Anno solare | Tipologia | Tesi Relatore | Tesi Correlatore |
| --- | --- | --- | --- |
| 2017 | Corso di dottorato | 1 | |
| 2017 | Corso di laurea magistrale | 1 | |
| 2018 | Corso di dottorato | 1 | |
| 2018 | Corso di laurea magistrale | 1 | |
| 2019 | Corso di laurea magistrale | 1 | 1 |
Ricerche sviluppate e in corso
ANALISI DEGLI IMPATTI DEI CAMBIAMENTI CLIMATICI E DELLE POLITICHE DI ADATTAMENTO E MITIGAZIONE
ANALISI DEGLI IMPATTI DEI CAMBIAMENTI CLIMATICI E DELLE POLITICHE DI ADATTAMENTO E MITIGAZIONE
TEORIA DEI GIOCHI E NEGOZIAZIONI INTERNAZIONALI SUL CLIMA
Pubblicazioni realizzate nel triennio
Agar Brugiavini; Carlo Carraro; Matija Kovacic (2020), Academic achievements: the effects of excess time to degree on GPA in EDUCATION ECONOMICS, vol. 28, pp. 46-66 (ISSN 0964-5292) (Articolo su rivista)
Carraro, Carlo (2019), A Word from the Editor in REVIEW OF ENVIRONMENTAL ECONOMICS AND POLICY, vol. 13, pp. 1-2 (ISSN 1750-6816) (Articolo su rivista)
Carraro C. (2018), A word from the editor in REVIEW OF ENVIRONMENTAL ECONOMICS AND POLICY, vol. 12, pp. 1-3 (ISSN 1750-6816) (Articolo su rivista)
Campagnolo L.; Eboli F.; Farnia L.; Carraro C. (2018), Supporting the UN SDGs transition: Methodology for sustainability assessment and current worldwide ranking in ECONOMICS, vol. 12 (ISSN 1864-6042) (Articolo su rivista)
Calliari E; Carraro C (2017), COP22 steps up the implementation of the Paris Agreement in NUOVA ENERGIA, vol. 2, pp. 90-95 (ISSN 2036-8380) (Articolo su rivista)
Emanuele Massetti, Carlo Carraro, Sujata Gupta, Jochen Harnish, Raymond J. Kopp (2017), Investments and Macroeconomic Costs in Climate Mitigation in the Working Group III Contribution to the Fifth Assessment Report of the IPCC in ENERGY POLICY, vol. Volume 109, October 2017, pp. 414-417 (ISSN 0301-4215) (Articolo su rivista)
Campagnolo, L., CARRARO, C., Davide, M., Eboli, F., Farnia, L., Parrado R. and R. Pierfederici (2017), The Ex-Ante Evaluation of Achieving Sustainable Development Goals in SOCIAL INDICATORS RESEARCH, vol. N/D, pp. 1-44 (ISSN 1573-0921) (Articolo su rivista)
Carraro, C.; Davide, M. (2017), Do climate policies hurt the economy? Lessons from the EU experience , Building a Climate Resilient Economy and Society: Challenges and Opportunities, Edward Elgar Publishing (Articolo su libro)
CARRARO, C.; Tavoni, M.; Longden, T. ; Marangoni, G. (2017), The potential role of gas in decarbonising Europe: A quantitative assessment , European Gas Markets: Challenges and Opportunities Ahead, New York, Palgrave McMillan (Articolo su libro)
(a cura di) Carraro, Carlo; Favero, Giovanni (2017), Benedetto Cotrugli, The Book of the Art of Trade in Benedetto Cotrugli, Giovanni Favero, Niall Ferguson, Mario Infelise, Vera Ribaudo, Tiziano Zanato, London, Palgrave Macmillan, pp. 1-231 (ISBN 978-3-319-39969-0; 978-3-319-39968-3) (Curatela)
(a cura di) Carlo Carraro;Alessandra Mazzai (2017), Gli Impatti dei Cambiamenti Climatici in Italia: Fotografie del Presente per capire il Futuro in Carlo Carraro, Alessandra Mazzai, Venezia, Edizioni Ca' Foscari - Digital Publishing (ISBN 978-88-6969-192-8) (Curatela)
Isabella, Alloisio; Jacopo, Bonan, Carlo, Carraro; Marinella, Davide; Manfred, Hafner; Simone, Tagliapietra; Massimo, Tavoni (2017), Energy poverty alleviation and its consequences on climate change mitigation and African economic development in FEEM Policy Brief, vol. 2017.02 (Working paper)
Partecipazione come referee di progetti di ricerca nazionali ed internazionali
European Research Council Advanced Grants Evaluation Panel
Partecipazione a comitati editoriali di riviste/collane scientifiche
* Riviste
- Review of Environmental Economics and Policy (Oxford University Press) – Editor;
- Environmental Modelling and Assessment (Springer Science) – Associate Editor;
- Research in Economics (Elsevier);
- Integrated Assessment (Springer Science);
- International Environmental Agreements (Springer Science);
- International Yearbook of Environmental and Resource Economics (Edward Elgar);
- Economics Bulletin (Vanderbilt University);
- E-conomics (Kiel Institute);
- Strategic Behavior and the Environment (Nowpublishers);
- Equilibri (Il Mulino);
* Collane Scientifiche
- FEEM Series on the Economics of Sustainable Development with Edward Elgar - Editor;
- ESRI Series on Environmental Policy with Edward Elgar - Co-Editor
Descrizione dell'attività di ricerca svolta nel triennio e gli obiettivi futuri
-Analisi e sviluppo di modelli integrati clima-energia-ambiente per la simulazione di scenari energetico-climatici e l'analisi delle politiche ottimali per la riduzione delle emissioni di gas ad effetto serra
-Analisi delle negoziazioni internazionali in campo climatico
-Valutazione dei danni derivanti dai cambiamenti climatici e relative politiche di adattamento
-Sviluppo e applicazioni di sistemi di indicatori di sostenibilita'
La futura ricerca si concentrera' su:
- Cambiamenti climatici, infrstrutture e mobilità sostenibili
- Climate finance
- La ripresa post covid e la transizione ecologica
Altri prodotti scientifici
Vice-Chair, Working Group III, and Member of the Bureau, Intergovernmental Panel on Climate Change (IPCC)
President of the European Association of Environmental and Resource Economists for 2018 and 2019
Correspondent Resident Member of the Academy "Istituto Veneto di Scienze, Lettere e Arti" (http://www.istitutoveneto.it) and of the Academy "Ateneo Veneto" (http://www.ateneoveneto.org) in Venice.
Member of :
- Association of Environmental and Resource Economists (AERE)
- European Association or Environmental and Resource Economics (EAERE)
- Italian Association or Environmental and Resource Economics (IAERE)
- Italian Society for Climate Sciences (SISC)
- International Association for Energy Economics (IAEE)
Menzioni e premi ricevuti
Member, Academia Europaea
Honorary Fellow, European Association of Environmental and Resource Economists (EAERE)
Relazioni invitate presso convegni o workshops
Ho partecipato a numerosi convegni in Europa, US e Giappone (l'elenco sarebbe troppo lungo) sia come invited speaker che come relatore al convegno
Seminari su invito tenuti presso altre Università, Centri di Ricerca, Aziende, etc.
Ho svolto seminari su invito in numerose Universita' in Europa, US e Giappone (anche qui l'elenco sarebbe troppo lungo)
Altre attività scientifiche
Chair of the Programme Committee of the International Conference on "Assessing and Managing Climate Change Risk: Opportunities for Financial Institutions" , Venice, 26-27 Sept 2019.
Member of the Programme Committee of the 6th World Congress of Environmental and Resource Economists, Gothenburg, 25-28 June 2018.
Incarichi accademici e attività organizzative
Direttore, Ph.D. Program on "Science and Management of Climate Change" da ott 2017 a sett 2020
Attività e incarichi esterni
Chair, European Institute on Economics and the Environment (EIEE) Executive Board, Milan, Italy dal 2018.
Scientific Director, Fondazione Nord Est, Venice da feb 2018 a feb 2021
Strategic Board member, EuroMediterranean Center for Climate Change (CMCC), Lecce, Italy.
Associate Research Fellow and member of the Carbon Market Forum Advisory Board, CEPS (Center of Economic Policy Studies), Bruxelles, Belgium (www.ceps.eu).
Academic Advisor, H-Farm
Member of the Scientific Advisory Board of:
-Green Budget Europe, Brussels
-Centre for Applied Macroeconomic Analysis, (CAMA), Crawford School of Public Policy, Australian National University, Canberra, Australia;
-The European Roundtable on Climate and Sustainable Transition (ERCST), an initiative of the International Centre for Trade and Sustainable Development
-Energy Centre, Polytechnic of Turin, Turin, Italy
-Master in Product Service System Design at Politecnico di Milano
Altre informazioni
In qualita' di Vice Chair del Gruppo III dell'IPCC ho partecipato alla preparazione dell Sesto Assessment Report che sara' approvato a fine 2021 partecipando ai lead author meetings e a tutte le riunioni del Bureau delle Assemblee dell'IPCC oltre che alle COP ed agli altri eventi negoziali sui cambiamenti climatici.