RIZZI Daniela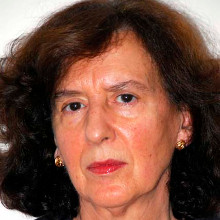 Si è laureata in Lingue e Letterature straniere a Ca' Foscari nel 1979.
Dal 1984 al 1988 ha seguito i corsi del dottorato di ricerca in Slavistica (I ciclo) presso l'Istituto di Filologia Slava dell'Università di Roma "La Sapienza". Tra la laurea e il dottorato ha passato due anni accademici presso l'Università Lomonosov di Mosca.
Dopo essere stata ricercatrice presso l'Università di Trento, ha preso servizio all'Università di Venezia come professore associato nel 1998 e come professore ordinario nel 2002.
Insegna lingua, letteratura e storia della cultura russa.
I suoi interessi di ricerca, che spaziano cronologicamente dalla seconda metà del Settecento alla prima metà del XX secolo, seguono due indirizzi principali, uno storico-letterario e l'altro archivistico-filologico.
Nell'ambito del primo indirizzo si è dedicata inizialmente a lavori riguardanti la letteratura teatrale del modernismo russo, soprattutto sotto il profilo teorico, passando in seguito a vari aspetti della storia letteraria dell'Ottocento e del primo Novecento, sia nel campo della poesia sia in quello della prosa. In particolare, ha partecipato a un progetto internazionale di ricerca (1994-2001) sulla prosa russa del primo terzo del XX secolo promosso dal «Soviet po kompleksnomu izucheniju mirovoj kul'tury» dell'Accademia Russa delle Scienze.
Nell'ambito del secondo indirizzo ha realizzato alcune edizioni di inediti novecenteschi e l'edizione critica di un manoscritto settecentesco. Inoltre si occupa, sempre dal punto di vista dei lasciti d'archivio, delle relazioni culturali tra Italia e Russia, curando insieme ad A. Shishkin la serie "Archivio russo-italiano" (finora ne sono usciti nove volumi).
Attualmente partecipa come responsabile di una unità di ricerca a un Progetto di Rilevante Interesse Nazionale dedicato all'emigrazione russa in Italia nel periodo 1900-1940.
E' membro del collegio dei docenti del Dottorato in Lingue, Culture e Società Moderne (indirizzo Europa Orientale).Dirige, insieme a Giorgio Ziffer, la rivista "Russica Romana".
Nel biennio 2009-2011 ha ricoperto l'incarico di prorettore alla didattica. 

English version

Daniela Rizzi graduated in Foreign Languages and Literatures at Ca' Foscari University in 1979.
From 1984 to 1988 she attended the PhD courses in Slavistic studies at the University of Rome - La Sapienza. Before that, she spent two years at Lomonosov University in Moscow.
She was assistant professor at the University of Trento, she then took up a post as associate professor
at Ca' Foscari in 1998 and has been full professor since 2002.
She teaches Russian language, literature and cultural history.
Her research work, ranging from the second half of the 18th century to the first half of the 20th century, covers two fields of study: one in literary history and the second filological.
In the first field, she initially devoted herself to Modernist Russian drama, especially from a theoretical point of view, and later focused her attention on various aspects of 19th-century and early 20th-century literary history, both in fiction and poetry.
In the second field, she edited unpublished 20th-century works and the critical edition of a 18th-century manuscript. As far as archival bequests are concerned, she also works on the cultural relationships
between Italy and Russia and edits together with A. Shishkin the series "Archivio russo-italiano" (9 volumes have been published so far).
She is presently the head of a research unit in a Project of National Relevance concerning the Russian emigration to Italy between 1900 and 1940.
She is member of the faculty board in the PhD program in Modern Languages Cultures and Societies (Eastern Europe section).
She directs, together with Giorgio Ziffer, the journal "Russica Romana".
Le informazioni riportate sono state caricate sul sito dell'Università Ca' Foscari Venezia direttamente dall'utente a cui si riferisce la pagina. La correttezza e veridicità delle informazioni pubblicate sono di esclusiva responsabilità del singolo utente.