RIZZI Daniela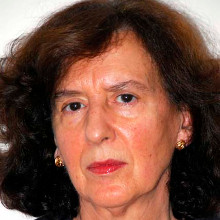 Dati relazione
| | |
| --- | --- |
| Periodo di riferimento | 01/03/2014 - 28/02/2017 |
| Afferenza | Dipartimento di Studi Linguistici e Culturali Comparati |
| Ruolo | Professori ordinari |
Attività didattica
| A.A. | Insegnamento | Codice | Voto (max 4) | Voto medio area (max 4) |
| --- | --- | --- | --- | --- |
| 2013/2014 | LETTERATURA RUSSA 2 | LT004X | 3.2 | 3.1 |
| 2013/2014 | LETTERATURA RUSSA 3 MOD. 1 | LT005X | 3.6 | 3.1 |
| 2014/2015 | LETTERATURA RUSSA 2 | LT004X | 3.4 | 3.2 |
| 2014/2015 | LINGUA RUSSA - LINGUA E TRADUZIONE 2 | LM005X | 3.6 | 3.2 |
| 2014/2015 | LINGUA RUSSA 3 | LT009X | 2.9 | 3.2 |
| 2015/2016 | LETTERATURA RUSSA 2 | LT004X | 3.4 | 3.2 |
| 2015/2016 | LETTERATURA RUSSA 3 MOD. 1 | LT005X | 3.5 | 3.2 |
| 2015/2016 | LINGUA RUSSA - LINGUA E TRADUZIONE 2 | LM005X | | |
Tesi
| Anno solare | Tipologia | Tesi Relatore | Tesi Correlatore |
| --- | --- | --- | --- |
| 2014 | Corso di dottorato | 1 | |
| 2014 | Corso di laurea | 21 | |
| 2014 | Corso di laurea magistrale | 3 | |
| 2015 | Corso di laurea | 27 | |
| 2015 | Corso di laurea magistrale | 2 | |
| 2016 | Corso di dottorato | 1 | |
| 2016 | Corso di laurea | 34 | |
Finanziamenti
DATA BASE ONLINE E MUSEO VIRTUALE DELL'ARTE RUSSA IN ITALIA (OPERE DEL XX SECOLO)
Il piacere del male. Le rappresentazioni letterarie di un'antinomia morale.
Pseudonymen-Lexikon der russischen Emigration in Europa (1917–1940)
Verso un museo e una biblioteca virtuali della Russia italiana
Ricerche sviluppate e in corso
"Il Piacere del Male" nella letteratura russa dell'800 (Dostoevskij)
Archivi russi in Italia (prima metà del Novecento): mappa dei fondi, dizionario on-line dell'emigrazione, edizione di materiali inediti".
Emigrazione russa in Europa
La Bibbia nella letteratura russa
Prosa russa del primo Novecento
Rapporti tra cultura italiana e russa
Pubblicazioni realizzate nel triennio
Rizzi, Daniela (2017), Note sul tema: Osip Mandel'štam e la Crimea , La Crimea tra Russia, Italia e Impero ottomano, Venezia, Venice University Press, pp. 189-202, Convegno: La Crimea tra Russia, Italia e impero ottomano. Percorsi storici e culturali., 07/04/2016 (ISBN 978-88-6969-212-3) (Articolo in Atti di convegno)
Rizzi, Daniela (2016), Iz "ital'janskoj" memuaristiki russkogo zarubež'ja in EZEGODNIK DOMA RUSSKOGO ZARUBEZʹÂ IMENI ALEKSANDRA SOLZENICYNA, vol. 2016, pp. 167-175 (ISSN 2313-7517) (Articolo su rivista)
Rizzi, Daniela (2016), "Sredi vašich talantov umenija žit' est' talant umenija žit' sredi talantov". Memuarnye očerki Ol'gi Resnevič-Sin'orelli. Predislovie, publikacija i primečanija D. Ricci in EZEGODNIK DOMA RUSSKOGO ZARUBEZʹÂ IMENI ALEKSANDRA SOLZENICYNA, vol. 2016, pp. 208-239 (ISSN 2313-7517) (Articolo su rivista)
Rizzi, Daniela (2016), Rec. a: Aldo Ferrari, Quando il Caucaso incontrò la Russia. Cinque storie esemplari, Milano, Guerini e Associati, 2015 in RUSSICA ROMANA, vol. XXIII, pp. 213-215 (ISSN 1128-6377) (Recensione in rivista)
RIZZI, Daniela (2015), Avangard i ostal'noe. Sbornik statej k 75-letiju Aleksandra Efimoviča Parnisa. Moskva, Tri kvadrata, 2013, 800 pp. in RUSSICA ROMANA, vol. XXII, 2015, pp. 136-138 (ISSN 1128-6377) (Recensione in rivista)
Rizzi, D. (2015), "Quelque chose d'indéfinissable que je voudrai appeler – intellectualité esthétique": переписка Сергея Маковского с Андреем Белобородовым и Морисом Сандозом , Archivio russo-italiano X / Русско-итальянский архив X, Stampa Editoriale srl, pp. 233-273 (ISBN 9788897174103) (Articolo su libro)
(a cura di) Rizzi, D.; Shishkin, A. (2015), Archivio russo-italiano X / Русско-итальянский архив X in D. Rizzi, A. Shishkin (a cura di), Stampa Editoriale srl (ISBN 9788897174103) (Curatela)
D. Rizzi (2014), Emilio Cecchi 'russista' , Paralleli: Studi di letteratura e cultura russa. Per Antonella d'Amelia, Salerno, Università di Salerno, Collana di "Europa Orientalis", pp. 423-436 (ISBN 8878680176) (Articolo su libro)
D. Rizzi; G. Ziffer (2014), Lettere a una distinta e cara signora. Giovanni Maver, Evel Gasparini e Olga Resnevic Signorelli in Vari, Kesarevo Kesarju. Scritti in onore di Cesare G. De Michelis in BIBLIOTECA DI STUDI SLAVISTICI, Firenze, Firenze University Press, vol. 23, pp. 347-364 (ISBN 9788866555704) (Articolo su libro)
(a cura di) C. Diddi; D. Rizzi (2014), Paralleli: studi di letteratura e cultura russa. Per Antonella d'Amelia in Vari, Salerno, Università di Salerno, Collana di "Europa Orientalis" (ISBN 8878680176) (Curatela)
Partecipazione come referee di progetti di ricerca nazionali ed internazionali
Membro del GEV dell'area 10 per VQR 2004-2010 (nomina ANVUR).
Partecipazione a comitati editoriali di riviste/collane scientifiche
- Condirettore (insieme a Giorgio Ziffer) della rivista "Russica Romana" (fascia A della classificazione Anvur)
- da maggio 2016: membro del comitato scientifico della serie russa "Literaturnoe nasledstvo" (https://ru.wikipedia.org/wiki/Литературное_наследство), organo della Sezione di lingua e letteratura russa dell'Accademia Russa delle Scienze
- da luglio 2016: membro dell'International Editorial Board della rivista russa "Studia litterarum", edita dall'Istituto di letteratura mondiale A.M.Gorky dell'Accademia Russa delle Scienze
Descrizione dell'attività di ricerca svolta nel triennio e gli obiettivi futuri
Nella mia attività scientifica del triennio in questione ha avuto un ruolo centrale la prosecuzione degli studi sulla presenza russa in Italia nella prima metà del Novecento (la ricerca è iniziata nel 2005 ed è stata finanziata in tre PRIN consecutivi) e su vari aspetti delle relazioni russo-italiane. In particolare, mi sono dedicata alla redazione in russo di un'ampia edizione a più mani sull'argomento, che, a causa della mole del lavoro e delle difficoltà di coordinare più di trenta autori, vede la luce solo entro la prima metà del 2019. Ho lavorato anche su altri aspetti del vastissimo argomento delle relazioni e interferenze culturali tra Italia e Russia, quali: la presenza di opere russe di arte figurativa nelle collezioni italiane; il tema italiano nell'opera di Osip Mandel'štam (ho realizzato tra l'altro una traduzione commentata della celeberrima Conversazione su Dante, non ancora pubblicata); il tema russo in una serie di autori italiani del primo Novecento (Cecchi, Borgese, Comisso, Piovene e altri). Quest'ultimo aspetto sarà oggetto di ulteriori studi, nella prospettiva di dar luogo ad un lavoro monografico.
Menzioni e premi ricevuti
Short list del premio "Read Russia" 2014 (Institut perevoda di Mosca) per la traduzione di Il rumore del tempo di Osip Mandel'štam
Relazioni invitate presso convegni o workshops
Organizzazione di convegni:
International Workshop "The Bible in Russian Culture", Venice, Ca' Foscari, June 23-27, 2014 (relazione: Eredità scritturali nella letteratura russa del primo Novecento).
Relazioni su invito:
1. Colloqui malatestiani. Alla ricerca di forme nuove. Il modernismo nelle letterature del primo Novecento, Rocca Malatestiana, Santarcangelo di Romagna, 30-31 maggio 2014 (relazione: L'"età d'argento": tradizione e modernità nel Novecento letterario russo)
2. III Congresso internazionale dei traduttori letterari. La traduzione come mezzo di diplomazia culturale, Institut perevoda, Mosca 4-7 settembre 2014 (relazione: Problemi di traduzione della Conversazione su Dante di O. Mandel'štam).
3. Seminari malatestiani. Il secolo di Sade. Il piacere del male nella letteratura dell'Ottocento, Centro Studi italo-francesi, Roma 16-17 ottobre 2014 (relazione: Dall'uomo superfluo all'uomo del sottosuolo: piacere e sofferenza nell'Ottocento russo).
4. Convegno internazionale "L'Italia e i medievisti russi" (Italija i russkie medievisty), 25-26 novembre 2014, Istituto dell'Emigrazione russa "A. Solženicyn" di Mosca (relazione: Il contributo di Vl. Zabugin allo studio dell'umanesimo italiano)
5. Workshop ROBINba. The Role of Books in non-bibliometric areas, 29 gennaio 2015, Venezia, Ca' Foscari (relazione con A. Cardinaletti e L. Tosi)
6. Istituto Italiano di Cultura di Mosca, 6 ottobre 2015: conferenza Mandel'štam lettore di Dante
7. Convegno internazionale "L'editoria dell'emigrazione russa" (Izdatel'skoe delo russkogo zarubež'ja), 8-9 ottobre 2015, Istituto dell'Emigrazione russa "A. Solženicyn" di Mosca (relazione: Autori russi nella stampa periodica italiana 1900-1940)
8. La Crimea tra Russia, Italia e Impero Ottomano. Percorsi storici e culturali, Ca' Foscari, Venezia, 7 aprile 2016 (relazione: Note sulla Crimea di O. Mandel'štam)
Altre attività scientifiche
Attività di peer-review per varie riviste di settore italiane (Russica Romana, Europa Orientalis, Studi slavistici, Biblioteca di studi di filologia moderna) e straniere (Partial Answers, Gerusalemme)
Altre attività didattiche
Attività didattica presso il master di Ca' Foscari in Economia e Lingue dell'Europa Orientale:
- 4 ore di lezione 27 gennaio 2015
- 10 ore di lezione febbraio-marzo 2016.
Attività didattica pre il dottorato LiCuSoMo:
- oltre all'attività di tutoraggio per i dottorandi specialisti di letteratura russa, ho organizzato – partecipandovi – conferenze, cicli di lezioni e seminari, tra cui: nel 2014, due conferenze della prof. Badalanova Geller (1-2 ottobre), un seminario della prof. Elena Kostjoukovitch (13-17 ottobre), un seminario del prof. Aleksej Cholikov (11-12 novembre), una lezione della prof. Laura Salmon per il ciclo Grandi Libri (dicembre 2014); nel 2015, una lezione della prof. Nicoletta Marcialis per il ciclo Grandi Libri (dicembre 2015); un ciclo di lezioni del prof. Manfred Schruba (9-13 maggio 2016).
Incarichi accademici e attività organizzative
Progettazione e coordinamento di un progetto ICM-Erasmus+ 2015 con due università della Federazione russa; il progetto ha ricevuto un finanziamento di durata biennale e ha gestito più di 70 mobilità di studenti e di staff.
Attività e incarichi esterni
- febbraio 2014-febbraio 2017: membro del direttivo dell'Associazione Italiana degli Slavisti
- 24 marzo 2014 - Fondazione Musica per Roma, Auditorium Parco della Musica in Teatro Studio, partecipazione alla rassegna Vi Racconto un Romanzo (a cura di Valerio Magrelli) con una conferenza su "Pietroburgo" di Andrej Belyj
- vari interventi a "Settimana russa a Macerata", Università di Macerata, 5-9 maggio 2014
- partecipazione alla sezione dedicata alla Russia del Todi Festival, agosto 2014