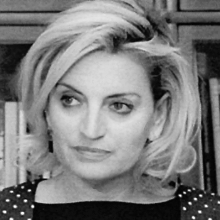 BURINI Silvia
Position

Associate Professor
Telephone

C.S.A.R.: 041 234 6223 / 041 234 6227
E-mail

siburini@unive.it
csar@unive.it - Centro Studi sulle Arti della Russia

Fax

041 234 6210
Scientific sector (SSD)

STORIA DELL'ARTE CONTEMPORANEA [L-ART/03]
Website

www.unive.it/persone/siburini (personal record)

Office
Office
Dati relazione
Periodo di riferimento

03/11/2018 - 02/11/2021
Afferenza

Dipartimento di Filosofia e Beni Culturali
Ruolo

Professori Associati
Attività didattica
| A.A. | Insegnamento | Codice | Voto | Voto medio area |
| --- | --- | --- | --- | --- |
| 2018/2019 | STORIA COMPARATA DELL'ARTE CONTEMPORANEA | FM0426 | 3.6 | 3.3 |
| 2018/2019 | STORIA DELL'ARTE RUSSA | FT0454 | 3.8 | 3.3 |
| 2018/2019 | STORIA DELL'ARTE RUSSA | EM3F37 | 3.7 | 3.1 |
| 2019/2020 | STORIA COMPARATA DELL'ARTE CONTEMPORANEA | FM0426 | 9 | 8.3 |
| 2019/2020 | STORIA DELL'ARTE RUSSA | FT0454 | 8.7 | 8.3 |
| 2019/2020 | STORIA DELL'ARTE RUSSA | EM3F37 | 9.1 | 7.6 |
| 2020/2021 | MUSEOLOGIA E CURATORSHIP | EM3E18 | 7.7 | 7.8 |
| 2020/2021 | STORIA DELL'ARTE CONTEMPORANEA SP. | FM0211 | 7.9 | 8.3 |
| 2020/2021 | STORIA DELL'ARTE RUSSA | FT0454 | 8.3 | 8.3 |
| 2020/2021 | STORIA DELL'ARTE RUSSA | EM3E29 | 7.9 | 7.8 |
Tesi
| Anno solare | Tipologia | Tesi Relatore | Tesi Correlatore |
| --- | --- | --- | --- |
| 2018 | Corso di laurea | 4 | |
| 2018 | Corso di laurea magistrale | 3 | 1 |
| 2019 | Corso di laurea | 2 | |
| 2019 | Corso di laurea magistrale | 8 | 1 |
| 2020 | Corso di laurea | 5 | |
| 2020 | Corso di laurea magistrale | 8 | 2 |
Finanziamenti
GYSIART: A cultural history of comparative art practices and receptions in Cold War Europe (1945-1991)
MeC - Meanings of Care: An interdisciplinary socio-historical investigation into narratives and representations of eldercare in Italy since the early 20th Century
MeC - Meanings of Care: An interdisciplinary socio-historical investigation into narratives and representations of eldercare in Italy since the early 20th Century
Ricerche sviluppate e in corso
Collezionismi russo e strategie espositive
Il realismo socialista nelle arti figurative
Alexander Ponomarev: the Second Voyage.
Archivi russi in Italia (prima metà del Novecento): mappa dei fondi, dizionario on-line dell'emigrazione, edizione di materiali inediti".
Arte e ambiente. Sostenibilità e strategie artistiche del contemporaneo
Collezionismo italiano e pittura russa in Italia
Digital Humanities
Fruizione multimediale dell'opera d'arte contemporanea
Grisha Bruskin: biografia e opere
Jurij Lotman e la semiotica delle arti visive
L'ibrido e il mostro nell'arte contemporanea
Momenti e figure dell'arte russa tra XIX e XXI secolo
Periodizzazione della cultura figurativa russa
Underground moscovita anni 60-70 nelle arti figurative
Pubblicazioni realizzate nel triennio
Silvia Burini (2021), AES+F , Enciclopedia italiana dell'arte contemporanea, Roma, Treccani, vol. I, pp. 37-38 (ISBN 9788812009244) (Voce in dizionario/enciclopedia)
Silvia Burini (2021), Aref'evcy , Enciclopedia italiana dell'arte contemporanea, Roma, Treccani, vol. I, pp. 159-160 (ISBN 9788812009244) (Voce in dizionario/enciclopedia)
Silvia Burini (2021), Bruskin, Grisha , Enciclopedia italiana dell'arte contemporanea, Roma, Treccani, vol. I, pp. 419-420 (ISBN 9788812009244) (Voce in dizionario/enciclopedia)
Silvia Burini (2021), Gazanevščina , Enciclopedia italiana dell'arte contemporanea, Roma, Treccani, vol. II, pp. 218 (ISBN 9788812009244) (Voce in dizionario/enciclopedia)
Silvia Burini (2021), Glazunov, Il'ja Sergeevič , Enciclopedia italiana dell'arte contemporanea, Roma, Treccani, vol. II, pp. 258 (ISBN 9788812009244) (Voce in dizionario/enciclopedia)
Silvia Burini (2021), Guro, Elena Genrichovna , Enciclopedia italiana dell'arte contemporanea, Roma, Treccani, vol. II, pp. 341 (ISBN 9788812009244) (Voce in dizionario/enciclopedia)
Silvia Burini (2021), Jakulov, Georgij Bogdanovič , Enciclopedia italiana dell'arte contemporanea, Roma, Treccani, vol. II, pp. 529 (ISBN 9788812009244) (Voce in dizionario/enciclopedia)
Silvia Burini (2021), Korin, Pavel Dmitrievič , Enciclopedia italiana dell'arte contemporanea, Roma, Treccani, vol. II, pp. 633 (ISBN 9788812009244) (Voce in dizionario/enciclopedia)
Silvia Burini (2021), Koržev, Gelij Michajlovič , Enciclopedia italiana dell'arte contemporanea, Roma, Treccani, vol. II, pp. 634-635 (ISBN 9788812009244) (Voce in dizionario/enciclopedia)
Silvia Burini (2021), Košljakov, Valerij Nikolaevič , Enciclopedia italiana dell'arte contemporanea, Roma, Treccani, vol. II, pp. 635-636 (ISBN 9788812009244) (Voce in dizionario/enciclopedia)
Silvia Burini (2021), Masterkova, Lidija Alekseevna , Enciclopedia italiana dell'arte contemporanea, Roma, Treccani, vol. III, pp. 69 (ISBN 9788812009244) (Voce in dizionario/enciclopedia)
Silvia Burini (2021), Michailov, Boris Andreevič , Enciclopedia italiana dell'arte contemporanea, Roma, Treccani, vol. III, pp. 145 (ISBN 9788812009244) (Voce in dizionario/enciclopedia)
Silvia Burini (2021), Orlov, Boris Konstantinovič , Enciclopedia italiana dell'arte contemporanea, Roma, Treccani, vol. III, pp. 560 (ISBN 9788812009244) (Voce in dizionario/enciclopedia)
Silvia Burini (2021), Plavinskij, Dmitrij Petrovič , Enciclopedia italiana dell'arte contemporanea, Roma, Treccani, vol. III, pp. 671 (ISBN 9788812009244) (Voce in dizionario/enciclopedia)
Silvia Burini (2021), Ponomarev, Alexander , Enciclopedia italiana dell'arte contemporanea, Roma, Treccani, vol. III, pp. 705 (ISBN 9788812009244) (Voce in dizionario/enciclopedia)
Silvia Burini (2021), Popkov, Viktor Efimovič , Enciclopedia italiana dell'arte contemporanea, Roma, Treccani, vol. III, pp. 717-718 (ISBN 9788812009244) (Voce in dizionario/enciclopedia)
Silvia Burini (2021), Prigov, Dmitrij Aleksandrovič , Enciclopedia italiana dell'arte contemporanea, Roma, Treccani, vol. III, pp. 754-755 (ISBN 9788812009244) (Voce in dizionario/enciclopedia)
Silvia Burini (2021), Rabin, Oskar Jakovlevič , Enciclopedia italiana dell'arte contemporanea, Roma, Treccani, vol. IV, pp. 3 (ISBN 9788812009244) (Voce in dizionario/enciclopedia)
Silvia Burini (2021), Realismo socialista , Enciclopedia italiana dell'arte contemporanea, Roma, Treccani, vol. IV, pp. 38-40 (ISBN 9788812009244) (Voce in dizionario/enciclopedia)
Silvia Burini (2021), Roginskij, Michail Aleksandrovič , Enciclopedia italiana dell'arte contemporanea, Roma, Treccani, vol. IV, pp. 124-125 (ISBN 9788812009244) (Voce in dizionario/enciclopedia)
Silvia Burini (2021), Salachov, Tair Tejmur , Enciclopedia italiana dell'arte contemporanea, Roma, Treccani, vol. IV, pp. 166 (ISBN 9788812009244) (Voce in dizionario/enciclopedia)
Silvia Burini (2021), Sots-art , Enciclopedia italiana dell'arte contemporanea, Roma, Treccani, vol. IV, pp. 351-352 (ISBN 9788812009244) (Voce in dizionario/enciclopedia)
Silvia Burini (2021), Stile severo , Enciclopedia italiana dell'arte contemporanea, Roma, Treccani, vol. IV, pp. 401-402 (ISBN 9788812009244) (Voce in dizionario/enciclopedia)
Silvia Burini (2021), Štejnberg, Eduard Arkad´evič , Enciclopedia italiana dell'arte contemporanea, Roma, Treccani, vol. IV, pp. 390 (ISBN 9788812009244) (Voce in dizionario/enciclopedia)
Silvia Burini (2021), Švarcman, Michail Matveevič , Enciclopedia italiana dell'arte contemporanea, Roma, Treccani, vol. IV, pp. 446 (ISBN 9788812009244) (Voce in dizionario/enciclopedia)
Silvia Burini; Giuseppe Barbieri (2020), Alexander Ponomarev. The Second Voyage , Milano, New York, Rizzoli New York, pp. 27-186 (ISBN 978-88-918228-3-3) (Monografia o trattato scientifico)
Burini Silvia; Barbieri Giuseppe (2020), Cristina Finucci. Help , New York, Rizzoli, pp. 45-139 (ISBN 978-8-8918-3088-3) (Monografia o trattato scientifico)
Silvia Burini (2020), Alexander Ponomarev. L'anti-camouflage come atto di libertà in LA RIVISTA DI ENGRAMMA, vol. 174, pp. 13-23 (ISSN 1826-901X) (Articolo su rivista)
Silvia Burini (2020), Jurij Lotman. Il problema del fatto storico in VS, vol. 131, 2/2020, pp. 207-212 (ISSN 0393-8255) (Traduzione in Rivista)
Burini Silvia (2020), Suščestvujut li Sireny? Mif meždu čudom i stradaniem , Granicy normy: transformacija gumanizma v russkoj i evropejskoj kul'ture Novogo i Novejšego vremeni, Mosca, Gosudarstvennyj institut iskusstvoznanija, pp. 369-382 (ISBN 978-5-98287-167-1) (Articolo su libro)
Silvia Burini (2020), Valery Koshlyakov: icone e ikonusy , Valery Koshlyakov. Architetture celesti, Milano, Skira, pp. 33-71 (ISBN 9788857243818) (Articolo su libro)
Silvia Burini (2020), Introductory Remarks , Taking and Denying. Challenging Canons in Arts and Philosophy, Venezia, Edizioni Ca' Foscari, pp. 15-16 (ISBN 978-88-6969-463-9) (Breve introduzione)
Silvia Burini (2020), Ikonos.Vestire lo spazio , Valery Koshlyakov. Architetture celesti, Milano, Skira, pp. 22-31 (ISBN 9788857243818) (Traduzione in Volume)
Burini S. (2019), Grisha Bruskin. Lessico fondamentale , Milano, Mimesis (ISBN 9788857555904) (Monografia o trattato scientifico)
Burini S.; Giuseppe Barbieri (2019), Gely Korzhev. Back to Venice , Gely Korzhev. Back to Venice, Crocetta del Montello (TV), Grafiche Antiga, pp. 13-40 (ISBN 978-88-8435-145-6) (Articolo su libro)
Burini S. (2019), I corpi di Gelij Koržev , Gely Korzhev. Back to Venice, Crocetta del Montello (TV), Grafiche Antiga, pp. 41-52 (ISBN 978-88-8435-145-6) (Articolo su libro)
Burini S. (2019), La verità della bellezza: il sacro e l'arte russa , Kandinskij, Gončarova, Chagall. Sacro e bellezza nell'arte russa, Milano, Skira, pp. 25-41 (ISBN 9788857242866) (Articolo su libro)
Silvia Burini (2019), Nota introduttiva , Testo e immagine. Un dialogo dall'antichità al contemporaneo Текст и образ. От античности к современности, Venezia, Edizioni Ca' Foscari, pp. 13 (ISBN 978-88-6969-363-2) (Breve introduzione)
Burini S. (2019), Idti vmeste. O kuratorskich strategijach v otnošenii russkogo iskusstva s pozicij semiotiki kul'tury [Andare insieme. Sulle strategie curatoriali dell'arte russa dal punto di vista della semiotica della cultura] , Translations and Dialogues: the Reception of Russian Art Abroad in COLLANA DI EUROPA ORIENTALIS, Salerno, Università di Salerno, Dipartimento di Studi Umanistici, pp. 269-281, Convegno: Translations and Dialogues: the Reception of Russian Art Abroad (ISBN 9788894422771) (Articolo in Atti di convegno)
(a cura di) Silvia Burini (2019), Translations and Dialogues: the Reception of Russian Art Abroad , Università di Salerno, Dipartimento di Studi Umanistici (ISBN 9788894422771) (Curatela)
Burini S., Barbieri Giuseppe, Cavallaro Alessia (2019), Kandinskij, Gončarova, Chagall. Sacro e bellezza nell'arte russa. , Milano, Skira, Convegno: Kandinskij, Gončarova, Chagall. Sacro e bellezza nell'arte russa., 5 ottobre 2019 - 26 gennaio 2020 (ISBN 9788857242866) (Catalogo di Mostra)
Burini S. (2018), Kandinsky y el arte popular ruso. Su viaje iniciático por Vólogda , Kandinsky. Pequeños mundos, Mexico City, Museo del Palacio de Bellas Artes, pp. 134-172 (ISBN 978-607-605-560-1) (Articolo su libro)
Silvia Burini (2018), The dialogue between ancient sculpture and Fabrizio Plessi's video-sculpture. Inter-semiotic translation and iconic rhetoric , Fabrizio Plessi. The soul of stone, Mestrino, Grafiche Peruzzo, pp. 43-56 (ISBN 978-88-99677-53-4) (Articolo su libro)
Burini S. (2018), Elena Guro: impressionističeskaja poetika? [Elena Guro: impressionismo poetico?] , Impressionizm v Avangarde - sbornik materialov mezhdunarodnoj konferencii [L'impressionismo nell'Avanguardia - atti del convegno internazionale], Moskva, Muzej russkogo impressionizma, pp. 46-57, Convegno: Impressionizm v Avangarde [L'impressionismo nell'Avanguardia] (ISBN 9785604083000) (Articolo in Atti di convegno)
(a cura di) Burini S.; Barbieri Giuseppe (2018), Fabrizio Plessi. The Soul of Stone , Mestrino, Grafiche Peruzzo (ISBN 9788899677534) (Curatela)
Pubblicazioni in corso di stampa
Silvia Burini; Giuseppe Barbieri AES+F , New York, Rizzoli (ISBN 978-88-918312-3-1) (Monografia o trattato scientifico)
Tesi di dottorato interateneo
2 tesi di dottorato (immatricolati 2018) nell'ambito del Dottorato Internazionale con State Institute for Art Studies of the Ministry of Culture of the Russian Federation - Federazione Russa
Tesi di laurea/dottorato anno solare
1 tesi di dottorato (immatricolato 2021) nell'ambito del Dottorato Internazionale con State Institute for Art Studies of the Ministry of Culture of the Russian Federation - Federazione Russa, tesi relatore
1 tesi di dottorato (immatricolato 2020) nell'ambito del Dottorato Internazionale con State Institute for Art Studies of the Ministry of Culture of the Russian Federation - Federazione Russa, tesi relatore
1 tesi di dottorato (immatricolato 2019) nell'ambito del Dottorato Internazionale con State Institute for Art Studies of the Ministry of Culture of the Russian Federation - Federazione Russa, tesi relatore
1 tesi di dottorato (immatricolato 2018) nell'ambito del Dottorato Internazionale con State Institute for Art Studies of the Ministry of Culture of the Russian Federation - Federazione Russa, tesi relatore
1 tesi di dottorato (immatricolato 2018) con borsa di studio finanziata dal Museo dell'Impressionismo di Mosca, tesi relatore
1 tesi di dottorato (immatricolato 2018), tesi correlatore
Partecipazione come referee di progetti di ricerca nazionali ed internazionali
Blind referee per riviste nazionali e internazionali e tesi di dottorato

dal 01-10-2018 a oggi: Ideazione e direzione del gruppo di ricerca "Contemporary Arts Research Team" (CART), "contemporary hub" all'interno del Dipartimento di Filosofia e Beni Culturali, Ca' Foscari. Il gruppo riunisce le esperienze di indagine e di didattica di docenti afferenti avari Dipartimenti e riguarda, in tutti i suoi aspetti, l'arte del nostro tempo in una prospettiva interdisciplinare, dove si affiancano e sormontano arti visive e performative, musica ed estetica, curatorship e nuove tecnologie. Tre sono i fondamentali obiettivi: rendere più organica e innovativa l'attività didattica, promuovere il confronto con le istituzioni veneziane del contemporaneo, elaborare progetti di
ricerca nazionali e internazionali. Il gruppo di ricerca è collegato anche all'attività didattica della Summer School "Contemporary Art and Curatorship: from documenta to the Biennale", Ca' Foscari, all'interno della School for International Education (SIE).

dal 01-01-2019 a oggi: Membro del "Research Institute for Digital and Cultural Heritage di Ca' Foscari". L'istituto si occupa di arti creative, retaggio culturale e digital humanities e si contraddistingue per un approccio intrerdisciplinare alla cultura, il linguaggio e la tecnologia in ambito latamente umano – data processing, ICTs, conservation science, chimica, biologia – scoprendo nuovi significati e dando vita a nuovi campi di ricerca come le digital humanities la heritage science.
Questi nuovi approcci cambiano il modo in cui il retaggio culturale e i valori condivisi vengono studiati,
preservati, rimessi in gioco, gestiti, divulgati o anche creati tout court. Le industrie creative stanno infatti emergendo come fondamentali per la crescita economica, dove l'innovazione orientata all'utente ha un ruolo di punta.

dal 01-01-2022 a oggi: Direzione scientifica del progetto di ricerca di catalogazione e studio della Collezione Giuseppe Biancani di cartoline russe e sovietiche presso il Centro Studi sulle Arti della Russia (CSAR) dell'Università Ca' Foscari Venezia.
- Inventariazione delle cartoline tramite sia iscrizione non invasiva del numero progressivo al verso di ogni cartolina, sia tramite denominazione dei due file digitali (fronte e retro) relativi a ogni cartolina
- Descrizione scientifica (trascrizione e traduzione delle iscrizioni in
russo, al recto e al verso, delle cartoline di questa prima sezione), da inserire in un apposito database
- Accordi per inserire e rendere fruibile la collezione sul sito di
collezioni digitali Phaidra (https://phaidra.cab.unipd.it), cui già partecipa il Sistema bibliotecario di ateneo di Ca' Foscari
Partecipazione a comitati editoriali di riviste/collane scientifiche
Direttore per la parte ai arte contemporanea della rivista "Venezia Arti"
2017 nomina come consulente d'area tematica del settore arte russa per l'Istituto dell'Enciclopedia italiana Treccani in relazione alla nuova Enciclopedia di arte Contemporanea.
Membro del comitato scientifico di Riflessi,
collana di semiotica dell'arte, Aracne Editore (con Paolo Fabbri, Jean-Marie Klinkenberg, Isabella Pezzini)
Direttore della collana La prospettiva rovesciata , Antiga Edizioni
Co-direttore della collana Obraz, Antiga Edizioni
Descrizione dell'attività di ricerca svolta nel triennio e gli obiettivi futuri
I suoi interessi di ricerca vertono sulle arti figurative russe (XVII-XXI sec.) e sull'arte contemporanea internazionale. Si è interessata anche dello studio comparato fra sistemi artistici (pittura e letteratura). Si occupa di semiotica della cultura e delle arti figurative (con particolare riferimento all'opera di Jurij Lotman, di cui è anche traduttrice). Studiosa di Avanguardia russa degli anni Dieci e Venti, ha dilatato i suoi ambiti di ricerca a un più vasto contesto di arte contemporanea. Negli ultimi anni ha approfondito temi di Realismo Socialista nelle arti figurative, l'underground moscovita degli anni Sessanta e Settanta e si è inoltre occupata di alcuni protagonisti della scena artistica contemporanea. In questi anni ha curato numerosi progetti di artisti contemporanei russi, tra cui Dmitrij Prigov, AES+F, Valerij Koshljakov, Aleksandr Ponomarev e Grisha Bruskin (al quale ha dedicato una monografia) e italiani, tra cui Cristina Finucci, Francesca Montinaro, Marco Nereo Rotelli, Sissi, Nico Vascellari e Fabrizio Plessi. I suoi recenti ambito di ricerca toccano il tema dell'ibrido e del mostro nell'arte contemporanea e il problema della cura nell'arte e la sua rappresentazione. Si occupa inoltre di pratiche artistiche e ambiente, con tematiche legate in senso ampio alla sostenibilità. Ha curato più di cinquanta mostre di pittura russa di vari periodi tra le quali alcune importanti esposizioni dedicate a Vasilij Kandinskij, Aleksandr Rodčenko e all'Avanguardia russa e i rispettivi cataloghi. Ha inoltre curato mostre e progetti di artisti italiani contemporanei. È stata curatrice del Padiglione Nazionale della Federazione russa alla Biennale del 2017. Ha ideato molti eventi legati al cinema russo tra cui il festival "Ruskino" a Venezia. Ha partecipato a importanti convegni internazionali, alcuni da lei organizzati. Si interessa inoltre di didattica museale: ha ideato e dirige per Ca' Foscari il laboratorio Ca'rte Lab e coordina un progetto internazionale legato a questa tematica. Dirige la collana la Prospettiva rovesciata/ Obratnaja Perspektiva per le Edizioni Ca' Foscari, e co-dirige con Giuseppe Barbieri la collana di cataloghi di mostre Obraz, per le Edizioni Antiga. Fa parte del gruppo di ricerca CART (Contemporary Art Research Team), che ha ideato e dirige a Ca' Foscari. Ha contribuito alla realizzazione della nuova enciclopedia dell'arte contemporanee Treccani come consulente scientifico per l'area Russia/URSS. Ha recentemente scritto con G. Barbieri tre monografie per Rizzoli New York, una dedicata A. Ponomarev e l'altra a C. Finucci (2021) ed è in corso di stampa quella sugli AES+F (maggio 2022). All'inizio del 2022 è uscito il volume, da lei curato e ideato, che raccoglie tutti i saggi di Jurij Lotman sulle arti (Il Girotondo delle muse. Semiotica delle arti, Milano, Bompiani). Attualmente sta scrivendo un ampio volume sulla Storia dell'arte russa per la casa editrice Einaudi. Curerà a dicembre 2022 la prima retrospettiva di Vasilij Kandinskij alle Scuderie del Quirinale.
Altri prodotti scientifici
dal 01-09-2019 a oggi: La casa editrice Einaudi ha conferito l'incarico scientifico di redigere una "Storia dell'arte russa", con pubblicazione prevista per la fine del 2022. La stesura di una storia dell'arte russa nasce dall'effettiva necessità di avere in Italia una pubblicazione che fornisca una visione d'insieme di un fenomeno tanto rilevante quanto sorprendentemente negletto. Infatti, nonostante la presenza in questi anni di molte mostre di artisti russi con i relativi cataloghi e di (ancorché poche) pubblicazioni specialistiche, manca tuttavia uno strumento storiografico e bibliografico organico e aggiornato sia per gli studiosi sia per gli studenti interessati.

dal 01-01-2020 a oggi: Ales-spa Scuderie del Quirinale ha conferito l'incarico scientifico per l'ideazione e la cura dell'esposizione e del catalogo della mostra monografica di Vasilij Kandinskij dal titolo "Kandinskij: Il simbolo e il colore" (1 dicembre 2022-15 aprile 2023). Si tratta della prima mostra monografica di un artista russo nella prestigiosa sede romana. Al momento è stato definito il concept e la lista delle opere e dei musei coinvolti, il comitato scientifico e lo staff curatoriale.

dal 01-01-2020 a oggi: incaricata dalla Galleria Tretjakovskaja di Mosca di redigere un saggio scientifico per il catalogo della mostra antologica di Grisha Bruskin che si svolgerà nella primavera del 2022. Pubblicazione: Burini S., "La Gesamtkunstwerk di Grisha Bruskin" (in corso di stampa).

dal 01-11-2021 al 13-01-2022: incaricata di redigere un saggio scientifico per il catalogo della retrospettiva su Vasilij Kandinskij, che si terrà dal 26 febbraio al 26 giugno 2022 a Palazzo Roverella a Rovigo. Titolo del saggio: Burini S., "Vasilij Kandinskij: il viaggio dell'anima".
Menzioni e premi ricevuti
dal 09-11-2018 al 09-11-2018: Insignita a Roma del premio Russkij Rim per la diffusione dell'arte russa in Italia nell'ambito del Festival"Roma Russa". In seguito alla vincita del premio è stata nominata nell'Expert Committee del premio.

dal 01-02-2020 a oggi: Nomina come presidente per parte italiana del gruppo Cultura del Forum di Dialogo Italo-Russo delle Società Civili che ha sede in Italia presso l' Istituto per gli Studi di Politica Internazioanle (ISPI) per sviluppare un programma di cooperazione culturale bilaterale che promuova sia lo scambio scientifico che culturale.
Relazioni invitate presso convegni o workshops
2021: Dal formalismo alla semiotica della cultura: strumenti per lo studio delle arti visive (4 ore), nell'ambito del programma del corso di Dottorato internazionale di Storia delle Arti

2019: Semiotica per la storia dell'arte. La Scuola di Tartu-Mosca (4 ore, nell'ambito del programma del corso di Dottorato internazionale di Storia delle Arti

2019, 21 febbraio: conversazione con Margherita Belgiojoso in occasione della presentazione del suo romanzo Là dove s'inventano i sogni. Donne di Russia (ed. Guanda) all'interno del ciclo Writers in conversation presso CFZ – Cultural Flow Zone, Venezia. Intervengono Paola Severini Melograni e Pia Masiero.

2018: Semiotica per la storia dell'arte. La Scuola di Tartu-Mosca (4 ore), nell'ambito del programma del corso di Dottorato internazionale di Storia delle Arti
Seminari su invito tenuti presso altre Università, Centri di Ricerca, Aziende, etc.
dal 15-11-2018 al 17-11-2018: VII Forum Internazionale della Cultura" (San Pietroburgo). Relazione ("L'insegnamento della storia dell'arte russa in Occidente: l'esperienza di Ca' Foscari") su invito al panel organizzato dall'Universita di San Pietroburgo "Eksport rossijskoj kul'tury: kak i počemu ona vostrebovana?" [Esportare la cultura russa: come e perché è necessario?].

3-12-2018: invito come keynote speaker al "The festival for the Earth", terzo incontro internazionale, Venezia- Principato di Monaco, conferenza plenaria dal titolo Cristina Finucci's Wasteland. The Garbage Patch State project.

dal 14-11-2019 al 16-11-2019: VIII Cultural Forum di San Petroburgo, General Staff Building, Kabakov hall, organizzatore Museo Ermitage (educational). Partecipazione su invito al PANEL MUSEUM UNIVERSITIES con un intervento dal titolo "Un University Museum a Venezia: il caso Ca' Foscari". Sono intervenuti relatori da università e prestigiosi musei tra cui: Louvre, Pompidou, Tate Modern, Galleria Tret'jakovakaja,Museo Pushkin.

30-11-2020: Giornata di studio "Artescienza", a cura della senatrice Michela Montevecchi. Partecipazione su invito al panel "Cambiamenti climatici, antichi saperi e nuove tecnologie a difesa del patrimonio culturale" con presentazione del progetto di mostra "Sostenibilart", in previsione per aprile 2022 presso Ca' Foscari Zattere (CFZ), Ca' Foscari Venezia.

1/2-12-2020: IV International Sarabianov Congress of Art Historians "Russian Art Studies amid European Schools: Intellectual History and Migration of Ideas", organizzato da SIAS, Mosca. Partecipazione su invito con una relazione dal titolo "Juri Lotman's Semiotics of Culture and Art History" (in corso di pubblicazione negli atti del convegno).

31-01-2021: "Vitual roundtable", Princeton Universty, partecipazione su invito da parte del prof. Serguei Alex Oushakine, editor of "The Russian Review", con la relazione dal titolo "Studying Russian art: originality as a form of bravery". In pubblicazione su "The Russian Review", winter issue 2023.

06-03-2021: "LAZER TALK Education Challenges: Contemporary Art in Academic Environment", organizzata da Leonardo Art Science Evening Rendezvous e CYLAND St Petersburg. La candidata è stata invitata come Key note speaker per tenere una relazione dal titolo "Arte e sostenibilità".
Altre attività scientifiche
2018, 14-15 novembre: ideazione e co-organizzazione del seminario Aver cura della cura, prima iniziativa del ciclo DFBC Lectures, Dipartimento di Filosofia e Beni Culturali.
Altre attività didattiche
2019, gennaio: ha ideato e dirige la Summer school all'interno della SIE, School for International Education, dal titolo Contemporary art and curatorship: from documenta to the Biennale (in collaborazione con l'università di Kassel). La prima si è svolta dall'8 al 24 luglio 2019.
Incarichi accademici e attività organizzative
Vice-coordinatore del dottorato in Storia delle Arti dell'Università Ca' Foscari Venezia con delega all'internazionalizzazione (dal 2018 a oggi).

Delegata alla Terza missione, Comunicazione ed Eventi del Dipartimento di Filosofia e Beni culturali dell'Università Ca' Foscari Venezia (dal 2017 a oggi).

Direttore del Centro Studi sulle Arti della Russia dell'Università Ca' Foscari (dal 2011 a oggi).

Ideatrice e direttore scientifico di "Art Night Venezia" (dal 2010 a oggi).
Componente di Collegi didattici, Comitati e Commissioni di Dipartimento, Commissioni di Ateneo
Membro del collegio didattico del corso EGART( Economia e Gestione delle Arti) con delega ai tirocini (dal 2020 a oggi).

Membro del comitato Didattica del Dipartimento di Filosofia e Beni Culturali (dal 2020 a oggi).

Membro del comitato Terza Missione del Dipartimento di Filosofia e Beni Culturali (dal 2020 a oggi).

Membro del Collegio docenti della Scuola dottorale inter-ateneo in Storia delle Arti, in seguito ridenominato Dottorato Internazionale in Storia delle Arti (dal 2010 a oggi).
Attività e incarichi esterni
Membro di SHERA (The Society of East European, Eurasian and Russian Art and Architecture) dal 2013 a oggi.

Membro del Consiglio dell'"International Cyber Art Festival" di San Pietroburgo dal 2010 a oggi.

Membro del comitato scientifico del GESC Grupo de Estudios de Semiótica de la Cultura diretto dal prof. Jorge Lozano, Universidad Complutense di Madrid dal 2008 a oggi.
Altre informazioni
2019, 10 maggio 2019 - 3 novembre: curatrice con Giuseppe Barbieri e Faina Balachovskaja della mostra Gely Korzhev. Back to Venice. Ca' Foscari Esposizioni - 3246 Dorsoduro, Venezia, in collaborazione con la Galleria Tret'jakov di Mosca.

2019, 11 maggio-28 giugno: co-curatrice della mostra Id. Art Tech Exibition (Cyfest12, the International Media Art Festival) (CFZ - Cultural Flow Zone, Venezia).