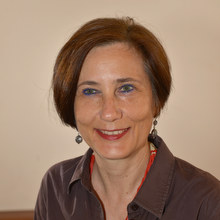 GHERSETTI Antonella
Position

Full Professor
Telephone

041 234 8807
E-mail
Fax

041 524 1847
Scientific sector (SSD)

LINGUA E LETTERATURA ARABA [L-OR/12]
Website

www.unive.it/persone/antghers (personal record)

Office
Dati relazione
Periodo di riferimento

01/09/2019 - 01/09/2022
Afferenza

Dipartimento di Studi sull'Asia e sull'Africa Mediterranea
Ruolo

PO
Attività didattica
| A.A. | Insegnamento | Codice | Voto | Voto medio area |
| --- | --- | --- | --- | --- |
| 2019/2020 | IDEOLOGIA DELLA LINGUA NEL MONDO MUSULMANO | LM2180 | 7.9 | 8.1 |
| 2019/2020 | LANGUAGES - ARABIC ELEMENTARY | LM8M30 | 6.8 | 8.1 |
| 2019/2020 | LINGUA ARABA 1 | LT005C | 6.8 | 8.1 |
| 2019/2020 | STORIA INTELLETTUALE E MODELLI TESTUALI (ARABO) | LM251C | | |
| 2020/2021 | IDEOLOGIA DELLA LINGUA NEL MONDO MUSULMANO | LM2180 | 9.4 | 8.3 |
| 2020/2021 | LANGUAGES - ARABIC ELEMENTARY | LM8M30 | 8.4 | 8.3 |
| 2020/2021 | LINGUA ARABA 1 | LT005C | 8.1 | 8.3 |
| 2020/2021 | STORIA INTELLETTUALE E MODELLI TESTUALI (ARABO) | LM251C | 9.3 | 8.3 |
| 2021/2022 | IDEOLOGIA DELLA LINGUA NEL MONDO MUSULMANO | LM2180 | 9.6 | 8.1 |
| 2021/2022 | LANGUAGES - ARABIC ELEMENTARY | LM8M30 | 6.9 | 8.1 |
| 2021/2022 | STORIA INTELLETTUALE E MODELLI TESTUALI (ARABO) | LM251C | 9.5 | 8.1 |
Tesi
| Anno solare | Tipologia | Tesi Relatore | Tesi Correlatore |
| --- | --- | --- | --- |
| 2019 | Corso di laurea | 6 | |
| 2019 | Corso di laurea magistrale | 1 | 1 |
| 2020 | Corso di dottorato | 2 | |
| 2020 | Corso di laurea | 7 | |
| 2020 | Corso di laurea magistrale | 2 | 3 |
| 2021 | Corso di laurea | 2 | |
| 2021 | Corso di laurea magistrale | 3 | |
Ricerche sviluppate e in corso
antologie di epoca mamelucca
educazione e apprendimento nel mondo musulmano medievale
la fisiognomica araba
la tradizione linguistica araba
tipi e stereotipi nella letteratura araba
Pubblicazioni realizzate nel triennio
GHERSETTI, Antonella (2022), ARABIC SHORT NARRATIVES AND NARRATIO BREVIS: SOME REMARKS in ARABIST, vol. 44, pp. 31-51 (ISSN 0239-1619) (Articolo su rivista)
ghersetti, Antonella (2022), Scimmie (e uomini) nella letteratura araba , Un collar de palabras. Saberes, discursos y reflexiones actuales desde los Estudios Semíticos in COLECCIÓN ESTUDIOS ÁRABES, Granada, Editorial de la Universidad de Granada, pp. 141-165 (Articolo su libro)
ghersetti antonella (2022), al-Marzubānī, Muḥammad b. ʿImrān , Encyclopaedia of Islam three (3rd. ed.), leiden, brill (Voce in dizionario/enciclopedia)
Ghersetti, Antonella (2021), La letteratura d'adab , Roma, Istituto per l'Oriente C.A. Nallino (ISBN 9788897622635) (Monografia o trattato scientifico)
Ghersetti, Antonella (2021), De l'intelligence et des femmes : les femmes sagaces dans Akhbār al-adhkiyāʾ d'Ibn al-Jawzī in HAWWA, vol. 19, pp. 339-365 (ISSN 1569-2078) (Articolo su rivista)
ghersetti antonella (2021), Language between God and the Poets: Maʿnā in the Eleventh Century. By Alexander Key in JOURNAL OF THE AMERICAN ORIENTAL SOCIETY, vol. 141, pp. 961-962 (ISSN 0003-0279) (Recensione in rivista)
ghersetti (2021), Who framed al-Hamaḏānī? Cornice e cornici nella maqāma araba in Creazzo, Eliana (a cura di), Le donne parimente e gli uomini tutti lodarono il novellare". Percorsi della cornice narrativa in QUADERNI DI MEDIOEVO ROMANZO E ORIENTALE, Soveria Mannelli, Il Rubbettino, pp. 59-70 (Articolo su libro)
Antonella Ghersetti (2020), Classes of Grammarians East and West: Ṭabaqāt al-naḥwiyyīn wa-l-lughawiyyīn of al-Zubaydī and Marātib al-naḥwiyyīn of Abū l-Ṭayyib al-Lughawī in JOURNAL OF ABBASID STUDIES, vol. 7, pp. 1-37 (ISSN 2214-2363) (Articolo su rivista)
Antonella Ghersetti (2020), The World in a Book: Al-Nuwayri and the Islamic Encyclopedic Tradition in JOURNAL OF THE AMERICAN ORIENTAL SOCIETY, vol. 140, pp. 751-753 (ISSN 0003-0279) (Recensione in rivista)
ghersetti a. (2020), Primary School Teachers Between jidd and haze: Literary Treatment of Educational Practices in Pre-Modern Islamic Schools , Knowledge and Education in Classical Islam Religious. Learning between Continuity and Change in ISLAMIC HISTORY AND CIVILIZATION, Leiden, Brill, vol. 172, pp. 488-515 (ISBN 978-90-04-41321-4) (ISSN 0929-2403) (Articolo su libro)
GHERSETTI, Antonella (2019), Late authorship and innovation: the case of al-Suyūṭī in JERUSALEM STUDIES IN ARABIC AND ISLAM, vol. 45, pp. 211-237 (ISSN 0334-4118) (Articolo su rivista)
ghersetti, antonella (2019), L'intelligenza degli animali nel Kitāb al-aḏkiyāʾ di Ibn al-Ǧawzī in QUADERNI DI STUDI ARABI, vol. 14, pp. 47-66 (ISSN 1121-2306) (Articolo su rivista)
ghersetti, antonella (2019), L'ARCA DI NOÈ STUDI IN ONORE DI GIOVANNI CANOVA , L'ARCA DI NOÈ STUDI IN ONORE DI GIOVANNI CANOVA, Roma, IPO C.A. Nallino, pp. 5-12 (Prefazione/Postfazione)
(a cura di) ghersetti, antonella (2019), L'Arca di Noè. Studi in onore di Giovanni Canova (QUADERNI DI STUDI ARABI NUOVA SERIE 14 - 2019) in QUADERNI DI STUDI ARABI, roma, istituto per l'oriente c.a. nallino, vol. 14 (ISSN 1121-2306) (Curatela)
Pubblicazioni in corso di stampa
Ghersetti, Antonella "The ornament of generous people". A literary anthology on generosity in pre-modern Arabic culture , Atlanta, lockwood press (Edizione critica di testi/Edizione critica di scavo)
GHERSETTI A. Arabic anecdotes and Medieval Narratio Brevis: a Literary Analysis in S.KH. JAYYUSI ED., The Classical Arabic Story. Critical views., LEIDEN, BRILL (Articolo su libro)
Ghersetti, Antonella The first generation of Andalusian grammarians in al-Zubaydī's Ṭabaqāt. The search for an Andalusian identity , Giornate di studi sul pensiero linguistico in Sicilia in Islamic Sicily: texts, literary and linguistic research, ROMA, ISTITUTO PER L'ORIENTE CARLO ALFONSO NALLINO (Articolo su libro)
Ghersetti, Antonella Physiognomy (Firāsa) , Encyclopaedia of Islam three (3rd. ed.), Leiden, Brill (Voce in dizionario/enciclopedia)
Ghersetti, Antonella Polemon (Aflīmūn) , Encyclopedia of Islam. Third Edition, Leiden, Brill (Voce in dizionario/enciclopedia)
GHERSETTI, Antonella Ṭufaylī (in Arabic literature) , Daanish naame ye Djahaan e Islam, Center for the Great Islamic Encyclopedia (Voce in dizionario/enciclopedia)
Partecipazione come referee di progetti di ricerca nazionali ed internazionali
- Referee per German-Israeli Foundation for Scientific Research and Development (richiesta del 16 febbraio 2011) per la valutazione di un progetto di ricerca di ambito arabistico (letteratura araba classica).
- Referee per la VQR 2004-2010
Partecipazione a comitati editoriali di riviste/collane scientifiche
2006-2020 membro dell'Advisory Board of Editors di al-Masāq (Leeds) (http://www.informaworld.com/smpp/title~db=all~content=t713404720~tab=editorialboard).
2010 (settembre)-2020 (ottobre) membro dell'International Advisory Board of Library of Arabic Literature (LAL), New York University Abu Dhabi and NYU Press
2011 a oggi: membro del Comitato scientifico internazionale della collana Quaderni di Medioevo Romanzo e Orientale diretta da Antonio Pioletti .
2012-2021 Editor della Serie Orientale della Collana "Filologie medievali e moderne" delle Edizioni Ca' Foscari, Venezia (Codice Cineca per U-gov E228873 Titolo FILOLOGIE MEDIEVALI E MODERNE. SERIE ORIENTALE)
2013 a oggi membro del comitato di redazione di Annali di Ca' Foscari s.o. ISSN 2385-3042 http://www.edizionicafoscari.unive.it/riv/dbr/9/AnnaliCaFoscari
2013 a oggi membro del Consejo Asesor Científico della rivista Miscelánea de Estudios Árabes y Hebraicos (Sección Árabe-Islam), Universidad de Granada http://meaharabe.com/index.php/meaharabe/about/editorialTeam
2016 a oggi membro del Consejo Asesor della collezione Estudios Árabes, Universidad de Granada https://editorial.ugr.es/pages/editorial/consejos-asesores-colecciones/coleccionestudiosarabes
2016-2021 board of international scholars collana "Resources in Arabic and Islamic Studies", Lockwood press, Atlanta (USA) (http://www.lockwoodpress.com/rais.html)
2016 a oggi Editor della Collana "I grandi libri della letteratura araba" delle Edizioni Ca' Foscari, Venezia http://edizionicafoscari.unive.it/it/edizioni/collane/i-grandi-libri-della-letteratura-araba/
2017 a oggi member of the editorial board of Translating Wor(l)ds
Collana di studi sulla traduzione e traduzioni delle lingue asiatiche e nordafricane (Edizioni Ca' Foscari) https://edizionicafoscari.unive.it/it/edizioni/collane/translating-worlds/
2017 a oggi editorial board of "The Arabist. Budapest Studies in Arabic and Islam" https://eltearabszak.hu/the-arabist/
2017 a oggi scientific board of the collection "Islamic Sicily: texts, literary and linguistic research" (IPO, Rome)
2019- Scientific board of the journal DIRASAT: HUMAN AND SOCIAL SCIENCES (Jordan University, Amman) https://journals.ju.edu.jo/DirasatHum/index
2019 a oggi Editor della rivista Quaderni di Studi Arabi n.s., IPOCAN, Roma https://brill.com/view/journals/qsa/qsa-overview.xml?rskey=B7Pkdr&result=1
2021- Membro permanente del comitato scientifico della collana annuale Testo A Fronte, Université Mohammed V Rabat, Faculté des Lettres et Sciences Humaines.
2021 a oggi membro dell'editorial board di Lingue Culture Mediazioni - Languages Cultures Mediation (LCM Journal), Dipartimento di Scienze della Mediazione Linguistica e di Studi Interculturali dell'Università degli Studi di Milano
Descrizione dell'attività di ricerca svolta nel triennio e gli obiettivi futuri
Le mie attività di ricerca nell'ambito della letteratura araba premoderna si sono concentrare su tecniche e motivi della produzione delle opere d'adab. Nel 2020 ho completato l'edizione critica, con introduzione e traduzione in inglese, di un'antologia di epoca mamelucca in corso di stampa presso Lockwood press (Atlanta). Parallelamente ho sintetizzato i risultati della mia pluriennale attività di ricerca in questo campo in un volume uscito nel 2021 (IPO, Roma) e nell'articolo "ARABIC SHORT NARRATIVES AND NARRATIO BREVIS: SOME REMARKS" pubblicato nella rivista internazionale The Arabist (2022).
In relazione alla tematica su educazione e apprendimento nel mondo musulmano medievale ho pubblicato un corposo saggio che indaga realtà e narrazione delle attività formative nell'educazione primaria nel mondo arabo premoderno (Primary School Teachers Between jidd and hazl, 2021).
Il filone di ricerca sulla tradizione linguistica araba si è sviluppato lavorando sull'intersezione tra produzione grammaticale e produzione biografica ed evidenziando le valenze ideologiche di testi apparentemente tecnici ma deputati invece alla definizione di valori identitari (articolo "Classes of Grammarians East and West", JOURNAL OF ABBASID STUDIES).
La tematica "tipi e stereotipi nella letteratura araba" si è sviluppata lungo una linea di indagine già intrapresa e relativa alla rappresentazione letteraria dell'universo femminile (articolo "De l'intelligence et des femmes", HAWWA) e alle molteplici rappresentazioni dell'universo animale (capitolo di libro "Scimmie (e uomini) nella letteratura araba; articolo "L'intelligenza degli animali"). Alla tematica del rapporto uomo-animale in reciproca definizione ho poi dedicato anche l'organizzazione di un panel alla School of Mamluk Studies (2022) e una relazione in corso di pubblicazione.
Altri prodotti scientifici
Tutor assegni di ricerca:
2019-2021, "Le strategie di livellamento linguistico nelle produzioni televisive arabe: dinamiche transculturali e norme sociolinguistiche nell'uso dei patterns" (Vicente Martì Tormo)
Supervisor Marie Curie
2017-2021 progetto RASCIO (Elise Franssen, Liegi) Marie Curie proposal EU proposal 749180 -
Relazioni invitate presso convegni o workshops
2022-Lo studio dell'arabo premoderno, Università degli studi di Torino, 21-22 aprile 2022 (relazione invitata: La tradizione linguistica araba: esperienze didattiche e di ricerca")
2022- EIGHTH CONFERENCE OF THE SCHOOL OF MAMLUK STUDIES, UNIVERSITY OF MARBURG, 7-9 JULY 2022 (presentazione: Animals as metaphors, animals as examples: humans in the mirror of animals in a literary anthology on generosity)
Seminari su invito tenuti presso altre Università, Centri di Ricerca, Aziende, etc.
- Intelligence and Women: Smart Women in Arabic Anecdotes, Bayerisches Orientkolloquium 2021, Bayerisches Orientkolloquium 2021, Bamberg 20.05.2021 (online)
- One, No One and One Hundred Thousand: diversity against uniformity in the Arabic language in the eyes of al-Suyuti (d. 1505), Bayerisches Orientkolloquium 2022, Bamberg 19.05.2022Trieste, 17.11.2022
Altre attività scientifiche
2019 - Membro del comitato scientifico del PRIMER SIMPOSIO INTERNACIONAL: PATRIMONIO ANDALUSÍ. CULTURA, DOCUMENTOS Y PAISAJES (Università di Siviglia, 11 - 12 novembre 2019)
2019 - Organizzatore locale della quarta summer school Mapping the Urban: Cities in Arabic Literature, Culture, and Society - AGYA International Bilingual Summer School, Ca' Foscari 17-19 October, 2019 (summer school Project Arabische Philologien im Blickwechse, a joint Project of the universities of Muenster, Marburg and Agya Arab German Young Academy of sciences and Humanities)
2021 - membro del comitato scientifico del seminario on line CUESTIONES DE ESTÉTICA ÁRABE E ISLÁMICA, Grupo Investigación HUM931: Patrimonio Andalusí: Cultura, Documentos y Paisajes UNIVERSIDAD DE SEVILLA. 8 de abril a 14 de mayo de 2021
2021 - membro del comitato scientifico del convegno internazionale "Language, Teaching, and Politics in Arabic and Chinese", December 16th 2021, Università degli Studi di Milano, Department of Studies in Language Mediation and Intercultural Communication; chair of the first keynote speaker Reem Bassiouney
2022- membro del comitato scientifico di Rivel-Azione. Politica della poesia e poesia della politica in Europa e nel Mediterraneo in età contemporanea- Revel-Action. Politics of Poetry and Poetry of Politics in Europe and Mediterranean Area in the Contemporary Age. (Roma Tre, Statale Milano, Ca' Foscari etc.) 23-25 febbraio e Discussant del panel Tradition and Avantgarde in Mediterranean and Arab Political Poetry)
2022- membro del comitato organizzatore della EIGHTH CONFERENCE OF THE SCHOOL OF MAMLUK STUDIES, UNIVERSITY OF MARBURG, 7-9 JULY 2022
2022 Fifteenth Conference of the School of Abbasid Studies, July 12 – July 16, 2022, University of Oxford, chair of the panel Representation of Texts
2022 UNION EUROPÉENNE DES ARABISANTS ET ISLAMISANTS, 30th Congress: Body, Identity and Society in Islam, July 7-9, Utrecht (chair of the panel Artifacts)

Reviews di articoli in rivista
The Arabist. Budapest Studies in Arabic and Islam; Journal of Islamic Studies; Studi magrebini; AION, serie orientale; Bulletin of the School of Oriental Studies; Journal of Islamic Studies; Lingue Culture Mediazioni - Languages Cultures Mediation (LCM); Miscelánea de Estudios Árabes y Hebraicos (Sección Árabe-Islam); Mamluk Studies Review; Rivista degli Studi Orientali.
Reviews di monografie
Gorgias Press, (THE BANISHER of MADNESS)
Brill (In the Author's Hand)
UCOP (Editorial Universidad de Cordoba Press), Collana Arabo-Islamica (Fihrist of Majma' al-aqwal fi ma'ani al-amthal)
Incarichi accademici e attività organizzative
2019 a oggi referente per stage e tirocini studenti area arabistica (LICSAAM, LICAAM)
2020-2021? vice direttrice del DSAAM
Partecipazione alle attività di valutazione della ricerca
2021 Royal Netherlands Academy of Arts and Sciences (KNAW): referee per membership Maaike van Berkel (Radboud University Nijmegen)
Componente di Collegi didattici, Comitati e Commissioni di Dipartimento, Commissioni di Ateneo
2012 a oggi: membro del collegio didattico del Dottorato Studi sull'Asia e sull'Africa
2018? a oggi: membro del comitato Ricerca di Dipartimento
2019-2022: coordinatore collegio didattico corso laurea magistrale MIM
2022 a oggi: membro del collegio didattico CdS magistrale Transmed
Attività e incarichi esterni
2021 a oggi: Membro commissione ASN SC 10/N1
Altre informazioni
2013 a oggi Co-direttore della School of Mamluk Studies https://mamluk.uchicago.edu/about-sms.html
2013 a oggi Co-Responsabile Scientifica del laboratorio DAR (Didattica dell'arabo in Ricerca) affiliato a DSAAM e DSLCC https://www.unive.it/pag/17221/
2018-2021 rappresentante nazionale per l'Italia presso l'UEAI (Union Européenne des Arabisants et Islamisants); Deputy Secretary General UEAI
2021 a oggi Vice-President of UEAI (Union Européenne des Arabisants et Islamisants)