PESENTI Raffaele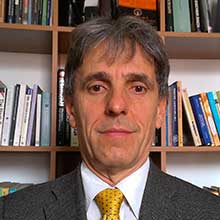 Venezia - San Giobbe - Dipartimento di Management - studio n. 011, piano terra, ala C2
Il ricevimento si tiene il venerdì dalle ore 10:30. Gli studenti che intendano essere ricevuti devono inviare una mail al docente entro il mercoledì precedente per fissare con precisione orario e modalità.
Venice – San Giobbe – Department of Management – C2 building – ground floor – room 011.
Friday at 10.30 a.m. Students are requested to write an email within the Wednesday before, to arrange time
Please check if there are possible changes by clicking on "Avvisi".