SORIANI Stefano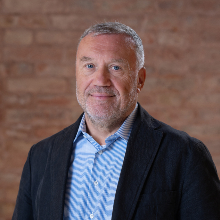 Dati relazione
| | |
| --- | --- |
| Periodo di riferimento | 10/11/2014 - 31/08/2017 |
| Afferenza | Dipartimento di Economia |
| Ruolo | Professori associati |
Attività didattica
| A.A. | Insegnamento | Codice | Voto (max 4) | Voto medio area (max 4) |
| --- | --- | --- | --- | --- |
| 2014/2015 | GEOGRAFIA ECONOMICA | ET0034 | 3.5 | 3 |
| 2014/2015 | GEOGRAFIA ECONOMICA-POLITICA | LM0030 | 3.7 | 3.2 |
| 2014/2015 | GEOGRAFIA ECONOMICO-POLITICA | EM1050 | 3.6 | 3 |
| 2014/2015 | POLITICA E DIRITTO DELL'AMBIENTE | CT0367 | 3.3 | 3.1 |
| 2015/2016 | GEOGRAFIA ECONOMICA | ET0034 | 3.4 | 3.1 |
| 2015/2016 | GEOGRAFIA ECONOMICA-POLITICA | LM0030 | 3.6 | 3.2 |
| 2015/2016 | GEOGRAFIA ECONOMICO-POLITICA | EM1050 | 3.4 | 3.1 |
| 2015/2016 | POLITICA E DIRITTO DELL'AMBIENTE | CT0367 | 3.5 | 3.1 |
Tesi
| Anno solare | Tipologia | Tesi Relatore | Tesi Correlatore |
| --- | --- | --- | --- |
| 2014 | Corso di dottorato | 1 | |
| 2014 | Corso di laurea | 2 | |
| 2014 | Corso di laurea magistrale | 22 | 9 |
| 2014 | Corso di laurea specialistica | 1 | |
| 2015 | Corso di laurea | 23 | |
| 2015 | Corso di laurea magistrale | 16 | 10 |
| 2015 | Corso di laurea specialistica | 1 | |
| 2016 | Corso di laurea | 23 | |
| 2016 | Corso di laurea magistrale | 28 | 14 |
Finanziamenti
Area metropolitana centro veneta e istituzione Venezia Città Metropolitana
Città metropolitana Venezia
Una valutazione economica degli ecosistemi marini e un'analisi di scenario economico al 2020
Ricerche sviluppate e in corso
Area metropolitana centro-veneta
Aspetti socioeconomici nella gestione integrata delle aree costiere del Mediterraneo
Strategie della globalizzazione economica e conflitti d'uso nelle fasce costiere
Sviluppo portuale e waterfront nel Mediterraneo
Trasporti marittimi e cooperazione tra porti in Adriatico Settentrionale
Pubblicazioni realizzate nel triennio
Soriani, Stefano; Calzavara, Alessandro (2016), Dinamiche globali e determinanti locali-regionali nella riqualificazione delle aree portuali-industriali. Una prospettiva critica su Porto Marghera, Venezia. in RIVISTA GEOGRAFICA ITALIANA, vol. 123, pp. 177-198 (ISSN 0035-6697) (Articolo su rivista)
Soriani, Stefano; Pioletti, Maurizio (2016), Effective metropolitan governance is not an outcome just from a law making process. The Italian case in WORKING PAPERS, vol. 2/2016, pp. 1-16 (ISSN 2465-2059) (Articolo su rivista)
Soriani, Stefano (2016), Ocean grabbing e governance del mare in GNOSIS, vol. XXII, pp. 140-149 (ISSN 1824-5900) (Articolo su rivista)
Soriani, Stefano; Calzavara, Alessandro (2016), Riordino territoriale, governo e governance metropolitana nel caso veneziano in RIVISTA GEOGRAFICA ITALIANA, vol. 124, pp. 259-280 (ISSN 0035-6697) (Articolo su rivista)
Cavallo, F. L.; Lando, F.; Minca, C.; Soriani, S.; Vallerani, F. (2016), The commitment of memory [L'impegno della memoria] in RIVISTA GEOGRAFICA ITALIANA, vol. 123, pp. 107-108 (ISSN 0035-6697) (Articolo su rivista)
Bosello, F.; Capriolo, A.; Breil, M.; Eboli, F.; Manente, M.; Mascolo, R.A.; Mauracher, C.; Montaguti, F.; Otrachschenko, V.; Rizzo, R. G.; Rizzo, S. L.; Sacchi, G.; Soriani, S.; Standardi, G (2016), Una valutazione economica degli ecosistemi marini e un'analisi di scenario economico al 2020 , Roma, ISPRA (ISBN 978-88-448-0805-1) (Rapporto di ricerca)
Soriani, Stefano (2015), Introduzione in CULTURE DELLA SOSTENIBILITÀ, vol. VIII/1, pp. 15-18 (ISSN 1972-5817) (Articolo su rivista)
Soriani, S.; Tonino, M. (2015), La difficile traduzione dei principi della Gestione Integrata delle Zone Costiere nella gestione delle Aree Marine Protette: il caso del Nord Adriatico in GEOTEMA, vol. 49, pp. 190-194 (ISSN 1126-7798) (Articolo su rivista)
Soriani, Stefano; Buono, F.; Tonino, Marco; Camuffo, Monica (2015), Participation in ICZM initiatives: Critical aspects and lessons learnt from the Mediterranean and Black Sea experiences in MARINE POLLUTION BULLETIN, vol. 92, pp. 143-148 (ISSN 0025-326X) (Articolo su rivista)
Soriani, Stefano; Buono, Fabrizia; Camuffo, Monica (2015), Problems and Pitfalls in ICZM Implementation: lessons from Some Selected Mediterranean and Black Sea Cases in JOURNAL OF COASTAL ZONE MANAGEMENT, vol. 2015, pp. 1-7 (ISSN 2473-3350) (Articolo su rivista)
Buono, Fabrizia; Soriani, Stefano; Camuffo, Monica; Tonino, M.; Bordin, A. (2015), The difficult road to Integrated Coastal Zone Management implementation in Italy: Evidences from the Italian North Adriatic regions in OCEAN & COASTAL MANAGEMENT, vol. 114, pp. 21-31 (ISSN 0964-5691) (Articolo su rivista)
Soriani, Stefano; Buono, F.; Camuffo, Monica; Dalla Via, M.; Tonino, Marco (2015), Un'indagine sull'adozione della Gestione Integrata della Zona Costiera in Alto Adriatico. Risultati e valutazioni critiche in RIVISTA GEOGRAFICA ITALIANA, vol. 122, pp. 95-118 (ISSN 0035-6697) (Articolo su rivista)
Calzavara A.; Soriani S. (2015), Consumo di suolo, pianificazione e gestione del territorio, degrado ambientale , Politica e gestione dell'ambiente. Attori, processi, esperienze, Bologna, Patron Editore, pp. 113-137 (ISBN 9788855532938) (Articolo su libro)
Soriani, S.; Reali, C. (2015), Crisi idrica e water grabbing cinese in Asia meridionale e sud orientale , Verso un paradigma geopolitico, Roma, Aracne Editore, vol. 2, pp. 721-734 (ISBN 9788854883277) (Articolo su libro)
Ostoich M.; Soriani S. (2015), Il disinquinamento dei suoli e delle acque sotterranee nei megasiti industriali contaminati. Il caso di Porto Marghera , Politica e gestione dell'ambiente. Attori, processi, esperienze, Bologna, Patron Editore, pp. 91-112 (ISBN 9788855532938) (Articolo su libro)
Soriani S. (2015), Il rapporto tra economia e ambiente nella prospettiva della modernizzazione ecologica , politica e gestione dell'ambiente. Attori, processi, esperienze, Bologna, Patron Editore, pp. 27-46 (ISBN 9788855532938) (Articolo su libro)
Camuffo M.; Soriani S. (2015), Politica e gestione dell'ambiente. I principali ambiti tematici , Politica e gestione dell'ambiente. Attori, processi, esperienze, Bologna, Patron Editore, pp. 11-25 (ISBN 9788855532938) (Articolo su libro)
Camuffo M.; Soriani S. (2015), Un ricordo: Gabriele Zanetto e gli studi ambientali a Venezia , Politica e gestione dell'ambiente. Attori, processi, esperienze, Bologna, Patron Editore, pp. 7-10 (ISBN 9788855532938) (Breve introduzione)
(a cura di) Camuffo M.; Soriani S. (2015), Politica e gestione dell'ambiente. Attori, processi, esperienze in Geografia e organizzazione dello sviluppo territoriale, Bologna, PATRON, pp. 1-327 (ISBN 9788855532938) (Curatela)
Soriani, S. (2015), L'Area metropolitana centro-veneta e la Città metropolitana di Venezia , Roma, Società Geografica Italiana, pp. 79-81 (ISBN 978-88-88692-93-7) (Altro)
Soriani S.; Leggio T.; Retico N. (2014), La gestione dei rifiuti speciali in Veneto: caratteristiche essenziali, tendenze recenti ed esportazioni transfrontaliere in ECONOMIA E SOCIETÀ REGIONALE. OLTRE IL PONTE, vol. XXXII, pp. 88-116 (ISSN 1827-2479) (Articolo su rivista)
Partecipazione a comitati editoriali di riviste/collane scientifiche
Comitato Scientifico Collana 'Spazi', Casa editrice Guerini e Associati
Committe of International Experts Portus-Plus (RETE: Associacion para la colaboracion entre Puertos y Ciudades)
Descrizione dell'attività di ricerca svolta nel triennio e gli obiettivi futuri
La mia attività di ricerca nel periodo considerato si è concentrata sui seguenti temi:
- evoluzione delle relazioni città-porto, con particolare riferimento al caso veneziano
- governo e governance metropolitana in regioni urbane europee policentriche, e analisi del caso centro-veneto, alla luce della legge di riformia Delrio
- cisttà costiere e resilienza
Relazioni invitate presso convegni o workshops
Nel periodo considerato ho partecipato, compatibilmente con gli impegni come Coordinatore di Collegio Didattico a diversi workshop e conferenze nazionali e internazionali. Tra questi, richiamo i seguenti:
- organizzazione e coordinamento scientifico, assieme alla collega Rosa Caroli, del Dipartimento di Studi Linguistici e Culturali Comparati di Ca' Foscari), della Conferenza Internazionale Fragile and Resilient Cities on Water: perspectives from Venice and Tokyo, sposorizzato dall'Università Hosei di Tokyo e dalla Fondazione Toshiba Japan.
- Partecipazione su invito al Workshop internazionale "2017 Global Ocean Science Education", 23-25 maggio UNESCO, Venezia,; relazione presentata: Resilient coastal cities: challenges and opportunities.
- Partecipazione su invito al workshop internazionale "Sustainable European Cities: governance, democracy and connectivity", St Antony's College, University of Oxford, 10-11 maggio 2017; relazione presentata: Venice. resilient cities on water?
Altre attività scientifiche
Svolgo regolarmente funzioni di revisore per la Rivista Geografica Italiana e per il Semestrale di Studi in Geografia (Fascia A Anvur), Ocean and Coastal Management, Marine Pollution Bulletin e altre riviste internazionali, sui temi della gestione della costa e di geografia marittima.
Altre attività didattiche
- Ho ideato e organizzato, assieme al prof. Pavan (DAIS), il Master in Gestione ambientale ed energetica delle imprese e del territorio, di cui sono coordinatore didattico e referente dell'insegnamto I (Sostenibilità e Green Economy)
- Ho insegnato nel master GESAM di Ca' Foscari
- Ho insegnato nel Master di Geopolitica e sicurezza globale della Sapienza di Roma
Componente di Collegi didattici, Comitati e Commissioni di Dipartimento, Commissioni di Ateneo
Sono Coordinatore del Collegio didattico della LM Global Development and Entrepreneurship (già Sviluppo Economico e dell'Impresa) dal 2013
Sono mebro dei Collegi didattici delle LM RIC e Sistemi Turistici
Faccio parte del Comitato per la didattica del DEC
Attività e incarichi esterni
Ho svolto incarichi esterni(conto terzi e/o collaborazioni alla ricerca) sui temi dello sviluppo urbano e metropolitano e sui programmi di gestione ambeintale delle imprese veneziane e venete, per conto della Camera di Commercio Venezia Rovigo Delta Lagunare, Confindustria Venezia, Confindustria Veneto.