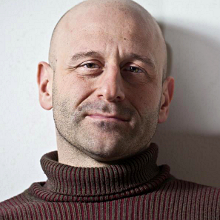 BASOSI Duccio
Position

Associate Professor
Roles

Department's Delegate for Interdepartmental relations

Telephone

041 234 9479
E-mail
Fax

041 234 9412
Scientific sector (SSD)

STORIA DELLE RELAZIONI INTERNAZIONALI [SPS/06]
Website

www.unive.it/persone/duccio.basosi (personal record)

Office
Dati relazione
Periodo di riferimento

01/08/2017 - 31/07/2020
Afferenza

Dipartimento di Studi Linguistici e Culturali Comparati
Ruolo

Professori associati
Attività didattica
| A.A. | Insegnamento | Codice | Voto | Voto medio area |
| --- | --- | --- | --- | --- |
| 2016/2017 | HISTORY OF INTERNATIONAL RELATIONS | LM3140 | 3 | 3.2 |
| 2016/2017 | STORIA CONTEMPORANEA 2 | LT0900 | 3.5 | 3.2 |
| 2016/2017 | U.S.: INTELLECTUAL HISTORY | LMJ210 | 3.2 | 3.2 |
| 2017/2018 | HISTORY OF INTERNATIONAL RELATIONS | LM3140 | 3.4 | 3.2 |
| 2017/2018 | LE AMERICHE NELLA POLITICA INTERNAZIONALE | NL001B | | |
| 2017/2018 | STORIA CONTEMPORANEA 2 | LT0900 | 3.3 | 3.2 |
| 2017/2018 | U.S.: INTELLECTUAL HISTORY | LMJ210 | 3.4 | 3.2 |
| 2018/2019 | HISTORY OF INTERNATIONAL RELATIONS | LM3140 | 3.2 | 3.2 |
| 2018/2019 | LE AMERICHE NELLA POLITICA INTERNAZIONALE | NL001B | | |
| 2018/2019 | STORIA CONTEMPORANEA 1 | LT1220 | 3.3 | 3.2 |
| 2018/2019 | STORIA CONTEMPORANEA 2 | LT0900 | 3.2 | 3.2 |
| 2018/2019 | U.S.: INTELLECTUAL HISTORY | LMJ210 | 3.4 | 3.2 |
Tesi
| Anno solare | Tipologia | Tesi Relatore | Tesi Correlatore |
| --- | --- | --- | --- |
| 2017 | Corso di laurea | 5 | |
| 2017 | Corso di laurea magistrale | 6 | 11 |
| 2018 | Corso di laurea | 3 | |
| 2018 | Corso di laurea magistrale | 6 | 21 |
| 2019 | Corso di laurea | 5 | |
| 2019 | Corso di laurea magistrale | 11 | 11 |
Finanziamenti
The Making of the Washington Consensus: debts, assets and power, 1979-91
Ricerche sviluppate e in corso
Lasciti, storiografia e memoria dell'occupazione statunitense in Giappone
The Europeans. L'Europa occidentale nella politica estera statunitense, 1968-1991
The Making of the Washington Consensus (1979-91)
The engines of growth: For a global history of the conflict between renewable, fossil and fissile energies (1972-92)
Pubblicazioni realizzate nel triennio
Duccio Basosi (2020), Lost in transition. The world's energy past, present and future at the 1981 United Nations Conference on New and Renewable Sources of Energy in JOURNAL OF ENERGY HISTORY, vol. 4/2020, pp. 1-21 (ISSN 2649-3055) (Articolo su rivista)
D. BASOSI (2020), Oil, dollars, and US power in the 1970s: re-viewing the connections in JOURNAL OF ENERGY HISTORY, vol. 3/2019, pp. 1-20 (ISSN 2649-3055) (Articolo su rivista)
Duccio Basosi; Leopoldo Nuti (2020), Presentazione di Matthew Connelly, State Secrecy, Archival Negligence, and the End of History as We Know It, «Knight First Amendment Institute at Columbia University», 2018 in RIVISTA ITALIANA DI STORIA INTERNAZIONALE, vol. II/2019, pp. 141-150 (ISSN 2611-8602) (Recensione in rivista)
BASOSI D. (2020), Atlantisti, post-atlantisti e relazioni atlantiche all'inizio del XXI secolo , L'Europa a cent'anni dalla prima guerra mondiale. Storia, politica, diritto, Giappichelli, pp. 169-185 (ISBN 978-88-921-3429-4) (Articolo su libro)
Duccio Basosi (2019), Recensione a Odd Arne Westad, The Cold War. A World History, New York, Basic Books, 2017 in ARO, vol. II (ISSN 2612-2863) (Recensione in rivista)
D. BASOSI (2019), Dollar Hegemony , The Palgrave Encyclopedia of Imperialism and Anti-Imperialism, Palgrave Macmillan, pp. 1-11 (ISBN 978-3-319-91206-6; 978-3-319-91206-6) (Voce in dizionario/enciclopedia)
D. BASOSI (2018), Margaret Cowell, Dealing with Deindustrialization. Adaptive resilience in American Midwestern Regions, Routledge, London-New York, 2015, pp. 131 in PASSATO E PRESENTE, vol. XXXVI, pp. 194-197 (ISSN 1120-0650) (Recensione in rivista)
D. BASOSI (2018), Simone Selva, Before the Neoliberal Turn. The Rise of Energy Finance and the Limits to US Foreign Economic Policy, London, Palgrave Macmillan, 2017 in Annali.Recensioni.Online, vol. I, pp. 1-2 (Recensione in rivista)
Duccio, Basosi (2018), A Small Window: The Opportunities for Renewable Energies from Shock to Counter-Shock , Counter-Shock. The Oil Counter-Revolution of the 1980s in INTERNATIONAL LIBRARY OF TWENTIETH CENTURY HISTORY, London, I.B. Tauris, vol. 131, pp. 336-356 (ISBN 978 1 78831 333 9) (Articolo su libro)
Duccio, Basosi; Giuliano, Garavini; Massimiliano, Trentin (2018), Introduction. Counter-Shock and Counter-Revolution , Counter-Shock. The Oil Counter-Revolution of the 1980s in INTERNATIONAL LIBRARY OF TWENTIETH CENTURY HISTORY, London, I.B. Tauris, vol. 131, pp. 1-12 (ISBN 978 1 78831 333 9) (Articolo su libro)
Basosi, Duccio (2018), Le 'relazioni internazionali' di un Ateneo. Ca' Foscari e il mondo, 1868-1968 , I rapporti internazionali nei 150 anni di storia di Ca' Foscari, Edizioni Ca' Foscari - Digital Publishing, vol. 9, pp. 63-78 (ISBN 978-88-6969-266-6; 978-88-6969-265-9) (Articolo su libro)
(a cura di) Duccio, Basosi; Giuliano, Garavini; Massimiliano, Trentin (2018), Counter-Shock. The Oil Counter-Revolution of the 1980s in Duccio Basosi, Giuliano Garavini, Massimiliano Trentin in INTERNATIONAL LIBRARY OF TWENTIETH CENTURY HISTORY, London, I.B. Tauris, vol. 131, pp. 1-382 (ISBN 978 1 78831 333 9) (Curatela)
Basosi, Duccio (2017), Fidel Castro tra storia, mito e demonologia in PASSATO E PRESENTE, vol. XXXV, pp. 7-16 (ISSN 1120-0650) (Articolo su rivista)
D. BASOSI (2017), Angela Santese, La pace atomica. Ronald Reagan e il movimento antinucleare (1979-1987), Milano, Le Monnier, 2016, 291 pp. in IL MESTIERE DI STORICO, vol. IX, pp. 207-207 (ISSN 1594-3836) (Recensione in rivista)
Duccio, Basosi (2017), William Burr, Jeffrey P. Kimball, Nixon's Nuclear Specter. The Secret Alert of 1969, Madman Diplomacy, and the Vietnam War, Lawrence, University of Kansas Press, 2015, pp. 452 in RICERCHE DI STORIA POLITICA, vol. XX, pp. 360-360 (ISSN 1120-9526) (Recensione in rivista)
Duccio, Basosi (2017), Ghosts of the Past, Specters of the Future, and Phantasmagorias. On Recent Interpretive Trends in English Language Cold War Historiography , American Phantasmagoria: Modes of Representation in US Culture, Venezia, Supernova, pp. 13-27 (ISBN 9788868691103) (Articolo su libro)
Tesi di dottorato interateneo
Alessio Stilo, "SINOLOGIA STORICO-POLITICA NEGLI STATI UNITI, 1940-1980", Dottorato Interateneo in Studi Storici, Geografici e Antropologici, XXX ciclo, discussa a novembre 2018
Tesi di laurea/dottorato anno solare
Marianna Bettini, "US Rhetoric and Policies of Terrorism in the 1980s", Dottorato in Studi Storico-Sociali, Università di Firenze, XXIX ciclo, discussa a novembre 2017
Partecipazione a comitati editoriali di riviste/collane scientifiche
Comitato direttivo Rivista italiana di storia internazionale
Comitato scientifico USAbroad Journal
Comitato editoriale Collana di Storia delle Relazioni Internazionali (Mondadori Education)
Descrizione dell'attività di ricerca svolta nel triennio e gli obiettivi futuri
L'attività di ricerca è stata diretta anzitutto ad approfondire il tema della "transizione energetica" studiato nel contesto del progetto FIRB "The engines of growth" (con pubblicazione di vari saggi su rivista e curatela del volume Countershock presso IB Tauris). In secondo luogo l'attività di ricerca è stata diretta ad affrontare il tema della politica internazionale dei debiti esteri negli anni Ottanta nell'ambito del progetto PRIN "The making of the Washington Consensus" (da cui, in particolare, la curatela di un numero monografico della Rivista italiana di storia internazionale pubblicato a inizio 2021). Come parte del filone di ricerca "The Europeans" è stato svolto uno studio sull'atlantismo all'inizio del 21esimo secolo (saggio pubblicato per Giappichelli). I principali obiettivi futuri consistono nell'impostazione di una storia politica ed intellettuale del concetto di "guerra fredda".
Altri prodotti scientifici
Tutoring per assegno di ricerca:

- 2019 "The making of the Washington Consensus" (Dott. Benedetto Zaccaria))
Relazioni invitate presso convegni o workshops
Relazioni a convegni o workshops (esclusivamente su invito):

- European University Institute, 28 Febbraio 2017
- Università di Padova, 30 Maggio 2017
- Museo della Scienza e della Tecnologia di Milano, 28-30 Novembre 2017
- New York University, 31 Ottobre-1 Novembre 2018
- Fondazione Venezia Ricerche per la Pace, 25-26 Marzo 2019
Seminari su invito tenuti presso altre Università, Centri di Ricerca, Aziende, etc.
Seminari su invito presso:

- Università di Firenze (2017)
- Università di Pisa (2018)
- Università di Bologna (2018)
- ADL Padova (2018)
- Fondazione Lelio e Lisli Basso (2018)
Altre attività scientifiche
Comitati scientifici:

- Convegno "OPEC and the Global Energy Order: From its Origins to the Present Time", New York University Abu Dhabi, 18-20 Aprile 2017
- Convegno "The Superpowers and the International Debt Crisis, 1979-1991, Università Ca' Foscari Venezia, originariamente previsto per marzo 2020, poi rimandato a giugno 2021


Peer Review:

- Ricerche di storia politica
- Interdisciplinary Political Studies
- The International History Review
Altre attività didattiche
Visiting scholar Erasmus+ con attività didattica e seminariale presso Università di Sao Paulo, Brasile (maggio 2017)
Componente di Collegi didattici, Comitati e Commissioni di Dipartimento, Commissioni di Ateneo
- 2017: Membro del comitato ricerca del DSLCC
- 2017-2018: Vice-coordinatore del Collegio didattico del CdS Magistrale in Relazioni internazionali Comparate
- 2018-2019: Coordinatore del Collegio didattico del CdS Magistrale in Relazioni internazionali Comparate