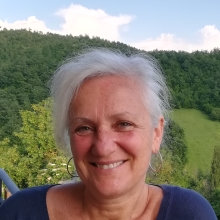 MENEGHINI Daniela
Position

Associate Professor
Roles

Member of the University Ethics Commission

Telephone

041 234 8819
E-mail
Fax

041 524 1847
Scientific sector (SSD)

LINGUA E LETTERATURA PERSIANA [L-OR/15]
Website

www.unive.it/persone/neghin (personal record)

Office
Dati relazione
Periodo di riferimento

01/11/2016 - 31/10/2019
Afferenza

Dipartimento di Studi sull'Asia e sull'Africa Mediterranea
Ruolo

Professori associati
Attività didattica
| A.A. | Insegnamento | Codice | Voto (max 4) | Voto medio area (max 4) |
| --- | --- | --- | --- | --- |
| 2016/2017 | GENERI LETTERARI E TRADUZIONE (PERSIANO) | LT014T | 3.5 | 3.2 |
| 2016/2017 | LINGUA PERSIANA 1 | LT005T | 3.5 | 3.2 |
| 2016/2017 | LINGUA PERSIANA 2 | LT006T | 3.1 | 3.2 |
| 2016/2017 | MODELLI COMUNICATIVI DELLA CONTEMPORANEITA' (PERSIANO) | LM209T | | |
| 2017/2018 | GENERI LETTERARI E TRADUZIONE (PERSIANO) | LT014T | 2.8 | 3.2 |
| 2017/2018 | LINGUA PERSIANA 1 | LT005T | 3.5 | 3.2 |
| 2017/2018 | LINGUA PERSIANA 2 | LT006T | 3.1 | 3.2 |
| 2017/2018 | MODELLI COMUNICATIVI DELLA CONTEMPORANEITA' (PERSIANO) | LM209T | | |
| 2018/2019 | GENERI LETTERARI E TRADUZIONE (PERSIANO) | LT014T | 3.5 | 3.2 |
| 2018/2019 | LINGUA PERSIANA 1 | LT005T | 3.5 | 3.2 |
| 2018/2019 | LINGUA PERSIANA 2 | LT006T | 3.5 | 3.2 |
| 2018/2019 | LINGUA PERSIANA 3 | LT007T | | |
| 2018/2019 | MODELLI COMUNICATIVI DELLA CONTEMPORANEITA' (PERSIANO) | LM209T | | |
Tesi
| Anno solare | Tipologia | Tesi Relatore | Tesi Correlatore |
| --- | --- | --- | --- |
| 2016 | Corso di laurea | 2 | |
| 2016 | Corso di laurea magistrale | 1 | |
| 2017 | Corso di laurea | 3 | |
| 2017 | Corso di laurea magistrale | 3 | |
| 2018 | Corso di laurea | 4 | |
Ricerche sviluppate e in corso
La poesia di epoca timuride: teoria e prassi
La tradizione dei poemi romantici e il contributo di Nezami Ganjavi
La traduzione delle lingue orientali: problemi e strategie traduttive
La visione dell'amato nel poema Yusof o Zoleykha di Jami
Problematiche di didattica del neopersiano (in collaborazione con la prof. Paola Orsatti de La Sapienza di Roma)
Sintassi del neopersiano: il contributo di A. Bausani (in collaborazione con la prof. Paola Orsatti della Sapienza di Roma)
Pubblicazioni realizzate nel triennio
Daniela Meneghini (2019), L'anfora in TRANSLATING WOR(L)DS, Venezia, Edizioni Ca' Foscari, vol. 3, pp. 7-9 (ISBN 978-88-6969-389-2) (ISSN 2610-9131) (Traduzione di Libro)
Meneghini Daniela (2019), Saʽdi-ye Shirāzi and Bono Giamboni in dialogue: a comparative approach to Temperance in IRANIAN STUDIES, vol. 52, pp. 663-689 (ISSN 1475-4819) (Articolo su rivista)
Meneghini, Daniela (2019), Kalim Kashani , Encyclopaedia of Islam, Third Edition, Leiden, Brill, pp. 89-91 (ISBN 978-90-04-38663-1) (Voce in dizionario/enciclopedia)
Meneghini Daniela (2019), Tahere Qorrat 'l'Ayn , So di una donna e altre poesie, Roma, Edizioni Q, pp. 10-14 (ISBN 9788897831396) (Traduzione in Volume)
(a cura di) Daniela Meneghini (2019), L'anfora in Daniela Meneghini, Venezia, Edizioni Ca' Foscari, vol. 3, pp. 7-165 (ISBN 978-88-6969-389-2) (Curatela)
Daniela Meneghini (2018), Gasht o gozarha ye daneshgahi , Deyhim-e Haftad: mehrname-ye doktor Mohammad Ja'far Yahaghi, Tehran, Sokhan, pp. 626-630 (ISBN 978-964-372-884-7) (Articolo su libro)
Daniela Meneghini (2018), Metaphors and translation: Some Notes on the Description of Pain in a XII century Persian Poem , Between Texts, Beyond Words: Translation, Intertextuality and Cross-Cultural Intersections, Venezia, Edizioni Ca' Foscari - Digital Publishing, pp. 51-72 (ISBN 978-88-6969-312-0; 978-88-6969-311-3) (Articolo su libro)
Meneghini, Daniela (2018), Hatif Isfahani in Daniela Meneghini, Encyclopaedia of Islam 3, Brill, vol. 2018-1, pp. 72-74 (ISBN 978-90-04-35662-7) (Voce in dizionario/enciclopedia)
Meneghini, Daniela (2017), Khosrow e Sirin in LETTERATURA PERSIANA, Milano, Edizioni Ariele (ISBN 8897476351) (Traduzione di Libro)
Daniela, Meneghini (2016), Athīr al-Dīn Ākhsīkatī , The Encyclopaedia of Islam Three, Leiden - Boston, Brill, pp. 7-8 (ISBN 978-90-04-30577-9) (Voce in dizionario/enciclopedia)
Pubblicazioni in corso di stampa
Daniela Meneghini Alessandro Bausani. Studio e definizione dello stile indiano nella poesia persiana , Atti del convegno su A. Bausani (11-12 ottobre 2019), Roma, ISTITUTO PER L'ORIENTE C. A. NALLINO (Articolo su libro)
Meneghini, Daniela Rumi. Vita e opere. Traduzioni dal Masnavi Ma'navi , Antologia del sufismo, Da definirsi, vol. 3 (Articolo su libro)
Partecipazione a comitati editoriali di riviste/collane scientifiche
Membro dell'Editorial Board of Encyclopaedia of Islam 3th edition (Persian Literature)
Advisory Board of Iranian Studies Series - Leiden University press
Annali di Ca' Foscari - serie orientale - Università di Venezia (persiano)
Comitato Scientifico di Filologie Medievali e moderne (serie orientale) edizioni Ca' Foscari
Comitato editoriale di Translating Wor(l)ds, Edizioni Ca' Foscari
Descrizione dell'attività di ricerca svolta nel triennio e gli obiettivi futuri
Progetto Sergio Silva: studio e analisi del fondo di libri persiani.
Sintassi del neopersiano: il contributo di A. Bausani (in collaborazione con la prof. Paola Orsatti della Sapienza di Roma)
La tradizione dei poemi romantici e il contributo di Nezami Ganjavi (Khosrow e Shirin)
La traduzione delle lingue orientali: problemi e strategie traduttive di comparazioni e metafore
Letteratura persiana mistica e moraleggiante fra il XII e il XIII secolo (Sa'di e Rumi)
Altri prodotti scientifici
Seminario Shahnameshenasi proposto agli studenti del corso di laurea magistrale e del terzo anno triennale.
Relazioni invitate presso convegni o workshops
Presentazione (con pubblicazione degli atti entro il 2020) al convegno su Alessandro Bausani col titolo "A. Bausani: Studio e definizione dello stile indiano" (11-12 ottobre 2019), Fondazione Leone Caetani per gli Studi Musulmani dell'Accademia Nazionale dei Lincei, Roma.

IL CONFLITTO E LE SUE RAPPRESENTAZIONI
5 dicembre 2017 Ca' Foscari, convegno CEM, presentazione dal titolo: "Ammaestrare al conflitto: gli specchi per i principi"
Altre attività scientifiche
Peer Reviewer per la rivista 'de genere' Rivista di studi letterari, postcoloniali e di genere / Journal of Literary, Postcolonial and Gender Studies' dell'articolo « Il ou Elle, un choix obligatoire dans la traduction du persan vers le français. Le cas de 'Le cantique des oiseaux' ».

Peer review per la rivista 'Semicerchio' dell'articolo "Il calvario di Gesù nella "cristologia" di Ahmad Shāmlu, poeta del '900 persiano"
Altre attività didattiche
Attività didattica integrativa per gli studenti di Lingua Persiana 1 e Lingua Persiana 2, rispettivamente 10 ore per corso ogni anno nel II semestre finalizzati all'acquisizione delle tecniche base di traduzione persiano-italiano.