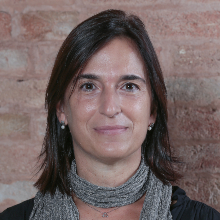 Dati relazione
Periodo di riferimento

01/11/2019 - 31/10/2022
Afferenza

Dipartimento di Economia
Ruolo

Professori Associati
Attività didattica
| A.A. | Insegnamento | Codice | Voto | Voto medio area |
| --- | --- | --- | --- | --- |
| 2019/2020 | DATA ANALYSIS | ET2005 | 6.1 | 7.6 |
| 2019/2020 | STATISTICA | ET0060 | 7.1 | 7.6 |
| 2019/2020 | STATISTICS | ET2022 | 7.1 | 7.6 |
| 2020/2021 | LABORATORIO DI STATISTICA PER L'ECONOMIA | ET0075 | 9 | 7.8 |
| 2020/2021 | STATISTICA | ET0060 | 7.8 | 7.8 |
| 2020/2021 | STATISTICS | ET2022 | 7.3 | 7.8 |
| 2021/2022 | LABORATORIO DI STATISTICA PER L'ECONOMIA | ET0075 | | |
| 2021/2022 | STATISTICA | ET0060 | 7.5 | 7.7 |
| 2021/2022 | STATISTICS | ET2022 | 7.2 | 7.7 |
Tesi
| Anno solare | Tipologia | Tesi Relatore | Tesi Correlatore |
| --- | --- | --- | --- |
| 2019 | Corso di laurea | 1 | |
| 2020 | Corso di laurea | 10 | |
| 2021 | Corso di laurea | 10 | |
Ricerche sviluppate e in corso
Analisi statistica bayesiana in problemi di classificazione
Il rapporto di verosimiglianza per la valutazione della prova scientifica
Metodi di decisione con applicazioni in ambito forense
Modelli multilevel per la gestione di dati complessi
Reti Bayesiane per dati ad elevata dimensionalità
Pubblicazioni realizzate nel triennio
Bozza S, Taroni F, Biedermann A (2022), Bayes Factors for Forensic Decision Analyses with R , Springer (ISBN 9783031098383) (Monografia o trattato scientifico)
Silvia Bozza, Valentin Scherz, Gilbert Greub, Franco Taroni (2022), A probabilistic approach to evaluate salivary microbiome in forensic science when the Defense says: `It is my twin brother' in FORENSIC SCIENCE INTERNATIONAL: GENETICS, vol. 57 (ISSN 1872-4973) (Articolo su rivista)
Linden J.; Bozza S.; Marquis R; Taroni F. (2022), Bayesian evaluation of dynamic signatures in operational conditions in FORENSIC SCIENCE INTERNATIONAL, vol. 332, pp. 111173 (ISSN 0379-0738) (Articolo su rivista)
Aitken Colin, Taroni Franco, Bozza Silvia (2022), Evidence, probability and relative plausibility in THE INTERNATIONAL JOURNAL OF EVIDENCE & PROOF, pp. 1-16 (ISSN 1365-7127) (Articolo su rivista)
Taroni Franco, Bozza Silvia, Vuille Joëlle (2022), La probabilità come strumento per una coerente valutazione della prova scientifica , Prova scientifica e processo penale, Wolters Kluwer - Cedam, pp. 22-76 (ISBN 8813379374) (Articolo su libro)
Aitken C., Taroni F., Bozza S. (2021), Statistics and the evaluation of evidence for forensic scientists , Chichester, John Wiley & Sons, pp. 1-1206 (ISBN 9781119245223) (Monografia o trattato scientifico)
Linden J, Taroni F, Marquis R, Bozza S (2021), Bayesian multivariate models for case assessment in dynamic signature cases in FORENSIC SCIENCE INTERNATIONAL, vol. 318 (ISSN 0379-0738) (Articolo su rivista)
Taroni F, Garbolino P, Bozza S (2021), Coherently updating degrees of belief: Radical Probabilism, the generalization of Bayes' Theorem and its consequences on evidence evaluation in LAW, PROBABILITY & RISK, vol. 19, pp. 293-316 (ISSN 1470-8396) (Articolo su rivista)
Siron E, Gittelson S, Bozza S, Taroni F (2021), Minor or adult? Introducing decision analysis in forensic age estimation in SCIENCE & JUSTICE, vol. 61, pp. 47-60 (ISSN 1355-0306) (Articolo su rivista)
Taroni F, Garbolino P, Bozza S, Aitken C (2021), The Bayes' factor: the coherent measure for hypothesis confirmation in LAW, PROBABILITY & RISK, vol. 20, pp. 15-36 (ISSN 1470-8396) (Articolo su rivista)
Taroni F, Bozza S, Biedermann A (2021), Decision theory , Handbook of Forensic Statistics,, Banks D, Kadafar K, Kaye DH, Tackett M, pp. 103-130 (ISBN 9781138295407) (Articolo su libro)
Taroni F., Bozza S. (2021), Il significato delle evidenze: l'importanza dello scienziato forense nella prevenzione dell'errore , L'errore giudiziario, Giuffrè Francis Lefebvre, pp. 661-702 (ISBN 9788828824695) (Articolo su libro)
Franco Taroni, Silvia Bozza, Alex Biedermann (2021), The logic of inference and decision for scientific evidence , Philosophical foundations of Evidence Law, Oxford University Press, pp. 251-266 (ISBN 9780198859307) (Articolo su libro)
Biedermann A, Bozza S, Taroni F, Vuille J (2020), Computational Normative Decision Support Structures of Forensic Interpretation in the Legal Process in SCRIPT-ED, vol. 17, pp. 83-124 (ISSN 1744-2567) (Articolo su rivista)
Biedermann Alex, Bozza Silvia, Taroni Franco (2020), Normative decision analysis in forensic science in ARTIFICIAL INTELLIGENCE AND LAW, vol. 28, pp. 7-25 (ISSN 0924-8463) (Articolo su rivista)
Sironi E, Bozza S, Taroni F (2020), Age estimation of living persons: A coherent approach to inference and decision , Statistics and Probability in Forensic Anthropology, Obertova Z, Stewart A, Cattaneo C, pp. 183-208 (ISBN 978-0-12-815764-0) (Articolo su libro)
Biedermann, A; Bozza, S; Taroni, F; Vuille, J (2019), Are inconclusive decisions in forensic science as deficient as they are said to be? in FRONTIERS IN PSYCHOLOGY, vol. 10, pp. 1-9 (ISSN 1664-1078) (Articolo su rivista)
Taroni, F; Bozza, S; Hicks, T; Garbolino, P (2019), More on the question 'When does absence of evidence constitute evidence of absence?' How Bayesian confirmation theory can logically support the answer in FORENSIC SCIENCE INTERNATIONAL, vol. 301, pp. 59-63 (ISSN 0379-0738) (Articolo su rivista)
Biedermann, Alex; Vuille, Joëlle; Bozza, Silvia; Taroni, Franco (2019), Letter to the Editor-Commentary on: Dror IG, Langenburg G. "Cannot decide": The Fine Line Between Appropriate Inconclusive Determinations Versus Unjustifiably Deciding not to Decide. J Forensic Sci https://doi.org/10.1111/1556-4029.13854. Epub 2018 Jul 5 in JOURNAL OF FORENSIC SCIENCES, vol. 64, pp. 318-321 (ISSN 1556-4029) (Recensione in rivista)
Descrizione dell'attività di ricerca svolta nel triennio e gli obiettivi futuri
L'attività di ricerca svolta nel triennio è stata focalizzata essenzialmente su temi di statistica bayesiana, teoria delle decisioni e modelli multilevel con applicazioni di interesse per le scienze forensi. Parte dell'attività del triennio è stata dedicata alla stesura di due monografie sul tema della statistica applicata alle scienze forensi. La prima, dal titolo 'Statistics and the evaluation of evidence for forensic scientists' è stata pubblicata nel 2021 da Wiley & Sons. La seconda, dal titolo 'Bayes factors for forensic decision analysis with R' è una monografia open-source pubblicata da Springer nel 2022.

Un primo tema di ricerca ha come oggetto la gestione dell'incertezza che caratterizza la valutazione della prova scientifica. L'uso del Bayes factor come metrica per misurare il valore probatorio della prova scientifica è supportato da standard operativi in diverse discipline forensi. Non esiste tuttavia un consenso circa le modalità con cui debba o possa essere presentato in fase dibattimentale. La scarsità di informazioni, la sensitività rispetto a modelli probabilistici alternativi e alla specificazione delle distribuzioni a priori, o la necessità di implementare tecniche di tipo numerico, sono solo alcune delle possibili fonti di incertezza che possono rendere problematica l'attribuzione del valore della prova scientifica e la sua difesa in fase dibattimentale. Si veda, a titolo di esempio, l'articolo 'The Bayes' factor: a coherent measure for hypothesis confirmation' pubblicato nel 2021. Ampia discussione su questo tema è inoltre presente nelle due monografie prodotte nel triennio. Non sono inoltre infrequenti casi dove la prova scientifica viene trasmessa dai laboratori in forma di 'evidenza incerta' (ad esempio, casi in cui vi sia incertezza in merito all'esito di un test effettuato). Nell'articolo 'Coherently updating degrees of belief: Radical probabilism, the generalization of Bayes' theorem and its consequences on evidence evaluation' pubblicato nel 2021, si propone un Bayes factor ottenuto a partire dalla generalizzazione del teorema di Bayes a casi in cui vi sia incertezza sull'evidenza scientifica.

Un secondo tema di ricerca ha come oggetto la teoria delle decisioni. Qualunque sia il contesto di interesse, un approccio formale può contribuire a chiarire gli elementi del processo decisionale e a combinarli in modo coerente al fine di decidere in condizioni di incertezza. Si veda, a titolo di esempio, l'articolo 'Decision theory' pubblicato nel 2021 in una monografia dal titolo 'Handbook on Forensic Statistics' (Chapman & Hall).

Un terzo tema di interesse è rappresentato dalle Reti Bayesiane. Questi strumenti sono stati oggetto di grande attenzione negli ultimi anni, a causa della crescente complessità che caratterizza i possibili scenari di interesse e a fronte della quale le Reti Bayesiane offrono una soluzione ottimale per la rappresentazione e la gestione dell'incertezza. Un articolo, attualmente in fase di revisione, prevede l'applicazione di una rete bayesiana al problema della valutazione della prova in presenza di incertezza sull'evidenza scientifica. Elementi di teoria delle decisioni e reti bayesiane sono stati applicati al tema della stima dell'età di persone sprovviste di documenti. Si veda a titolo di esempio l'articolo 'Minor or adult? Introducing decision analysis in forensic age estimation' pubblicato nel 2021.

Un altro tema di ricerca cui è stato dedicato ampio spazio è legato alla gestione di dati complessi caratterizzati da un numero elevato di variabili, da una struttura di dipendenza complessa con molteplici livelli di variabilità, e senza quelle caratteristiche di regolarità che rendano verosimile l'assunzione di modelli parametrici standard. Si tratta di una ricerca già avviata nel triennio precedente, e proseguita nel triennio di riferimento, con due ricerche mirate alla proposta di un modello statistico per l'identificazione a partire da firme autografe su dispositivi elettronici ('Bayesian multilevel models for case assessment in dynamic signature cases') e per la valutazione di analisi comparative di laboratorio condotte nei confronti di soggetti caratterizzati da uno stretto grado di parentela (si veda l'articolo 'A probabilistic approach to evaluate salivary microbiome in forensic science when the defence says: It is my twin brother'). Un nuovo tema di ricerca avviato nell'anno corrente si propone lo sviluppo di un modello statistico finalizzato alla discriminazione tra autori partendo da tecniche di analisi del testo (profilo stilometrico).
Relazioni invitate presso convegni o workshops
9th European Academy of Forensic Science Conference (EAFS 2022)
Keynote Speaker
Titolo presentazione: Statistical modeling of complex forensic data
Stockholm, May 30-June 3, 2022.

1st Michele Taruffo Girona Evidence Week.
Relazione invitata
Titolo presentazione: Reasoning with uncertain evidence.
University of Girona (Spain), May 23-27, 2022

Evidenza Scientifica e Processo Penale - Il governo delle prove tra probabilità e ragionevole dubbio: tentativi di dialogo tra giuristi, scienziati e statistici
Relazione invitata.
Titolo presentazione: La valutazione della prova scientifica: il ruolo del calcolo delle probabilità.
Università Roma Tre, 9 dicembre 2019
Seminari su invito tenuti presso altre Università, Centri di Ricerca, Aziende, etc.
Venerdì a #STATISTICA PADOVA - Incontri su sport, musica e indagini legali.
Titolo seminario: Statistica e prova scientifica nei tribunali.
Padova, 20 maggio 2022

On-line seminars on chapters in the up-coming book: Dahlman, Stein, Tuzet (eds) Philosophical Foundation of Evidene Law, OUP, 2021
Titolo seminario: The logic of inference and decision for scientific evidence.
March 23, 2021.

Università Ca' Foscari Venezia.
Philosophy of Social Sciences.
Seminario - Scientific evidence: uncertainty, probability and evaluation.
6 dicembre 2019; 4 dicembre 2020; 2 dicembre 2021
Altre attività scientifiche
Membro del Comitato Scientifico di ICFIS 2023: 11th INTERNATIONAL CONFERENCE ON FORENSIC INFERENCE AND STATISTICS. Si tratta di un convegno inizialmente programmato nel 2020 e più volte posticipato per motivi connessi alla pandemia.

Referaggio per riviste scientifiche: Journal of statistical computation and simulation; Law, Probability and Risk; Forensic Science International; Statistical Science.
Altre attività didattiche
STATISTICS (pre-corso di 16 ore) - Master IMEF (Università Ca' Foscari Venezia)
- Edizione 2020 (il corso ha avuto luogo nel mese di ottobre del 2020)
- Edizione 2021 (il corso ha avuto luogo nei mesi di settembre/ottobre del 2021)

Esercitazioni per il corso di STATISTICS (Economics, Markets and Finance) 10 ore (secondo periodo dell'anno accademico 2021/22)

Esercitazioni per il corso di STATISTICA 1 A-La e Lb-Z (Commercio Estero e Turismo) 20 ore (primo periodo dell'anno accademico 2022/23)
Componente di Collegi didattici, Comitati e Commissioni di Dipartimento, Commissioni di Ateneo
Comitato per la Didattica del Dipartimento di Economia (per tutta la durata del triennio di riferimento)

Collegio didattico di Commercio Estero e Turismo (per tutta la durata del triennio di riferimento)
Attività e incarichi esterni
Collaborazione di ricerca con la Scuola di Scienze Criminali dell'Università di Losanna. Si tratta di una collaborazione di ricerca già avviata nel triennio precedente, sui temi presentati in sede di descrizione dell'attività di ricerca. L'attività di ricerca svolta è stata presentata in occasione di convegni internazionali e ha prodotto numerose pubblicazioni (sia in forma di monografie che di articoli su riviste scientifiche peer-review).