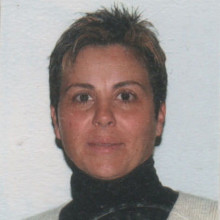 RASTELLI Sabrina
Position

Full Professor
Roles

Director of the Venice Confucio Institute

Telephone

041 234 9581
E-mail
Fax

041 234 9586
Scientific sector (SSD)

ARCHEOLOGIA, STORIA DELL'ARTE E FILOSOFIE DELL'ASIA ORIENTALE [L-OR/20]
Website

www.unive.it/persone/rastelli (personal record)

Office
Office
Dati relazione
Periodo di riferimento

01/11/2016 - 31/10/2019
Afferenza

Dipartimento di Studi sull'Asia e sull'Africa Mediterranea
Ruolo

Professori associati
Attività didattica
| A.A. | Insegnamento | Codice | Voto (max 4) | Voto medio area (max 4) |
| --- | --- | --- | --- | --- |
| 2016/2017 | STORIA DELL'ARTE CINESE 1 | LT0380 | 2.9 | 3.2 |
| 2016/2017 | STORIA DELL'ARTE CINESE 2 | LT0390 | 3.6 | 3.2 |
| 2017/2018 | ARTI, ARCHITETTURA E SPETTACOLO NELLA CINA CLASSICA | LM0090 | 3.5 | 3.2 |
| 2017/2018 | STORIA DELL'ARTE CINESE 1 | LT0380 | 3.2 | 3.2 |
| 2017/2018 | STORIA DELL'ARTE CINESE 2 | LT0390 | 3.5 | 3.2 |
| 2018/2019 | ARTI, ARCHITETTURA E SPETTACOLO NELLA CINA CLASSICA | LM0090 | 3.7 | 3.2 |
| 2018/2019 | STORIA DELL'ARTE CINESE 1 | LT0380 | 3.2 | 3.2 |
| 2018/2019 | STORIA DELL'ARTE CINESE 2 | LT0390 | 3.8 | 3.2 |
Tesi
| Anno solare | Tipologia | Tesi Relatore | Tesi Correlatore |
| --- | --- | --- | --- |
| 2016 | Corso di laurea | 14 | |
| 2016 | Corso di laurea magistrale | 7 | |
| 2017 | Corso di laurea | 14 | |
| 2017 | Corso di laurea magistrale | 3 | |
| 2018 | Corso di dottorato | 1 | |
| 2018 | Corso di laurea | 17 | |
| 2018 | Corso di laurea magistrale | 4 | 2 |
Ricerche sviluppate e in corso
Arte cinese moderna e contemporanea
Evoluzione dell'architettura e dei corredi funerari dal V sec. a.C. al III d.C.
La via delle porcellane lungo le rotte del Sud.est asiatico
Manuale di storia dell'arte cinese
Origine archeologia in Cina, grandi esploratori occidentali, collezioni di arte orientale in musei europei e statunitensi
Ridatazione delle ceramiche Jun alla luce dei più recenti scavi archeologici
Song ceramics: a new history
Sviluppo della produzione ceramica cinese dal X al XIV secolo
The influence of Chinese Blue and white porcelain on ceramics in Renaissance Florence
• Ricontestualizzazione delle opere d'arte per una nuova storia della storia dell'arte cinese
Pubblicazioni realizzate nel triennio
Sabrina Rastelli (2018), Catalogue entry 24 , Parfums de Chine. La culture de l'encens au temps des empereurs, Paris, Paris Musèes, pp. 80-80 (ISBN 978-2-7596-0381-7) (Schede di Catalogo, repertorio o corpus)
Rastelli, Sabrina (2016), L'arte cinese I. Dalle origini alla dinastia Tang 6000 a.C. - X secolo in Piccola Biblioteca Einaudi Mappe Piccola Storia dell'Arte, Giulio Einaudi Editore spa, pp. 1-419 (ISBN 9788806213084) (Monografia o trattato scientifico)
Rastelli, Sabrina (2016), The Concept of the Five Famous Wares of the Song Dynasty —A Modern Invention in Rastelli, Sabrina, Songdai Wuda Mingyao kexue jishu guoji xueshu taolunhui lunwenji宋代五大名窑科学技术国际学术讨论会论文集 Proceedings of International Symposium on Science and Technology of Five Great Wares of the Song Dynasty, Pechino, Kexue, pp. 460-466, Convegno: Songdai Wuda Mingyao kexue jishu guoji xueshu taolunhui 宋代五大名窑科学技术国际学术讨论会 International Symposium on Science and Technology of Five Great Wares of the Song Dynasty, 23-24 Ottobre 2015 (ISBN 9787030499356) (Articolo in Atti di convegno)
Partecipazione a comitati editoriali di riviste/collane scientifiche
- Annali di Ca' Foscari - Serie Orientale
- Venezia Arti
Descrizione dell'attività di ricerca svolta nel triennio e gli obiettivi futuri
Nel triennio ho continuato a indirizzare le mie ricerche sui seguenti temi:
- Arte moderna e contemporanea, finalizzato al progetto per la nuova enciclopedia Treccani e alla preparazione di un insegnamento magistrale incentrato sull'influenza dell'arte tradizionale su quella contemporanea.
- Ricontestualizzazione delle opere d'arte per una nuova narrazione della storia dell'arte cinese, finalizzato alla stesura del secondo volume di L'Arte Cinese (Einaudi).
- Ceramiche Song, in particolare dalla prospettiva di fonti testuali cinesi dal X al XX secolo, e sull'estetica di quel periodo.
A questi ho aggiunto nuovi filoni di ricerca:
- Collezioni di arte orientale in Italia, finalizzato agli scopi del Network of Chinese Collection in Europe, di cui sono membro fondatore e per il quale stiamo preparando la domanda per il bando COST Action.
- Importazione di ceramiche cinesi in Italia dal XV secolo e loro influenza sulla produzione fiorentina del XV-XVI secolo.
- Turismo archeologico, finalizzato al corso tenuto alla Hanoi University (2017).
- Ceramiche e arte contemporanea, finalizzato alla curatela della mostra Whisper Only to You dell'artista coreana Yeesookyung al Museo MADRE di Napoli (Ottobre 2019-Gennaio 2020).
Altri prodotti scientifici
Pubblicazioni e altri prodotti scientifici in corso di stampa/accettati

- "The mechanics of change: the aesthetics of Chinese ceramics in the Northern Song (960-1127) and early Jin (1127-1234) dynasties", in Marcello Ghilardi and Hans-Georg Moeller (eds.), The Bloomsbury Research Handbook of Chinese Aesthetics and the Philosophy of Art, Bloomsbury Academic, London.
- Voci per la Enciclopedia dell'Arte Contempornea Treccani: Accademismo in Cina, Arte delle Ferite, Astrattismo in Cina, Chan Luis, Chang Johnson, Chen Shizeng, Dong Xiwen, Gaudy art, Li Meishu, Lin Michael, Lingnan huapai, Liu Jianhua, Mahjong, Movimento dell'Arte Nuova, Nuova Onda '85, Pop Politico, Puru, Realismi in Cina, Realismo Cinico, Shanshui, Sigg Uli, Taiyang meishu xiehui, Taibeishi li meishu guan, Wang Jinsong, Wang Youshen, Yang Maolin, Yang Sanlan, Zhang Daqian,
Relazioni invitate presso convegni o workshops
- 2019 (November): presentation by invitation at Internationa Symposium on Longquan and Globalization, Longquan (China), "哥窑的多面性与神秘性The multi-faceted and elusive nature of Geyao";
- 2019 (September): presentation by invitation at the international symposium From Centre to Periphery: Collecting Chinese Objects in Comparative Perspective, Slovene Ethnographic Museum, Ljubljana; paper title: "Great Personalities and East Asian Collections in Italy";
- 2018 (September): Opening speach (by invitation) at the inauguration of the exhibition Lithic Impressions - From Stone to Ink on Paper, EMGdotART Foundation, Venice;
- 2018 (January): invited by the British Museum to give a talk on the latest research on "The concept of the five famous wares of the Song dynasty: a modern idea" (study day reserved to scholars);
- 2017 (October): invited to open the International Symposium on Art and Translation: Taiwan, Hong Kong and Korea, Edinburgh College of Art, The University of Edinburgh; presentation title "In memory of Felix Schoeber"
Seminari su invito tenuti presso altre Università, Centri di Ricerca, Aziende, etc.
- 2019 (November): lecture at Jingdezhen Ceramic University, "中国瓷器对文艺复兴时期佛罗伦萨的影响The influence of Chinese porcelain in Renaissance Florence";
- 2019 (April): Lecture at Peking University, School of Arts "西方的中国艺术史研究:语境再造的方法 Western Chinese art history: the re-contextualization method";
- 2019 (April): Lecture at Tsinghua University, Philosophy Department, "佛罗伦萨文艺复兴时期的青花瓷Blue and white porcelain in Renaissance Florence";
- 2019 (April): Lecture at Peking University, Department of Archarology "The influence of Chinese blue and white porcelain on ceramic production in Renaissance Florence - the cases of Montelupo, Cafaggiolo and the Medici porcelain";
- 2017 (November-December): course (32 hours) at Hanoi University, "Archaeological tourism: Italy, China and Vietnam";
- 2017 (September): guest-speaker at the History of Art Research Seminar, Edinburgh College of Art, The University of Edinburgh; seminar title "A new history of Chinese art history: new research methods".
Altre attività scientifiche
PEER-REVIEW
- 2019: Book Proposal/Manuscript Reviewer for Bloomsbury Academic Publishing, New York, "Appropriating Antiquity for Modern Chinese Art";
- 2019: Paper reviewer for Il Giappone. Studi e Ricerche, "Arte e Diplomazia: Il Nihonshoki come Testimone dell'Influsso Sino-coreano sulla Scultura Giapponese tra VI e VII Secolo";
- 2018: Research fellowship reviewer for the Leverhulme Trust, "Modern Art in the Bin: Re-Canonizing Ink Painting in Twentieth-Century China";
- 2017: Paper reviewer, "The Zenrinji Mikaeri Amida: some notes and considerations", Donatella Rossi, in Proceedings of the interdisciplinary workshop Dialectics of Buddhist Metaphysics in East Asia. Tibet and Japan: An Inedited Comparison, "Sapienza" University of Rome, 2016, Supplemento N. 2 RSO 2018.
- 2016: Paper reviewer for the Italian Association of Chinese Studies, "Chinese modern calligraphy as a reflection of Chinese contemporary culture: a comparison between the modernist and the avant-garde movements".
- 2016 (on going): Reviewer within the Research Quality Evaluation System (VQR), Ministry of Education.

MOSTRE e CONVEGNI/WORKSHOPS
- 2019: Curatrice della mostra personale di Yeesookyung Whisper Only to You, Museo Madre e Museo di Capodimonte, 11 Ottobre 2019-13 gennaio 2020.

- 2018: Organizzatrice del convegno internazionale Sogdians and their Funerary Monuments in Sixth to Seventh-Century China: New Thoughts and Reflections, Ca' Foscari, 13-14 Dicembre 2018.
- 2018: Co-organizzatrice della mostra e dei relative eventi Ink Raiders, Magazzini del Sale, Venezia, 17-27 Aprile 2018.
- 2016: Organizzatrice insieme a Felix Schöber del workshop Experiences of Migration-Taiwan Contemporary Arts Research Day (ospiti Yang Chia-ling, Chen Yu-hui, Ella Raidel), Spotlight Taiwan Project, Ca' Foscari, 24 Ottobre, 2016.
Altre attività didattiche
- 2017: corso tenuto alla Hanoi University all'interno del progetto di mobilità Erasmus+ KA1 "Archaeological tourism: Italy, China and Vietnam".
Incarichi accademici e attività organizzative
- Delegata alle Attività Internazionali del DSAAM (da Ottobre 2014 a Giugno 2017).
- Membro della Giunta del DSAAM (dal 2011 a Giugno 2017).
Partecipazione alle attività di valutazione della ricerca
Componente di Collegi didattici, Comitati e Commissioni di Dipartimento, Commissioni di Ateneo
- Membro del comitato scientifico del Marco Polo Research Centre, (dalla sua costituzione nel 2018).
- Membro del Collegio del dottorato di ricerca in Studi sull'Asia e sull'Africa (dal 2013).
- Membro del comitato per la ricerca del DSAAM (dal 2010).
- Componente Collegio didattico LICAAM (dal 2017)
- Componente Collegio didattico LICSAAM (dal 2014 al 2017)
- Rappresentante nel Consiglio BALI (dal 2013 al 2019).
Attività e incarichi esterni
- Consulante per l'arte contemporanea cinese per l'Enciclopedia di arte contemporanea Treccani, dal 2016;
- Membro della Commissione Scientifica per il futuro del Museo d'Arte Orientale di Venezia, Polo Museale del Veneto, Ministero dei Beni Culturali, dal 2017.
- Consulente per la collezione di porcellane cinesi presso il Museo d'Arte Orientale di Venezia, dal 2018;
- Membro fondatore del Network of Chinese Collections in Europe, dal 2018.