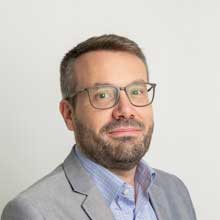 TOLOTTI Marco
Position

Associate Professor
Roles

Vice Department Director

Telephone

041 234 6928 / 041 234 6690
E-mail
Fax

041 234 7444
Scientific sector (SSD)

METODI MATEMATICI DELL'ECONOMIA E DELLE SCIENZE ATTUARIALI E FINANZIARIE [SECS-S/06]
Website

www.unive.it/persone/tolotti (personal record)

Office

Department of Management
Website: https://www.unive.it/dep.management
Where: San Giobbe

Office
Dati relazione
Periodo di riferimento

01/11/2018 - 31/10/2021
Afferenza

Dipartimento di Management
Ruolo

Professori Associati
Attività didattica
| A.A. | Insegnamento | Codice | Voto | Voto medio area |
| --- | --- | --- | --- | --- |
| 2018/2019 | MATEMATICA | ET0045 | 3.4 | 3.1 |
| 2018/2019 | Mathematics for management studies | PHD003 | | |
| 2018/2019 | Preparatory Mathematics | PHD001 | | |
| 2018/2019 | TECHNIQUES FOR MANAGERIAL DECISIONS | EM6053 | 3.3 | 3.1 |
| 2019/2020 | BUSINESS PROCESS ANALYTICS | EM1304 | 9 | 7.6 |
| 2019/2020 | MANAGERIAL ANALYTICS | EM1305 | 9.1 | 7.6 |
| 2019/2020 | MATEMATICA | ET0045 | 8.3 | 7.6 |
| 2019/2020 | Mathematics for management studies | PHD003 | | |
| 2019/2020 | Preparatory Mathematics | PHD001 | | |
| 2020/2021 | BUSINESS PROCESS ANALYTICS | EM1304 | 7.9 | 7.8 |
| 2020/2021 | MATEMATICA | ET0045 | 9.3 | 7.8 |
| 2020/2021 | Mathematics for management studies | PHD003 | | |
Tesi
| Anno solare | Tipologia | Tesi Relatore | Tesi Correlatore |
| --- | --- | --- | --- |
| 2018 | Corso di dottorato | 1 | |
| 2018 | Corso di laurea | 11 | |
| 2018 | Corso di laurea magistrale | 18 | 4 |
| 2019 | Corso di laurea | 8 | |
| 2019 | Corso di laurea magistrale | 17 | 11 |
| 2020 | Corso di laurea | 2 | |
| 2020 | Corso di laurea magistrale | 16 | 10 |
Finanziamenti
Interazione in sistemi economici complessi: Innovazione, contagio e crisi
Ricerche sviluppate e in corso
Complex Economic Systems and Social Interactions
Diffusion of innovations in complex economic systems
Discrete choice models with applications to economics and finance
Dynamic mean field games with many players and applications
Pubblicazioni realizzate nel triennio
Kollmann, T.; Marsiglio, S.; Suardi, S.; Tolotti, M. (2021), Social interactions, residential segregation and the dynamics of tipping in JOURNAL OF EVOLUTIONARY ECONOMICS, vol. 31, pp. 1355-1388 (ISSN 0936-9937) (Articolo su rivista)
Daniela Favaretto, Alessandro Marin, Marco Tolotti (2021), A data-driven and risk-based prudential approach to validate the DDMRP planning and control system , vol. 9/2021, pp. 1-26 (Working paper)
Maggistro, Rosario; Pellizzari, Paolo; Sartori, Elena; Tolotti, Marco (2021), Dangerous tangents: an application of Γ-convergence to the control of dynamical systems in SSRN Working Paper Series (ISSN 1556-5068) (Working paper)
Dai Pra Paolo; Sartori Elena; Tolotti Marco (2021), Polarization and coherence in mean field games driven by private and social utility , pp. 1-30 (Working paper)
Tolotti, Marco; Yepez, Jorge (2020), Hotelling-Bertrand duopoly competition under firm-specific network effects in JOURNAL OF ECONOMIC BEHAVIOR & ORGANIZATION, vol. 176, pp. 105-128 (ISSN 0167-2681) (Articolo su rivista)
Marsiglio, Simone; Tolotti, Marco (2020), Motivation crowding-out and green-paradox-like outcomes in JOURNAL OF PUBLIC ECONOMIC THEORY, vol. 22, pp. 1559-1583 (ISSN 1097-3923) (Articolo su rivista)
Dai Pra, Paolo; Sartori, Elena; Tolotti, Marco (2019), Climb on the bandwagon: consensus and periodicity in a lifetime utility model with strategic interactions in DYNAMIC GAMES AND APPLICATIONS, vol. 9, pp. 1061-1075 (ISSN 2153-0785) (Articolo su rivista)
Liuzzi, Danilo; Pellizzari, Paolo; Tolotti, Marco (2019), Fast traders and slow price adjustments: an artificial market with strategic interaction and transaction costs in JOURNAL OF ECONOMIC INTERACTION AND COORDINATION, vol. 14, pp. 643-662 (ISSN 1860-711X) (Articolo su rivista)
Gerotto, Luca; Pellizzari, Paolo; Tolotti, Marco (2019), Asymmetric Information and Learning by Imitation in Agent-Based Financial Markets , Highlights of Practical Applications of Survivable Agents and Multi-Agent Systems. in COMMUNICATIONS IN COMPUTER AND INFORMATION SCIENCE, Cham, Springer, vol. 1047, pp. 164-175 (ISBN 978-3-030-24298-5; 978-3-030-24299-2) (ISSN 1865-0929) (Articolo su libro)
He, Xue-Zhong 'Tony'; Shi, Lei; Tolotti, Marco (2019), The Social Value of Asymmetric Information Revisited in SSRN Working Paper Series, vol. OnLine (ISSN 1556-5068) (Working paper)
Marsiglio, Simone; Tolotti, Marco (2018), Endogenous growth and technological progress with innovation driven by social interactions in ECONOMIC THEORY, vol. 65, pp. 293-328 (ISSN 0938-2259) (Articolo su rivista)
Dai Pra, Paolo; Sartori, Elena; Tolotti, Marco (2018), Strategic interaction in interacting particle systems , Probabilistic Cellular Automata. Emergence, Complexity and Computation, Springer, vol. 27, pp. 53-67 (ISBN 978-3-319-65556-7; 978-3-319-65558-1) (Articolo su libro)
XUE-ZHONG HE, LEI SHI, MARCO TOLOTTI (2018), Are We Better-off for Working Hard? in RESEARCH PAPER - QUANTITATIVE FINANCE RESEARCH GROUP, Sydney, School of Finance, University of Technology, vol. 391, pp. 1-34 (ISSN 1441-8010) (Working paper)
Paolo Dai Pra; Elena Sartori; Marco Tolotti (2018), Climb on the Bandwagon: Consensus and periodicity in a lifetime utility model with strategic interactions (Working paper)
Tolotti Marco; Jorge Yepez (2018), Hotelling-Bertrand duopoly competition under firrm-specific network e effects in WORKING PAPER SERIES, vol. 6, pp. 1-40 (ISSN 2239-2734) (Working paper)
Trevor Kollmann; Simone Marsiglio; Sandy Suardi; Marco Tolotti (2018), Social Interactions, Racial Segregation and The Dynamics of Tipping , University of Wollongong, vol. 3, pp. 1-11 (Working paper)
Tesi di laurea/dottorato anno solare
Da settembre 2019 a dicembre 2021 ha funto da relatore principale per un progetto di dottorato industriale in Management.
Descrizione dell'attività di ricerca svolta nel triennio e gli obiettivi futuri
La ricerca sviluppata da Marco Tolotti nell'ultimo triennio si è concentrata principalmente sulla modellizzazione e l'analisi di sistemi sociali complessi, con particolare attenzione alle scelte comportamentali individuali degli attori economici e le implicazioni di tali comportamenti sulle dinamiche economiche aggregate. Più nello specifico, si possono individuare fra i filoni di ricerca: l'influenza dei gruppi di pari e delle norme sociali sul comportamento degli individui; la diffusione dell'innovazione in sistemi complessi; la modellizzazione di mercati finanziari e l'emergere di dinamiche di domanda e prezzo; l'analisi dei rischi in mercati finanziari e del credito. Recentemente si sono aperti tre nuovi filoni di ricerca, originati soprattutto dalla partecipazione del sottoscritto a gruppi di ricerca più applicata. Questi filoni di ricerca caratterizzano anche gli obiettivi di ricerca per il prossimo triennio. Il primo è riferibile allo studio dei network organizzativi e la diffusione di informazione in strutture complesse (collaborazione con membri del centro NOIS del dipartimento); il secondo è legato allo studio di modelli per la diffusione di epidemie, caratterizzati dalla compresenza di variabili economiche e epidemiologiche (partecipazione a bando PRIN con Università di Pisa); il terzo è legato allo studio di alcune euristiche di approvvigionamento di materiali di moderna concezione, molto usate nel mondo dell'industria, seppur poco studiate da un punto di vista teorico (collaborazione per un progetto di dottorato industriale).
Altri prodotti scientifici
Dal 2 all'11 gennaio 2019, Marco Tolotti è stato Visiting Research Professor presso la UTS Business School, University of Technology Sydney.
Nel gennaio 2020, Marco Tolotti è stato valutatore esterno di una tesi di dottorato per il programma di PhD in Economics and Finance dell'Università Bocconi.
Menzioni e premi ricevuti
Nel 2021, Marco Tolotti ha ricevuto il premio della didattica del dipartimento di Management per i corsi impartiti e le tesi seguite nell'anno accademico 2019/20.
Relazioni invitate presso convegni o workshops
Ha presentato i suoi risultati di ricerca presso i seguenti convegni internazionali:
- 30th European Financial Management Association Annual Meeting, luglio 2021.
- 47th Eastern Economic Association Annual Meeting, gennaio 2021.
Seminari su invito tenuti presso altre Università, Centri di Ricerca, Aziende, etc.
Il 12 giugno 2019, ha tenuto un seminario invitato presso il Dipartimento di Economia e Management dell'Università di Pisa.
Altre attività scientifiche
- Organizzazione di una sessione dal titolo "Interactions and complexity in social dynamics", assieme a Rosario Maggistro, in occasione del XLV Convegno dell'associazione AMASES tenutosi il 18 settembre 2021.
- Partecipazione a comitato scientifico della conferenza internazionale: "The Second Conference on Zero/Minimal Intelligence Agents", organizzata dalla Yale School of Management, tenutasi nei giorni 21-23 ottobre 2021 in modalità virtuale.
- Partecipazione a comitato organizzatore conferenza internazionale MAF2020 "Mathematical and Statistical Methods for Actuarial Sciences and Finance", previso a Ginevra per i giorni 15 - 17 aprile 2020 e poi svoltosi online a settembre 2020.
Altre attività didattiche
A livello di dottorato ha insegnato negli A.A. 2018/19, 2019/20 e 2020/21 il corso introduttivo di Matematica al dottorato di Management. Attualmente il corso è denominato Mathematics for modelling in management.
A livello di Master, ha insegnato per l'A.A. 2019/2020 il corso Stochastic Processes for Finance presso il Master di secondo livello IMEF di Ca' Foscari.
Incarichi accademici e attività organizzative
Da ottobre 2020 è vice-direttore del dipartimento di Management per il triennio accademico 2020-2023 (nomina rettorale su indicazione del dipartimento).
Dalla stessa data è componente della Giunta del Dipartimento di Management.
Partecipazione alle attività di valutazione della ricerca
Da luglio 2021 a settembre 2021 è stato valutatore di prodotti della ricerca nell'ambito della VQR 2015-19.
Componente di Collegi didattici, Comitati e Commissioni di Dipartimento, Commissioni di Ateneo
Da ottobre 2015 è membro del panel dei ricercatori che collabora al Gruppo di Lavoro di Ateneo per l'attuazione della "Human Resources Strategy for Researchers".
Da novembre 2015 è componente del collegio dei docenti del PhD in Management.
Da giugno 2018 è componente del collegio didattico della Laurea Magistrale in Management. È stato inoltre componente del gruppo AQ e referente del curriculum "International Management" della stessa laurea magistrale da giugno 2018 fino a settembre 2020.
Attività e incarichi esterni
Ha insegnato il corso Mathematical Models for Finance per il Master MaFinRisk dell'Università Bocconi di Milano nell'autunno 2019 (A.A. 2019/2020).
Nel periodo 2019-2021, Marco Tolotti ha curato per Ca' Foscari un progetto di dottorato industriale sottoscritto in convenzione con l'azienda Qantica s.r.l. di Padova. Il tema verte sullo studio di recenti metodologie per l'approvvigionamento di magazzino e tecniche di Inventory Management.
Altre informazioni
Marco Tolotti è membro dell'American Mathematical Society dal 2013, dell'European Mathematical Society dal 2016 e dell'AMASES (Associazione per la Matematica Applicata alle Scienze Economiche e Sociali) dal 2005.