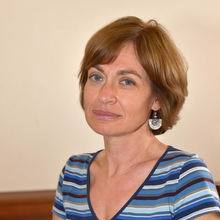 TONGHINI Cristina
Position

Full Professor
Telephone

041 234 5633
E-mail
Fax

041 234 6370
Scientific sector (SSD)

ARCHEOLOGIA E STORIA DELL'ARTE MUSULMANA [L-OR/11]
Website

www.unive.it/persone/tonghini (personal record)

Office
Dati relazione
Periodo di riferimento

01/09/2015 - 01/09/2018
Afferenza

Dipartimento di Studi sull'Asia e sull'Africa Mediterranea
Ruolo

Professori associati
Attività didattica
| A.A. | Insegnamento | Codice | Voto (max 4) | Voto medio area (max 4) |
| --- | --- | --- | --- | --- |
| 2015/2016 | ARCHEOLOGIA E STORIA DELL'ARTE MUSULMANA | LT0020 | 3.1 | 3.2 |
| 2015/2016 | IL PATRIMONIO ARTISTICO DELL'ISLAM: DALLA RICERCA ALLA VALORIZZAZIONE | LM2230 | 2.9 | 3.2 |
| 2015/2016 | LA CITTÀ NEL MONDO ISLAMICO | LM2210 | | |
| 2015/2016 | STORIA VISUALE E CULTURA DELL'IMMAGINE IN SUDASIA | LM5340 | 3.1 | 3.2 |
| 2016/2017 | ARCHEOLOGIA E STORIA DELL'ARTE MUSULMANA | LT0020 | 3.2 | 3.2 |
| 2016/2017 | IL PATRIMONIO ARTISTICO DELL'ISLAM: DALLA RICERCA ALLA VALORIZZAZIONE | LM2230 | 3.3 | 3.2 |
| 2016/2017 | LA CITTÀ NEL MONDO ISLAMICO | LM2210 | 3.2 | 3.2 |
| 2016/2017 | STORIA VISUALE E CULTURA DELL'IMMAGINE IN SUDASIA | LM5340 | | |
| 2017/2018 | ARCHEOLOGIA E STORIA DELL'ARTE MUSULMANA | LT0020 | 3.5 | 3.2 |
| 2017/2018 | Cultura visuale del mondo islamico fra tradizione e contemporaneità | NA001B | | |
| 2017/2018 | IL PATRIMONIO ARTISTICO DELL'ISLAM: DALLA RICERCA ALLA VALORIZZAZIONE | LM2230 | 3.6 | 3.2 |
| 2017/2018 | LA CITTÀ NEL MONDO ISLAMICO | LM2210 | 3.9 | 3.2 |
Tesi
| Anno solare | Tipologia | Tesi Relatore | Tesi Correlatore |
| --- | --- | --- | --- |
| 2015 | Corso di laurea | 1 | |
| 2015 | Corso di laurea magistrale | 1 | |
| 2015 | Corso di laurea specialistica | | 1 |
| 2016 | Corso di dottorato | 1 | |
| 2016 | Corso di laurea | 2 | |
| 2016 | Corso di laurea magistrale | 2 | |
| 2017 | Corso di laurea | 2 | |
| 2017 | Corso di laurea magistrale | 1 | |
Finanziamenti
Progetto di indagini archelogiche Cittadella di Urfa, Turchia (2015)
Progetto di indagini archeologiche e valorizzazione del castello di Shayzar, Siria (2014)
Ricostruire la frontiera: la cittadella di Urfa (2014-2016)
Ricostruire la frontiera: la cittadella di Urfa (2015)
Terre di Mosul: insediamento, paesaggi e cultura materiale dell'Iraq settentrionale nel periodo islamico (2017-2019)
Ricerche sviluppate e in corso
Archeologia islamica: insediamento e paesaggio
Architettura islamica (militare, palatina, residenziale)
La cultura materiale dell'Iraq islamico
La fortificazione nel Vicino Oriente islamico
Manufatti islamici in Italia: circolazione e trasmissione di saperi
Pubblicazioni realizzate nel triennio
MORANDI BONACOSSI, D.; Tonghini, C. (2018), THE MANY FACETS OF HERITAGE DESTRUCTION IN IRAQ in KASKAL, vol. 15 (ISSN 1971-8608) (Articolo su rivista)
Tonghini, Cristina (2018), THE CITADEL OF ŞANLIURFA AND THE EVOLUTION OF MUSLIM MILITARY ARCHITECTURE , 15th International Congress of Turkish Art Naples, Università di Napoli "L'Orientale" 16-18 September 2015, Ankara, Ministry of Culture and Tourism, Republic of Turkey Napoli, Università di Napoli, "L'Orientale" Roma, Istituto per l'Oriente C.A. Nallino, pp. 615-628, Convegno: 15th International Congress of Turkish Art, 16-18 settembre 2015 (ISBN 978-975-17-4114-1) (Articolo in Atti di convegno)
Tonghini, cristina (2017), Memlük Sultanlığı'nda Şanlıurfa Kalesi: Tahkimat inşasındaki ekonomik ve üretimsel faktörler La cittadella di Şanlıurfa nel sultanato mamelucco: aspetti economici e produttivi del processo di fortificazione in ARKEOLOJI VE SANAT, vol. 155, pp. 147-158 (ISSN 1300-4514) (Articolo su rivista)
Tonghini, Cristina (2017), Insediamenti fortificati del Vicino Oriente. La cittadella di 'Urfa (Turchia) , Giornata dell'archeologia: scavi e ricerche del Dipartimento di Studi Umanistici, Venezia, Edizioni Ca' Foscari, pp. 107-117 (ISBN 9788869691898) (Articolo su libro)
Tonghini Cristina (2016), ŞANLIURFA KALESİ: STRATİGRAFİK ANALİZLERİN İLK SONUÇLARI in ARASTIRMA SONUCLARI TOPLANTISI, vol. 33, pp. 427-442 (ISSN 1017-7663) (Articolo su rivista)
Tonghini, Cristina (2016), Christian Décobert, Jean-Yves Empereur, Christophe Picard, Alessio Sopracasa, Jean-Louis Bacqué-Grammont et Michel Tuchscherer: Études Alexandrines, vols. 24, 29 and 30, Alexandria 2011 and 2013. in DER ISLAM, vol. 93, pp. 248-256 (ISSN 0021-1818) (Recensione in rivista)
Tonghini Cristina (2016), An Ayyubid Square-planned Tower at the Citadel of Damascus: Tower 8 , Crusader Landscapes in the Medieval Levant: The Archaeology and History of the Latin East, Cardiff University Press, pp. 223-239 (ISBN 9781783169245) (Articolo su libro)
Cristina Tonghini (2016), The citadel of Tell Shayzar (Hama) , A History of Syria in One Hundred Sites, Oxford, Archaeopress Publishing ltd, pp. 423-426 (ISBN 9781784913816) (Articolo su libro)
Tonghini, Cristina; Vannini, Guido (2016), The Contribution of "Light" Archaeology to the Study of Fortified Sites in Northern Syria , Proceedings of the 2nd International Congress on the Archaeology of the Ancient Near East, Department of History and Cultures Bologna and Eisenbrauns, vol. 2, pp. 269-280, Convegno: 2 ICAANE, 2000 (ISBN 978-88-6113-006-7) (Articolo in Atti di convegno)
Pubblicazioni in corso di stampa
Morandi Bonacossi, D.; Coppini, C.; Gavagnin, K.; Iamoni, M.; Tonghini, C. The Kurdish-Italian Gir-e Gomel Archaeological Project. Results of the 2017 and 2018 Excavation Seasons in MESOPOTAMIA, vol. 53 (ISSN 0076-6615) (Articolo su rivista)
C. Tonghini L'arte della lavorazione del metallo alla corte ottomana , Arte Ottomana 1450-1650. Natura e astrazione: uno sguardo alla sublime porta, Genova, Sagep, pp. n/d-n/d (Articolo su libro)
Tonghini, C.; Vezzoli, V. The Islamic period settlement in Kurdistan Iraq: results from the Land of Ninive Archaeological Project , ICAANE 11, Harrassowitz Verlag, Convegno: International Conference on the Archaeology of the Ancient Near East, aprile 2018 (Articolo in Atti di convegno)
Cristina Tonghini The fortification works of Nūr al-Dīn at the citadel of Shayzar , GUERRE ET PAIX AU PROCHE-ORIENT MEDIEVAL, Xe-XVe SIECLE, IFAO, pp. n/d-n/d, Convegno: GUERRE ET PAIX AU PROCHE-ORIENT MEDIEVAL, Xe-XVe SIECLE, dicembre 2011 (Articolo in Atti di convegno)
Partecipazione come referee di progetti di ricerca nazionali ed internazionali
JOURNAL OF ISLAMIC ARCHAEOLOGY (Equinox Publishing, Sheffield, UK)
CASTLES OF SPAIN
HILAL, Università Ca' Foscari, Venezia
Partecipazione a comitati editoriali di riviste/collane scientifiche
JOURNAL OF ISLAMIC ARCHAEOLOGY (Equinox Publishing, Sheffield, UK)
CASTLES OF SPAIN
HILAL, Università Ca' Foscari, Venezia
Descrizione dell'attività di ricerca svolta nel triennio e gli obiettivi futuri
Nell'ultimo triennio sono proseguite le ricerche sull'insediamento fortificato nel Vicino oriente islamico con altre due stagioni sul campo (settembre 2015 e ottobre 2016) dedicate allo studio della cittadella di Urfa (Turchia), già avviate nel 2014. Completata sul campo l'analisi archeologica delle emergenze architettoniche conservate fuori terra, così come lo studio delle iscrizioni in lingua araba, è continuato il lavoro di ricerca della documentazione fotografica negli archivi di varie istituzioni a Oxford, Londra e Istanbul (fra novembre 2015 e gennaio 2016). E' anche proseguito il progetto di ricerca sulla ricca documentazione scritta, in varie lingue, che ha coinvolto un gruppo di studiosi internazionale, coordinati da chi scrive: E. Fiori (Ca' Foscari) per le fonti siriache; O. Usta (Univ. Canakkale) per le fonti ottomane; R.D. Pringle (Univ. Cardiff) per le fonti crociate; N. Zorzi (Univ. Padova) per le fonti bizantine; T. Andrews (Univ. Vienna) per le fonti armene; S. Cristoforetti (Ca' Foscari) per le fonti persiane. Parte del 2017 e tutto il 2018 sono stati dedicati alla preparazione della monografia nella quale confluiranno i risultati dell'intero programma di ricerca (pubblicazione prevista nel 2019). Il progetto è stato finanziato dal MAAEE e dal Fondo per l'Archeologia di Ca' Foscari.
Nel 2016 ha preso il via il progetto Terre di Mosul: insediamenti, paesaggi e cultura materiale dell'Iraq settentrionale nel periodo islamico, con tre campagne archeologiche in Iraq (settembre 2016, settembre-ottobre 2017, settembre-ottobre 2018). Il progetto prende in esame le dinamiche insediative e la gestione del territorio e delle risorse di una vasta area a nord-est di Mosul dalla conquista Araba alla fine del periodo Ottomano. Approfondimenti specifici riguardano lo studio del paesaggio idraulico e dei mulini ad acqua così come lo scavo del sito di riferimento della regione, Tell Gomel. Il progetto è parte di un più ampio programma di ricerca archeologica, coordinato dall'Università di Udine, che studia l'insediamento nella regione dalla preistoria fino ai nostri giorni (Land of Ninive Archaeological Project). Il progetto è risultato vincitore di un Prin (2017-2019), coordinato da Udine, ed è anche supportato dal Fondo per l'Archeologia di Ca' Foscari. Collaborano a terre di Mosul architetti (E. Reali e L. Tarducci), archeologi (oltre a Tonghini, V. Vezzoli, Ifpo, Beirut; studenti di Ca' Foscari) e storici (V. Berti, Univ. Padova; O. Usta, Univ. Canakkale; M. Melcak, Accademia delle Scienze Repubblica Ceca; S. Cristoforetti, Ca' Foscari). Parte dei risultati sono stati presentati al convegno internazionale ICAANE 2018 (Monaco), di prossima pubblicazione, e in un lavoro a più mani su rivista. La preparazione di una monografia finale è prevista per il 2019-2020.
Nel 2015-2017 Tonghini ha inoltre coltivato i suoi interessi scientifici sul tema dei manufatti provenienti dal mondo islamico e recuperati in Italia attraverso la supervisione del lavoro di ricerca della dottoressa V. Vezzoli, assegnista di ricerca a Ca' Foscari con il progetto: L'Oriente nelle dimore veneziane: le importazioni di ceramica dal Sultanato Mamelucco.
Altri prodotti scientifici
ORGANIZZAZIONE CONVEGNI INTERNAZIONALI:
- 19-20 ottobre 2017
Venice Biennale and the Arab World, convegno internazionale organizzato con Roberta Marin, Università Ca' Foscari, arte moderna e contemporanea del mondo arabo e il ruolo della biennale di Venezia.
Al convegno ha partecipato un numero significativo di studiosi ed artisti internazionali. Il successo dell'iniziativa ha portato allo sviluppo di un programma master dedicato a queste tematiche, in collaborazione con la Challenge School di Ca' Foscari e l'Università di Ginevra.
Il tema dell'arte contemporanea nel Medio Oriente è di grande attualità, da molti punti di vista; a Ca' Foscari si stanno moltiplicando le richieste di tesi su questi argomenti.
Relazioni invitate presso convegni o workshops
PRESENTAZIONI
1) 16-18 September 2015
15th International Congress of Turkish Art, Naples. Paper: The citadel of Şanlıurfa and the evolution of Muslim military architecture
2) 11-12 March 2016
7th Conference Contributo italiano a scavi, ricerche e studi nelle missioni archeologiche in Turchia, Istituto Italiano di Cultura, Istanbul. Paper: L'insediamento fortificato nel Vicino Oriente: la cittadella di 'Urfa
32) 17-18 September 2016
The Archaeology of the Latin East. A conference in honour of Professor Denys Pringle, University of Cardiff. Paper: Ayyubid Military Architecture: a Square-planned Tower at the Citadel of Damascus
4) 12-14 January 2017
Islamic Art History and Archaeology in Crisis? Challenges and New Perspectives, International Conference, German Archaeological Institute at Madrid (co-organisers:Universidad Autónoma de Madrid, University of Zurich, Museo Arqueológico Nacional Madrid). Paper: Can any archaeologist become an expert in Islamic archaeology?
5) 27-28 October 2017
Interpreting Destruction and Reconstruction in War Situations, Università di Bologna, Scuola Superiore di Studi Umanistici. Paper (con D. Morandi Bonacossi): The many facets of heritage destruction and the dangers of reconstruction
6) 3-7 Aprile 2018
ICAANE 11, Università di Monaco
A. The citadel of Urfa from Late Antiquity to the Ottoman period
B. The Islamic period settlement in Kurdistan/Iraq: results from the Land of Ninive Archaeological Project (con V. Vezzoli)
Seminari su invito tenuti presso altre Università, Centri di Ricerca, Aziende, etc.
- 2015 (16 December): Koç University, RCAC (Istanbul)
Lecture: Medieval Fortifications in the Near East: Recent Research
- 2016 (17 November): Museo Orientale Ca' Pesaro
Patrimonio a rischio in Medio Oriente
- 2018 (23 January): University of Bamberg
Lecture: The citadel of Urfa and the fortification of a frontier
Altre attività scientifiche
COMITATO SCIENTIFICO CONVEGNO INTERNAZIONALE ICAANE:
ICAANE 10, aprile 2016, Vienna
ICAANE 11, aprile 2018, Monaco
Peer-review per riviste: Islamic Archaeology; Archeologia Medievale
Peer-review per monografie: école Française, Rome; Maison de l'Orient, Lyon
Altre attività didattiche
- Titolare del corso di Archeologia Islamica presso la Scuola di Specializzazione Interateneo (Trieste, Udine, Venezia) Beni Archeologici (SISBA). Il corso si è tenuto: maggio 2016, 2017 e 2018.
- Ciclo di lezioni presso il Liceo Artistico Marco Polo, Venezia (alternanza scuola lavoro) nella primavera 2017: introduzione all'arte islamica e alla moschea per sviluppare il progetto di una moschea per la comunità islamica di Mestre.
Incarichi accademici e attività organizzative
Delegato del Direttore DSAAM per la Comunicazione (ottobre 2017-marzo 2018)
Componente di Collegi didattici, Comitati e Commissioni di Dipartimento, Commissioni di Ateneo
Componente del Comitato per la Ricerca DSAAM (2014-marzo 2018)
Componente del Collegio di Dottorato DSAAM (2011-dicembre 2018)
Attività e incarichi esterni
- Sorbonne - Paris 1: membro comitato di selezione per un professore di Archeologia e storia dell'arte islamica, riunione finale 8 maggio 2017
- Commissione esame finale, Dottorato di ricerca in STORIA, CRITICA E CONSERVAZIONE DEI BENI CULTURALI, Università di Padova, 1 aprile 2016
- Jury de Thèse, Sorbonne-Paris IV: 23 giugno 2016
- Jury de Thèse, Sorbonne-Paris I: gennaio 2018
Altre informazioni
Due interventi alla retina (marzo e luglio 2017) hanno notevolmente rallentato l'attività scientifica di quei mesi, con la cancellazione di tutti gli impegni programmati (convegni, conferenze), ad eccezione della didattica.