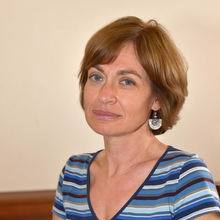 TONGHINI Cristina
Position

Full Professor
Telephone

041 234 5633
E-mail
Fax

041 234 6370
Scientific sector (SSD)

ARCHEOLOGIA E STORIA DELL'ARTE MUSULMANA [L-OR/11]
Website

www.unive.it/persone/tonghini (personal record)

Office
Dati relazione
Periodo di riferimento

01/01/2018 - 01/01/2021
Afferenza

Dipartimento di Studi Umanistici
Ruolo

Professori Associati
Attività didattica
| A.A. | Insegnamento | Codice | Voto | Voto medio area |
| --- | --- | --- | --- | --- |
| 2017/2018 | ARCHEOLOGIA E STORIA DELL'ARTE MUSULMANA | LT0020 | 3.5 | 3.2 |
| 2017/2018 | Cultura visuale del mondo islamico fra tradizione e contemporaneità | NA001B | | |
| 2017/2018 | IL PATRIMONIO ARTISTICO DELL'ISLAM: DALLA RICERCA ALLA VALORIZZAZIONE | LM2230 | 3.6 | 3.2 |
| 2017/2018 | LA CITTÀ NEL MONDO ISLAMICO | LM2210 | 3.9 | 3.2 |
| 2018/2019 | ARTE E CULTURA VISIVA DEL MONDO ISLAMICO | LT7020 | 3.4 | 3.2 |
| 2018/2019 | Cultura visuale del mondo islamico fra tradizione e contemporaneità | NA001B | | |
| 2018/2019 | IL PATRIMONIO ARTISTICO DELL'ISLAM: DALLA RICERCA ALLA VALORIZZAZIONE | LM2230 | 3.6 | 3.2 |
| 2018/2019 | LA CITTÀ NEL MONDO ISLAMICO | LM2210 | 3.3 | 3.2 |
| 2019/2020 | ARTE E CULTURA VISIVA DEL MONDO ISLAMICO | LT7020 | 9 | 8.1 |
| 2019/2020 | HERITAGE: POLITICHE E PRATICHE NEL MONDO ISLAMICO | LM2500 | 9.4 | 8.1 |
| 2019/2020 | SEMINARIO TEMATICO (VICINO E MEDIO ORIENTE) | LM2300 | 9 | 8.1 |
Tesi
| Anno solare | Tipologia | Tesi Relatore | Tesi Correlatore |
| --- | --- | --- | --- |
| 2018 | Corso di laurea | 2 | |
| 2019 | Corso di laurea magistrale | 4 | 2 |
| 2020 | Corso di laurea | 4 | |
| 2020 | Corso di laurea magistrale | 2 | 1 |
Finanziamenti
NETCHER - NETwork and digital platform for Cultural Heritage Enhancing and Rebuilding
Progetto PAdAI - Paesaggi Archeologici dell'Antico Iraq PRIN (2017-2019)
Terre di Mosul: insediamento, paesaggi e cultura materiale dell'Iraq settentrionale nel periodo islamico (2017-2021)
Terre di Mosul: insediamento, paesaggi e cultura materiale dell'Iraq settentrionale nel periodo islamico (2017-2021)
Ricerche sviluppate e in corso
Insediamento fortificato nel 'Vicino Oriente' islamico
La cultura materiale del 'Vicino Oriente' islamico
Manufatti islamici in Italia: circolazione e trasmissione di saperi
Paesaggi idraulici del Kurdistan iraqeno: i mulini ad acqua
Paesaggi insediativi e produttivi del Kurdistan iraqeno
Pubblicazioni realizzate nel triennio
Cristina Tonghini (2021), From Edessa to Urfa: the Fortification of the Citadel , Oxford, Archaeopress (ISBN 978-1-78969-756-8) (Monografia o trattato scientifico)
Cristina Tonghini; Onur Usta (2021), Mesopotamian waterscapes: watermills in the 'Land behind Mosul' in MESOPOTAMIA, vol. 56, pp. 1-32 (ISSN 0076-6615) (Articolo su rivista)
(a cura di) Arianna Traviglia; Lucio Milano; Cristina Tonghini; Riccardo Giovanelli (2021), Stolen Heritage Multidisciplinary Perspectives on Illicit Trafficking of Cultural Heritage in the EU and the MENA Region in Arianna Traviglia; Lucio Milano; Cristina Tonghini; Riccardo Giovanelli in ANTICHISTICA. ARCHEOLOGIA, Venezia, Edizioni Ca' Foscari, vol. 29 (ISBN 978-88-6969-518-6; 978-88-6969-517-9) (ISSN 2610-8828) (Curatela)
Tonghini C., Vezzoli V. (2020), The Islamic Period Settlement in Iraqi Kurdistan: Results from the Land of Ninive Archaeological Project , Proceedings of the 11th International Congress on the Archaeology of the Ancient Near East, Harrassowitz Verlag, vol. 2, pp. 483-494, Convegno: International Conference on the Archaeology of the Ancient Near East, aprile 2018 (ISBN 978-3-447-11367-0) (Articolo in Atti di convegno)
Cristina Tonghini (2019), The fortification works of Nūr al-Dīn at the citadel of Shayzar , Guerre et paix dans le Proche-Orient médiéval, Xe-XVe siècle, IFAO, pp. 481-501, Convegno: GUERRE ET PAIX AU PROCHE-ORIENT MEDIEVAL, Xe-XVe SIECLE, dicembre 2011 (ISBN 9782724706437) (Articolo in Atti di convegno)
Morandi Bonacossi D.; Tonghini C. (2018), THE MANY FACETS OF HERITAGE DESTRUCTION IN IRAQ in KASKAL, vol. 15 (ISSN 1971-8608) (Articolo su rivista)
Tonghini C. (2018), The pottery from the Early Islamic dumps. IN: Morandi Bonacossi, D.; Qasim, H. A.; Coppini, C.; Gavagnin, K.; Girotto, E.; Iamoni, M.; Tonghini, C.; The Italian-Kurdish Excavations at Gir-e Gomel in the Kurdistan Region of Iraq: Preliminary Report on the 2017 and 2018 Field Seasons in MESOPOTAMIA, vol. 53, pp. 10-13 (ISSN 0076-6615) (Articolo su rivista)
Cristina Tonghini (2018), THE CITADEL OF ŞANLIURFA AND THE EVOLUTION OF MUSLIM MILITARY ARCHITECTURE , 15th International Congress of Turkish Art Naples, Università di Napoli "L'Orientale" 16-18 September 2015, Ankara, Ministry of Culture and Tourism, Republic of Turkey Napoli, Università di Napoli, "L'Orientale" Roma, Istituto per l'Oriente C.A. Nallino, pp. 615-628, Convegno: 15th International Congress of Turkish Art, 16-18 settembre 2015 (ISBN 978-975-17-4114-1) (Articolo in Atti di convegno)
Pubblicazioni in corso di stampa
C. Tonghini L'arte della lavorazione del metallo alla corte ottomana , Arte Ottomana 1450-1650. Natura e astrazione: uno sguardo alla sublime porta, Genova, Sagep, pp. n/d-n/d (Articolo su libro)
Partecipazione a comitati editoriali di riviste/collane scientifiche
Islamic Archaeology, UK (2014-present)
Castles of Spain (2018-present)
Journal of Material Cultures in the Muslim World, Brill, Leiden (2019-present)
Bulletin d'Archéologie Marocain (BAM) (2020-present)
Studies in the Archaeology of the Islamic World, book series, Brepols (2020-present)
Hilal, book series, edizioni Ca' Foscari (2012-present)
Journal of Islamic Research (Ankara University; 2019-present)
Descrizione dell'attività di ricerca svolta nel triennio e gli obiettivi futuri
Nel triennio 2018-2020 sono continuate le ricerche nell'ambito del progetto 'Terre di Mosul: insediamenti, paesaggi e cultura materiale dell'Iraq settentrionale nel periodo Islamico,' con due campagne di scavo (settembre-ottobre 2018 e settembre-ottobre 2019; la pandemia non ha reso possibile la missione 2020). Il progetto ha beneficiato di un finanziamento Prin (Progetto PAdAI - Paesaggi Archeologici dell'Antico Iraq, con le Università di Udine – capofila - Milano, Torino e Roma, 2017-2019) e dei Fondi di Ateneo per l'Archeologia. Le ricerche in questo triennio si sono concentrate sullo studio del paesaggio idraulico, specialmente sui mulini ad acqua dell'area oggetto di indagini. Con le campagne 2018 e 2019 si è proceduto all'analisi stratigrafica e all'apertura di alcuni saggi su un complesso produttivo del wadi Bandawai, che hanno permesso di comprendere lo sviluppo costruttivo dell'intero complesso, fra VII e XX secolo, ed acquisire utili elementi crono-tipologici per lo studio delle altre strutture nella regione. I risultati sono confluiti in un saggio sulla rivista MESOPOTAMIA, uscito alla fine del 2021.
Le ricerche sul paesaggio idraulico di questa regione, così come sulle dinamiche insediative e i processi produttivi, proseguiranno anche nei prossimi anni, grazie anche ad un accordo con il Dipartimento delle Antichità del Kurdistan iracheno.
Nel 2020 (uscita nel 2021) si è anche conclusa la stesura dell'opera monografica dedicata alla cittadella di Urfa, nella quale sono confluiti i risultati delle ricerche condotte sul campo nel triennio 2014-2016 (finanziate dal MAAEE e dal Fondo di Ateneo per l'Archeologia) e delle ricerche sulle fonti scritte affidate ad un gruppo di storici specializzati: E. Fiori (Ca' Foscari) per le fonti siriache; O. Usta (Univ. Canakkale) per le fonti ottomane; R.D. Pringle (Univ. Cardiff) per le fonti crociate; N. Zorzi (Univ. Padova) per le fonti bizantine; T. Andrews (Univ. Vienna) per le fonti armene; S. Cristoforetti (Ca' Foscari) per le fonti persiane.
Nel biennio 2019-2020 Tonghini ha anche preso parte in qualità di responsabile per Ca' Foscari al progetto europeo NETCHER (NETwork and digital platform for Cultural Heritage Enhancing and Rebuilding – HORIZON 2020). Fra le attività del progetto si segnala l'organizzazione, insieme a R. Giovanelli, L. Milano e A. Traviglia, del convegno internazionale 'Stolen Heritage Multidisciplinary Perspectives on Illicit Trafficking of Cultural Heritage in the EU and the MENA Region' tenutosi a Ca' Foscari nel dicembre 2019.
Altri prodotti scientifici
Dal trasferimento al Dipartimento di Studi Umanistici (2018) si è adoprata con alcuni colleghi alla fondazione del CeSAV (Centro Studi Archeologia Venezia), attivo dal 2019. Dal 2019 Tonghini è membro del comitato direttivo CeSAV.
Ha organizzato l'incontro 'Viaggi nel passato: le archeologie di Ca' Foscari' (maggio 2019), una presentazione agli studenti e alla cittadinanza delle ricerche archeologiche dell'Ateneo.
Con L. Sperti ha organizzato il primo ciclo di conferenze 'Gli archeologi raccontano' (autunno 2020).
Relazioni invitate presso convegni o workshops
Interventi a convegni internazionali (con titolo delle presentazioni)
- 3-7 Aprile 2018, ICAANE 11, Università di Monaco
A. The citadel of Urfa from Late Antiquity to the Ottoman period
B. The Islamic period settlement in Kurdistan/Iraq: results from the Land of Ninive Archaeological Project (con V. Vezzoli).
- 15-16 Gennaio 2019, Archaeological Landscapes of Ancient Iraq between Prehistory and the Islamic Period, Università di Udine:
Land behind Mosul: The Construction of the Archaeological Record and First Results.
- 2 February 2019, Islamic Archaeology Day, UCL, Institute of Archaeology:
Land behind Mosul: settlement, landscape and material culture of Northern Iraq.
Seminari su invito tenuti presso altre Università, Centri di Ricerca, Aziende, etc.
- 2018 (23 January): University of Bamberg
Seminario: The citadel of Urfa and the fortification of a frontier
Altre attività scientifiche
COMITATO SCIENTIFICO CONVEGNO INTERNAZIONALE ICAANE 11, aprile 2018, Monaco.
Altre attività didattiche
Titolare del corso di Archeologia Islamica presso la Scuola di Specializzazione Interateneo (Trieste, Udine, Venezia) Beni Archeologici (SISBA). Il corso (15 ore annuali, 4 sessioni di esame) si è tenuto: maggio 2018 e maggio 2019.
Incarichi accademici e attività organizzative
Componente della Giunta di Dipartimento DSU (ottobre 2020-presente)
Delegato del Direttore DSAAM per la Comunicazione (ottobre 2017-marzo 2018)
Componente di Collegi didattici, Comitati e Commissioni di Dipartimento, Commissioni di Ateneo
Componente del Collegio di Dottorato Interateneo in Scienze dell'Antichità (2019-presente)
Componente del Comitato per la Ricerca DSU (2020)
Componente del Comitato per la Ricerca DSAAM (2014-marzo 2018)
Componente del Collegio di Dottorato DSAAM (2011-dicembre 2018)
Attività e incarichi esterni
Membro del Jury de Thèse, dottorato in Archeologia islamica, Sorbonne-Paris I: gennaio 2018.
Altre informazioni
Malattia marzo-aprile 2020