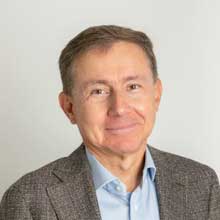 Dati relazione
Periodo di riferimento

30/12/2018 - 29/12/2021
Afferenza

Dipartimento di Management
Ruolo

Professori Ordinari
Attività didattica
| A.A. | Insegnamento | Codice | Voto | Voto medio area |
| --- | --- | --- | --- | --- |
| 2018/2019 | INTERMEDIARI FINANZIARI NON BANCARI | EM5008 | 3 | 3.1 |
| 2018/2019 | MERCATI E STRUMENTI FINANZIARI | ET1002 | 2.9 | 3.1 |
| 2018/2019 | MONEY MATTERS: BANCHE E RISPARMIO | NM002A | 3.5 | 3.1 |
| 2018/2019 | PRODOTTI BANCARI E FINANZIARI | ET0054 | 3.1 | 3.1 |
| 2018/2019 | STRATEGIA E ORGANIZZAZIONE DELLA BANCA | EM5013 | 3.2 | 3.1 |
| 2019/2020 | INTERMEDIARI FINANZIARI NON BANCARI | EM5008 | 8.3 | 7.6 |
| 2019/2020 | MERCATI E STRUMENTI FINANZIARI | ET1002 | 8.1 | 7.6 |
| 2019/2020 | MONEY MATTERS: BANCHE E RISPARMIO | NM002A | 8.6 | 7.6 |
| 2019/2020 | PRODOTTI BANCARI E FINANZIARI | ET0054 | 7.5 | 7.6 |
| 2019/2020 | STRATEGIA E ORGANIZZAZIONE DELLA BANCA | EM5013 | 7.2 | 7.6 |
| 2020/2021 | INTERMEDIARI FINANZIARI NON BANCARI | EM5008 | 7.9 | 7.8 |
| 2020/2021 | MERCATI E STRUMENTI FINANZIARI | ET1002 | 8 | 7.8 |
| 2020/2021 | MONEY MATTERS: BANCHE E RISPARMIO | NM002A | 8.5 | 7.8 |
| 2020/2021 | PRODOTTI BANCARI E FINANZIARI | ET0054 | 7.9 | 7.8 |
| 2020/2021 | STRATEGIA E ORGANIZZAZIONE DELLA BANCA | EM5013 | 8.7 | 7.8 |
Tesi
| Anno solare | Tipologia | Tesi Relatore | Tesi Correlatore |
| --- | --- | --- | --- |
| 2018 | Corso di laurea | 2 | |
| 2018 | Corso di laurea magistrale | 2 | 10 |
| 2019 | Corso di laurea | 2 | |
| 2019 | Corso di laurea magistrale | 4 | 7 |
| 2020 | Corso di laurea | 2 | |
| 2020 | Corso di laurea magistrale | 4 | 2 |
Ricerche sviluppate e in corso
Il bilancio consolidato dei gruppi bancari e dei conglomerati finanziari
La trasparenza nelle relazioni banca - clientela
Reti di imprese e accesso al credito
Pubblicazioni realizzate nel triennio
Antonio Proto (2021), Il conto corrente come strumento di gestione dei rapporti banca - cliente in Autori vari, L'attività delle banche: operazioni e servizi, Torino, G. Giappichelli Editore, vol. 1, pp. 19-30 (ISBN 978-88-921-3742-4) (Articolo su libro)
Antonio Proto (2021), L'evoluzione delle relazioni banche - reti in Autori vari, Osservatorio Nazionale sulle reti d'impresa 2021, Venezia, Edizioni Ca' Foscari, vol. 1, pp. 53-59 (Articolo su libro)
Antonio Proto (2021), La trasparenza nei rapporti banca - cliente in Autori vari, L'attività delle banche: operazioni e servizi, Torino, G. Giappichelli Editore, vol. 1, pp. 1-17 (ISBN 978-88-921-3742-4) (Articolo su libro)
Antonio Proto (2020), I rapporti banche - reti d'impresa in Autori vari, Il futuro della finanza per le imprese del nordest, Venezia, Fondazione di Venezia, vol. 1, pp. 132-139 (ISBN 978-88-945713-01) (Articolo su libro)
proto antonio (2020), Il bilancio consolidato dei gruppi bancari , Il bilancio della banca e degli altri intermediari finanziari, Milano, Egea, vol. 1, pp. 443-471 (ISBN 9788823837294) (Articolo su libro)
Proto Antonio (2020), Le reti di confidi in Autori vari, Osservatorio Nazionale sulle reti d'impresa 2020, Venezia, Edizioni Ca' Foscari, vol. 1, pp. 85-95 (ISBN 978-88-6969-484-4) (Articolo su libro)
Caterina Cruciani, Antonio Proto, Ugo Rigoni, Giorgia Simion (2019), I nuovi paradigmi di credito nelle relazioni tra banche e imprese: il caso del Veneto in BANCARIA, vol. 2 (ISSN 0005-4623) (Articolo su rivista)
Antonio Proto (2019), I rapporti con le banche e l'accesso al credito in Antonio Proto, Osservatorio nazionale sulle reti d'impresa 2019, Pearson, vol. 1, pp. 107-113 (ISBN 978-88-919-1625-9) (Articolo su libro)
Antonio Proto (2018), Le relazioni banche - reti , Il contratto di rete: caratteristiche, genesi ed efficacia dello strumento, Milano, Pearson, vol. 1, pp. 139-148 (ISBN 9788891908049) (Articolo su libro)
Partecipazione a comitati editoriali di riviste/collane scientifiche
Membro del comitato scientifico della collana "Banca, Finanza, Pmi" (Franco Angeli)
Referee della rivista "Bancaria"
Descrizione dell'attività di ricerca svolta nel triennio e gli obiettivi futuri
1) Il bilancio consolidato dei gruppi bancari.
La ricerca, partendo dall'osservazione che il gruppo rappresenta il modello organizzativo dominante nel settore bancario e finanziario e che il bilancio consolidato costituisce il supporto informativo principale per la valutazione degli equilibri gestionali della banca, esamina i caratteri distintivi del processo di redazione del bilancio consolidato secondo i principi contabili internazionali.
2) Reti di imprese e accesso al credito.
La ricerca, condotta nell'ambito dell'Osservatorio Nazionale sulle Reti d'impresa del dipartimento di Management dell'università Ca' Foscari Venezia, analizza l'impatto sulle relazioni con le banche dell'adesione delle piccole e medie imprese a un contrato di rete. In particolare, l'indagine evidenzia le conseguenze sull'accesso al credito per le singole imprese, ma anche per la rete intesa come specifica controparte attraverso l'attribuzione di un "rating di rete".
3) Il sistema bancario del Nord-Est dopo la crisi delle banche popolari venete.
La ricerca, promossa dalla Fondazione di Venezia, analizza l'evoluzione del sistema bancario e delle relazioni banche - piccole e medie imprese dopo le crisi delle banche popolari venete.
4) Le reti di confidi.
La ricerca, condotta nell'ambito dell'Osservatorio Nazionale sulle Reti d'impresa, esamina le reti di confidi per individuare le motivazioni dell'adozione di tale modello organizzativo, gli obiettivi perseguiti, e misurare gli eventuali miglioramenti in termini di efficienza operativa e qualità del credito rispetto ai confidi non aderenti a una rete.

Obiettivi futuri.
1. Proseguimento dello studio sui rapporti banca - cliente a seguito del processo di consolidamento, innovazione tecnologica ed evoluzione regolamentare del sistema bancario.
2. Proseguimento della ricerca sull'accesso al credito delle reti di
imprese nell'ambito dell'Osservatorio Nazionale sulle Reti d'impresa.
3. Partecipazione a una ricerca sulla finanza sostenibile nell'ambito del PNRR (tematica 9 - Sostenibilità economico-finanziaria dei sistemi e dei territori).
Relazioni invitate presso convegni o workshops
Relatore al convegno "Evoluzione della struttura finanziaria veneta e il contratto di rete per le PMI", organizzato da Fondazione Venezia e Università Ca' Foscari, 2019 (presentazione).
Seminari su invito tenuti presso altre Università, Centri di Ricerca, Aziende, etc.
Seminario "I finanziamenti in valuta", presso la Camera di Commercio Venezia Rovigo (2019).
Altre attività scientifiche
Membro del gruppo di ricerca dell'Osservatorio Nazionale sulle Reti d'impresa costituito dal Dipartimento di Management, da Unioncamere e RetImpresa.
Membro del comitato organizzatore della Wolpertinger Conference 2019.
Membro del comitato organizzatore del convegno ADEIMF 2022.
Altre attività didattiche
Docente presso il Master universitario in Economia e gestione del turismo.
Incarichi accademici e attività organizzative
Coordinatore del corso di laurea in Economia aziendale (2019-2021).
Presidente del gruppo AQ del corso di laurea in Economia aziendale (2019-2021).
Coordinatore del Minor Impresa, banche, lavoro e fisco (2019-2021).
Componente di Collegi didattici, Comitati e Commissioni di Dipartimento, Commissioni di Ateneo
Membro del comitato per la didattica del dipartimento di Management.
Membro supplente della Commissione disciplina.
Attività e incarichi esterni
Componente della commissione esaminatrice dell'OCF, Organismo di vigilanza e tenuta dell'albo unico dei consulenti finanziari(2019-2021).
Altre informazioni
Membro ordinario dell'Accademia Italiana di Economia Aziendale(AIDEA).
Membro ordinario dell'Assocazione dei docenti di Economia degli intermediari e dei mercati finanziari (ADEIMF).
Socio del Wolpertinger Club (European Association of University Teachers in Banking and Finance).