URBANI Alberto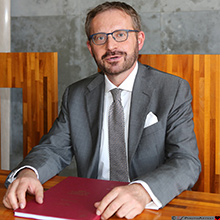 Dipartimento di Economia / Department of Economics
Studio 207A, secondo piano, plesso E.
Sino a nuove disposizioni, il docente riceve di norma via Skype il mercoledì mattina, a partire dalle ore 9.30; per il colloquio, lo studente dovrà inviare al docente nei giorni precedenti un'email avendo cura di indicare il proprio account Skype. Nel caso di questioni di interesse generale, potrà essere altresì richiesto un appuntamento collettivo tramite Hangouts Meet.
As required by the current measures, office hours will be held remotely, on Wednesdays, starting from 9.30 am. Students must make contact with Professor Urbani via e-mail a few days before, making sure to specify their Skype account. For matters of general interest, group meetings through Google Hangouts Meet can be held as well.