COMACCHIO Anna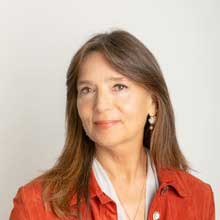 Dati relazione
| | |
| --- | --- |
| Periodo di riferimento | 02/11/2016 - 01/11/2019 |
| Afferenza | Dipartimento di Management |
| Ruolo | Professori ordinari |
Attività didattica
| A.A. | Insegnamento | Codice | Voto (max 4) | Voto medio area (max 4) |
| --- | --- | --- | --- | --- |
| 2016/2017 | INDIVIDUAL AND GROUP BEHAVIOURS FOR INNOVATION | EM7034 | 3.3 | 3.1 |
| 2016/2017 | ORGANIZATION STUDIES | PHD069 | | |
| 2016/2017 | ORGANIZATIONAL DESIGN FOR INTERNATIONAL COMPANIES | EM1059 | 3.7 | 3.1 |
| 2016/2017 | ORGANIZZAZIONE DELLE AZIENDE INTERNAZIONALI | ET3010 | 3.2 | 3.1 |
| 2017/2018 | INDIVIDUAL AND GROUP BEHAVIOURS FOR INNOVATION | EM7034 | 3.4 | 3.1 |
| 2017/2018 | ORGANIZATION STUDIES | PHD069 | | |
| 2017/2018 | ORGANIZZAZIONE DELLE AZIENDE INTERNAZIONALI | ET3010 | 3.2 | 3.1 |
| 2018/2019 | INDIVIDUAL AND GROUP BEHAVIOURS FOR INNOVATION | EM7034 | 3.5 | 3.1 |
| 2018/2019 | ORGANIZATION STUDIES | PHD069 | | |
| 2018/2019 | ORGANIZING IN A DIGITAL WORLD | ET7011 | 2.9 | 3.1 |
| 2018/2019 | ORGANIZZAZIONE DELLE AZIENDE INTERNAZIONALI | ET3010 | 3.3 | 3.1 |
Tesi
| Anno solare | Tipologia | Tesi Relatore | Tesi Correlatore |
| --- | --- | --- | --- |
| 2016 | Corso di laurea | 6 | |
| 2016 | Corso di laurea magistrale | 11 | 6 |
| 2017 | Corso di dottorato | 1 | |
| 2017 | Corso di laurea | 5 | |
| 2017 | Corso di laurea magistrale | 10 | 8 |
| 2018 | Corso di laurea | 8 | |
| 2018 | Corso di laurea magistrale | 10 | 7 |
Ricerche sviluppate e in corso
Absorptive capacity : processi e determinanti
Competenze trasversali e imprenditorialità
Conceptual blend
Gestione delle risorse umane, ruoli organizzativi e innovazione
Strutture organizzative per l'innovazione e il trasferimento tecnologico
Pubblicazioni realizzate nel triennio
ANNA COMACCHIO (2019), L'organizzazione e il coordinamento nei contratti di rete. , Osservatorio nazionale sulle reti d'impresa, Milano, Pearson (ISBN 9788891916259) (Articolo su libro)
Bacco, Francesca; Comacchio, Anna (2019), The Role of Boundary Organizations in Collaborations between Incumbent Firms and Start-ups , Proceedings of the Seventyninth Annual Meeting of the Academy of Management in PROCEEDINGS - ACADEMY OF MANAGEMENT, Academy of Management, vol. 2019, pp. 13814, Convegno: 79th Academy of Management Annual Meeting, Aug 9-13, 2019 (ISSN 0065-0668) (Articolo in Atti di convegno)
FRANCESCA BACCO; COMACCHIO ANNA (2019), The Role of Boundary Organizations in Collaborations between Incumbent Firms and Start-ups: Exploring Innovation Opportunities in Fashion-Tech , Proceedings of the Seventy-ninth Annual Meeting of the Academy of Management, Annual Meeting of the Academy of Management, pp. 1-6, Convegno: Annual Meeting of the Academy of Management, 9 -13 Agosto 2019 (Articolo in Atti di convegno)
Biscaro, Claudio; Comacchio, Anna (2018), Knowledge Creation Across Worldviews: How Metaphors Impact and Orient Group Creativity in ORGANIZATION SCIENCE, vol. 29, pp. 58-79 (ISSN 1047-7039) (Articolo su rivista)
Elena Bruni; Anna Comacchio (2018), Il coordinamento organizzativo nei contratti in rete in Elena Bruni, Anna Comacchio, IL CONTRATTO DI RETE: CARATTERISTICHE, GENESI, ED EFFICACIA DELLO STRUMENTO, Milano-Torino, Pearson, pp. 27-59 (ISBN 978-88-919-0804-9) (Articolo su libro)
Bruni Elena; Biscaro Claudio; Comacchio Anna; Oswick Cliff (2018), METAPHORS IN MANAGEMENT RESEARCH: RETRACING STREAMS TO INSPIRE FUTURE DEVELOPMENTS in Bruni Elena, Biscaro Claudio, Comacchio Anna, Oswick Cliff, METAPHORS IN MANAGEMENT RESEARCH: RETRACING STREAMS TO INSPIRE FUTURE DEVELOPMENTS, Egos 2018, Convegno: EGOS 2018 (Articolo in Atti di convegno)
Bonesso, S.; Gerli, F.; Comacchio, A.; Cortellazzo, L. (2017), Developing Leadership Identity and Emotional Competencies in Higher Education: Methodological Insights and Empirical Evidence from the Italian Context , Emotions and identity in RESEARCH ON EMOTION IN ORGANIZATIONS, Emerald Publishing Limited, vol. 13, pp. 223-244 (ISBN 9781787144385) (ISSN 1746-9791) (Articolo su libro)
Comacchio, A.; Bonesso, S.; Finotto, V. (2016), Tie formation through venture concept development in emerging innovative start-ups , Fast Growing Firms in a Slow Growth Economy Institutional Conditions for Innovation, Cheltenham, Edward Elgar, pp. 44-74 (ISBN 978 1 78536 710 6) (Articolo su libro)
Nunzia, Coco; Anna, Comacchio (2016), EXPLORING THE BRIEF NARRATIVE IN CROWDSOURCING CONTESTS AS ENABLER OF DISTRIBUTED DESIGN , INTERNATIONAL PRODUCT DEVELOPMENT MANAGEMENT CONFERENCE in INTERNATIONAL PRODUCT DEVELOPMENT MANAGEMENT CONFERENCE, Eiasm, Convegno: 23RD INNOVATION AND PRODUCT DEVELOPMENT MANAGEMENT CONFERENCE (ISSN 1998-7374) (Articolo in Atti di convegno)
Partecipazione a comitati editoriali di riviste/collane scientifiche
Membro del comitato scientifico della rivista Sviluppo e organizzazione 2016 - 2020
Membro dell'Editorial board allargato della rivista Economia e Management 2016 - 20120
Membro editorial board Journal of management and governance 2016
Descrizione dell'attività di ricerca svolta nel triennio e gli obiettivi futuri
L'attività di ricerca è proseguita su tre aree principali, rispetto alle quali sono stati prodotti relazioni a convegni, working papers, articoli o capitoli di libro.
New forms of Open innovation
L'area di ricerca su Open innovation si collega a lavori sviluppati dalla sottoscritta nel precedente triennio 2013-2016. Nel periodo 2016-2019 i progetti che ho seguito si sono articolati in tre direzioni . Una prima direzione riguarda i processi di inovazione mediante collaborazione tra aziende nell'ambito delle reti di impresa . Questo progetto si integra in un progetto più ampio sviluppato da un gruppo di ricerca del Dipartimento di management, che ha creato un Osservatorio Nazionale sulle Imprese a Rete. Questo filone di ricerca ha portato alla pubblicazione di due capitoli nei primi due volumi dell'Osservatorio 2019 e 2020.
Una seconda linea di ricerca riguarda le nuove forme di open innovation collegate alla digitalizzazione, con particolare focus sui processi di crowdsourcing, su cui è stato sviluppato un progetto con la dottoranda Nunzia Coco, il paper è ora pronto per una submission in una rivista internazionale di fascia alta.
Infine, un terzo filone riguarda le nuove forme di open innovation mediate da soggetti terzi che svolgono un ruolo di intermediazione. La ricerca approfondisce il ruolo di intermediari , boundary organization, in particolare nei progetti di innovazione che coinvolgono imprese mature e start-up. Dato il potenziale di queste collaborazioni ma anche gli elevati rischi di insuccesso per le atle differenze tra i partner, si vuole investigare quali sono i meccanismi di boundary work che abilitano queste forma innovative di open innovation. Il progetto di ricerca sviluppato in supervisione alla dottoranda Francesca Bacco è stato nominato come best paper alla più prestigiosa conferenza internazionale di management AOM 2019, ed è stato finalista per un secondo premio al best paper nella stessa conference. il paper è ora pronto per una submission in una rivista internazionale di fascia alta.
Questo tipo di ricerca trova traduzione anche applicativa, mediante il contributo della sottoscritta ai lavori del comitato scientifico della Fondazione Nordest e alla redazione del rapporto annuale.
A cognitive approach to innovation processes
Il progetto ha come obiettivo l'analisi dei processi cognitivi che sottendono la generazione di innovazione. In particolare, il progetto si inserisce in un filone emergente di ricerca in ambito strategy e product innovation, che analizza il processo di innovazione concettuale.
La letteratura fino ad oggi ha concentrato la sua analisi sui processi di analogical thinking.
Il progetto di ricerca vuole indagare un processo finora poco studiato che è quello di conceptual combination. Il progetto pertanto intende avanzare la ricerca cognitiva sull'innovazione, con un contributo che vuole sviluppare un framework teorico per la comprensione di questi meccanismi e ricerca empirica originale , andando a colmare un gap ancora presente in letteratura sia sul piano concettuale che empirico. Inoltre la ricerca è stata finalizzata a investigare i processi innovativi sottesi dalle metafore e dai meccanismi cognitivi che queste facilitano.
Competenze e soft skills nell'Higher education
Il lavoro di ricerca su soft skill , condotto in collaborazione con il team del Ca' Foscari competency centre e in particolare i colleghi Sara Bonesso e Fabrizio Gerli, si è concentrato sul tema dello sviluppo delle soft skill nell'Higher education. Lo studio ha analizzato le finalità, i contenuti e gli approcci innovativi nello sviluppo delle soft skill in ambiente universitario ed è stato volto anche a presentare i primi risultati della didattica innovativa sulle competenze trasversali che il Ca' Foscari Competency Centre ha avviato con studenti magistrali e ex studenti laureati dell'Università Ca' Foscari.
Anche questo filone di ricerca ha consentito di produrre paper presentati a convegni internazionali
Per il futuro si intende continuare la ricerca sul tema della analisi dei processi cognitivi alla base dei processi di innovazione. Inoltre si intende proseguire il filone di ricerca su open innovation anche investigando l'impatto che su questi ha la trasformazione digitale
Altri prodotti scientifici
Responsabile scientifico assegno di ricerca annuale - Sanità Regione Veneto "Nuovi modelli organizzativi per la Sanità" 2017-2018
Membro team di ricerca assegno di ricerca del International Center for Humanities and Social Change (ICHSC) "IT and the future of work: democracy vs. technocracy in the workplace" 2017-2018
Menzioni e premi ricevuti
2019 Academy of Management Conference 2019 – OMT Best Entrepreneurship Paper
Award Runner Up - paper – Bacco F., Comacchio A., The role of boundary
organizations in collaborations between incumbent firms and start-ups
2019 Best paper Academy of Management Conference 2019 – pubblicazione nei
conference proceedings – Paper: Bacco F., Comacchio A., The role of boundary
organizations in collaborations between incumbent firms and start-ups
2017 Academy of management conference – Atlanta – Nominated as best paper OTM
division – Paper: Biscaro C., Warglien M., Comacchio A., Wiring Domains:
Metaphors In Distributed Knowledge Generation
2017 Premio alla Didattica – Dipartimento di Management, Università Ca' Foscari
2017 Premio miglior reviewer – Convegno WOA – Roma 2017
Relazioni invitate presso convegni o workshops
1. Bruni E., Biscaro C., Comacchio A. Oswick C., 2018 , Metaphors in management research: retracing streams to inspire future developments, 33th Egos Colloquium, Tallin 4-7 July , 2018
2. Bacco F. Comacchio A., 2018, Absorbing entrepreneurship: The acceleration process across organizational boundaries, 34th Egos Colloquium, Tallin 4-7 July , 2018
3. Comacchio A., Bruni E., 2017, Cognition in design management. at the intersection of conceptual innovation and design thinking, 33rd EGOS Colloquium, Copenhagen 2017
4. Nunzia, Coco; Anna, Comacchio, 2016, Exploring the brief narrative in crowdsourcing contests as enabler of distributed design , international product development management conference, Eiasm, Convegno: 23RD Innovation And Product Development Management Conference (ISSN 1998-7374) (Articolo in Atti di convegno)
Seminari su invito tenuti presso altre Università, Centri di Ricerca, Aziende, etc.
--
Altre attività scientifiche
--
Altre attività didattiche
Master Universitario in Pubblica Amministrazione - Università Ca' Foscari – Venezia
Docente di Cambiamento Organizzativo
Master Universitario in Economia e gestione dei servizi turistici- Università Ca' Foscari – Venezia
Coordinatore modulo Organizzazione e gestione delle risorse umane dal 2003 a oggi
Master Universitario ELEO Economia e lingue per l'est - Università Ca' Foscari – Venezia
Docente del modulo Organizzazione, gestione risorse umane e internazionalizzazione – 2016
Master Universitario MABAC in lingua inglese - Università Ca' Foscari – Venezia
docente di Motivazione individuale 2016 - 2019
Incarichi accademici e attività organizzative
Vice Presidente e membro dell'executive board di Edamba the 'European Doctoral programs Association in Management & Business Administration (http://www.edamba.eu/r/default.asp?iId=GKDKHD) 2016-2018
Membro del consiglio direttivo dell'associazione nazionale dei docenti e ricercatori di Organizzazione Aziendale – ASSIOA - http://www.assioa.it 2014 -2017
Partecipazione alle attività di valutazione della ricerca
--
Componente di Collegi didattici, Comitati e Commissioni di Dipartimento, Commissioni di Ateneo
Coordinatrice del collegio dei docenti del nuovo bachelor degree in Digital Management – Università Ca' Foscari-H-Farm 2017-2019
Coordinatrice del PhD Program in Management – Dipartimento di Management Università Ca' Foscari – Venezia 2013 - 2019
Membro comitato scientifico Challenge School – Università Ca' Foscari 2016 - 2018
Presidente del comitato scientifico del Ca' Foscari Competency Centre - 2014 - 2020
Membro del board Ca' Foscari Harvard Summer School 2012- 2020
Attività e incarichi esterni
Membro del comitato scientifico della Fondazione Nordest 2018 – 2020