ZIRPOLI Francesco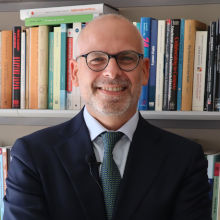 Venezia - San Giobbe - Dipartimento di Management - studio n. 203, secondo piano, ala C1/ Venice – San Giobbe – Department of Management – C1 building – second floor – room n. 203
Office hours @ https://unive.zoom.us/j/6828136531
Mercoledì h.16.00/ Wednesday at 4:00 p.m.
Gli studenti che intendono essere ricevuti devono compilare il form al seguente link/ Students are requested to fill in the following form for arranging a meeting during office hours:
https://docs.google.com/spreadsheets/d/1N2vX0W-54qHbIPx33k5s4FyxRC8iC5pK3jSSwIVdymM/edit?usp=sharing
Gli studenti potranno registrarsi fino alle ore 17 del giorno precedente il ricevimento cui intendono partecipare/ Student can register until 5 p.m. of the day before the date of the meeting.
NB. Si prega di verificare eventuali variazioni nella sezione "AVVISI".
Please check if there are possible changes by clicking on "Avvisi".
Per informazioni sulla richiesta e sulle modalità di svolgimento delle tesi di laurea si prega di consultare il documento contenuto al link/ For info about the thesis supervision go to:
https://drive.google.com/file/d/1TqDfhPVFXw6JkxE3D_kdaAG3JfGX5gGB/view?usp=sharing