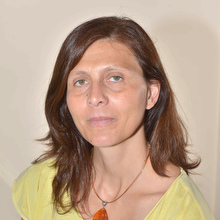 CAMPOMORI Francesca
Position

Associate Professor
Telephone

041 234 7216
E-mail
Scientific sector (SSD)

SCIENZA POLITICA [SPS/04]
Website

www.unive.it/persone/francesca.campomori (personal record)

Office
Dati relazione
Periodo di riferimento

01/04/2018 - 31/03/2021
Afferenza

Dipartimento di Filosofia e Beni Culturali
Ruolo

Professori Associati
Attività didattica
| A.A. | Insegnamento | Codice | Voto | Voto medio area |
| --- | --- | --- | --- | --- |
| 2017/2018 | POLITICHE DI INCLUSIONE SOCIALE | FM0393 | 3.5 | 3.3 |
| 2017/2018 | POLITICHE PUBBLICHE E SOCIALI | FT0161 | 3.2 | 3.3 |
| 2018/2019 | INTRODUCTION TO POLITICS | LT9001 | 2.5 | 3.2 |
| 2018/2019 | POLITICHE DI INCLUSIONE SOCIALE | FM0393 | 3 | 3.3 |
| 2018/2019 | POLITICHE PUBBLICHE E SOCIALI | FT0161 | 2.8 | 3.3 |
| 2019/2020 | POLITICHE DI INCLUSIONE SOCIALE | FM0393 | 9 | 8.3 |
| 2019/2020 | POLITICHE PUBBLICHE E SOCIALI | FT0161 | 7.8 | 8.3 |
Tesi
| Anno solare | Tipologia | Tesi Relatore | Tesi Correlatore |
| --- | --- | --- | --- |
| 2018 | Corso di laurea | 11 | |
| 2018 | Corso di laurea magistrale | 7 | 5 |
| 2019 | Corso di laurea | 16 | |
| 2019 | Corso di laurea magistrale | 3 | 8 |
| 2020 | Corso di laurea | 13 | |
| 2020 | Corso di laurea magistrale | 10 | 6 |
Finanziamenti
ASIT Debordering Activities and citizenship from below of Asylum seekers in Italy. Policies, practices, people
SIforREF Integrating Refugees in Society and Labour Market thorugh Social Innovation
Ricerche sviluppate e in corso
ASIT De-bordering activities and citizenship from below of asylum seekers in Italy. Policies, practices, people
Citispyce. Combating inequalities through innovative social practices of, and for, young people in cities across Europe
Linkage. Labour Market Integration of Vulnerable Age Groups through Social Dialogue
SIforREF Integrating Refugees in Society and Labour Market through Social Innovation
Pubblicazioni realizzate nel triennio
Francesca Campomori (2021), Institutionalizing innovation in welfare local services through co-production: toward a Neo-Weberian state? in RIVISTA ITALIANA DI SCIENZA POLITICA, vol. On line first (ISSN 0048-8402) (Articolo su rivista)
Maurizio Ambrosini; Francesca Campomori (2020), La controversia dell'asilo: politiche di accoglienza e solidarietà contro i confini in POLITICHE SOCIALI, vol. 2/2020, pp. 181-200 (ISSN 2284-2098) (Articolo su rivista)
Francesca Campomori; Chiara Marchetti (2020), Much ado about nothing: i paradossi della regolarizzazione dei migranti figlia della pandemia in POLITICHE SOCIALI, vol. 2/2020, pp. 319-323 (ISSN 2284-2098) (Articolo su rivista)
Campomori e Ambrosini Maurizio (2020), Multilevel governance in trouble: the implementation of asylum seekers' reception in Italy as a battleground in COMPARATIVE MIGRATION STUDIES, vol. N/D, pp. 1-19 (ISSN 2214-594X) (Articolo su rivista)
Raffaele Bazurli; Francesca Campomori; Mattia Casula (2020), Shelter from the Storm: Virtuous Systems of Urban Asylum Governance Coping with Italy's Immigration Crackdown in POLITICHE SOCIALI, vol. 2/2020, pp. 201-224 (ISSN 2531-6389) (Articolo su rivista)
Campomori (2019), IL PUNTO DI VISTA DEGLI "INASCOLTATI". LE NARRAZIONI DELLE DISEGUAGLIANZE SOCIALI DEI GIOVANI DI MESTRE E MARGHERA, NELLA CITTÀ DI VENEZIA in SOCIOLOGIA E POLITICHE SOCIALI, vol. N/D (ISSN 1591-2027) (Articolo su rivista)
Campomori, Francesca; Della Puppa, Francesco; Storato, Giulia (2019), Il punto di vista degli "inascoltati". E narrazioni delle diseguaglianze sociali dei giovani di mestre e marghera, nella città di venezia in SOCIOLOGIA E POLITICHE SOCIALI, vol. 22, pp. 215-241 (ISSN 1591-2027) (Articolo su rivista)
Elisabetta Gualmini, Francesca Campomori, Cristina Dallara, Francesco Contini, Gerardo Patriotta, Federico Toth (2019), L'eredità di Giovan Francesco Lanzara in RIVISTA ITALIANA DI POLITICHE PUBBLICHE, vol. 3/2019, pp. 1-7 (ISSN 1722-1137) (Articolo su rivista)
Francesca Campomori (2019), La governance multilivello delle politiche di accoglienza dei richiedenti asilo e rifugiati in Italia in LE ISTITUZIONI DEL FEDERALISMO, vol. 1/2019, pp. 5-20 (ISSN 1126-7917) (Articolo su rivista)
Francesca Campomori (2018), Criticità e contraddizioni delle politiche di ricezione dei richiedenti asilo in Italia in POLITICHE SOCIALI, vol. 3/2018, pp. 429-436 (ISSN 2284-2098) (Articolo su rivista)
Campomori Francesca; Feraco Marcello (2018), Integrare i rifugiati dopo i percorsi di accoglienza: tra le lacune della politica e l'emergere di (fragili) pratiche socialmente innovative in RIVISTA ITALIANA DI POLITICHE PUBBLICHE, vol. 1/2018, pp. 127-157 (ISSN 1722-1137) (Articolo su rivista)
Campomori, Francesca; Della Puppa Francesco (2018), Venice: Mestre and Marghera , Local Matters: How neighbourhoods and services affect the social inclusion and exclusion of young people in European cities, Peter Lang Publishers (ISBN 3631736614; 0199676607) (Articolo su libro)
Partecipazione a comitati editoriali di riviste/collane scientifiche
Mondi Migranti (Franco Angeli)
Politiche Sociali /Social Policies (Il Mulino)
Descrizione dell'attività di ricerca svolta nel triennio e gli obiettivi futuri
tra il 2018 e il 2021 ho continuato a fare ricerca sulla multi level governance delle politiche di asilo con riferimento al caso italiano. Inoltre, il progetto SIforREF (cominciato ad aprile del 2019) che coordino mi ha portato a fare ricerca sull'innovazione sociale applicata alle politiche di integrazione dei richiedenti asilo e rifugiati. L'innovazione sociale e la co-produzione nei servizi pubblici sono stati i due concetti a cui ho dedicato particolare attenzione teorica negli ultimi due anni e che sono confluiti in tre pubblicazioni, una già uscita (Francesca Campomori (2021), Institutionalizing innovation in welfare local services through co-production: toward a Neo-Weberian state? in RIVISTA ITALIANA DI SCIENZA POLITICA, vol. On line first (ISSN 0048-8402) (Articolo su rivista), una in fase di pubblicazione e una in fase di peer-review. Negli ultimi due anni mi sono anche avvicinata alla letteratura sull'eco-welfare e attualmente sono supervisore di un assegno di ricerca su questo tema, che è nella mia agenda di ricerca per i prossimi anni. L'obiettivo del prossimo anno, nel quale potrò godere in di un congedo per motivi di studio, è proprio approfondire la letteratura su questo tema esplorando i nessi e i dilemmi tra gli obiettivi economici, sociali e ambientali delle politiche. Un'altro tema che intendo fare oggetto della mia ricerca sono le politiche europee di immigrazione e asilo, in particolare relativamente alle politiche di esternalizzazione dei confini.
Relazioni invitate presso convegni o workshops
2018:
-Partecipazione alla conferenza IMISCOE a Barcellona (29/06-1/07) e presentazione del paper Between policies of exclusion and innovative actions: the complex and heterogeneous scenario of refugee reception in Italy.
2019:
-
-Partecipazione a conferenza IMISCOE (26-28 giugno 2019). Organizzazione del panel Homesharing practices for enhancing asylum seeker and refugee integration (insieme a Matteo Bassoli) e presentazione del paper Understanding practices of home-sharing in reception policies as a case of co-production: the interplay between public and private actors (insieme a Matteo Bassoli) 26/06/2019 28/06/2019
-Conferenza annuale della Società di Scienza Politica (SISP) 2019, Lecce 12-14 settembre 2019. Presentazione del paper: Pursuing Social Innvation in welfare local services through co-production: Needs and challenges (con Mattia Casula) 12/09/2019 14/09/2019
-Partecipazione al Convegno Espanet Italia (19-21 settembre, Urbino) e presentazione del paper: Pursuing social innovation in welfare local services through co-production: Needs and challenges (insieme a Mattia Casula) 19/09/2019 21/09/2019
2020
-Partecipazione alla conferenza IMISCOE 2020 (tenutasi online dall' 1 al 2 luglio 2020 https://www.imiscoe.org/events/imiscoe-events/1027-17th-imiscoe-annual-conference). -Organizzazione del panel Social innovation and refugee integration: Challenges and opportunities in central European regions e presentazione del paper Local governance under stress: between resilience and disillusionment in two virtuous cases of asylum reception in Italy (Con Raffaele Bazurli e Mattia Casula) 01/07/2020 02/07/2020
-Organizzazione della conferenza Espanet Italia 2020, 17-19 settembre (doveva tenersi a Ca' Foscari, si è tenuta online). Organizazione di un panel all'interno della conferenza: Homesharing: between policy and individual political activism (con Matteo Bassoli)

2021
IMISCOE: Partecipazione alla conferenza annuale tenutasi online il 6-8 luglio con presentazione del paper The Stratification of Forced Migrants' Welfare Rights amid the COVID-19 Pandemic in Italy e organizzazione del panel De-bordering activities and citizenship from below of asylum seekers in Italy. Policies, practices, people.
SISP Conferenza annuale Società Italiana di Scienze Politiche (7-10 settembre): presentazione del paper Further to the Bottom of the Hierarchy. The Stratification of Forced Migrants'Welfare Rights amid the COVID-19 Pandemic in Italy (scritto insieme a Raffaele Bazurli).
Seminari su invito tenuti presso altre Università, Centri di Ricerca, Aziende, etc.
Co-organizzatrice del ciclo di eventi (Ri) usciamo a parlare di Stato Sociale, organizzati da OCIS https://osservatoriocoesionesociale.eu/in-agenda-ocis/
Sono stata chiamata a fare da moderatrice a due incontri.

14 dicembre 2018: Sono stata invitata a tenere una Lezione sulle politiche migratorie presso la Scuola Politica di Cgil Mantova.
Altre attività scientifiche
Membro del comitato scientifico della rete ESPANET ITALIA https://www.espanet-italia.net/
Membro del Board della rete ESPANET ITALIA
Organizzazione delle conferenze di ESPANET ITALIA nel 2020 e 2021
Membro del Board of directors di della rete IMISCOE https://www.imiscoe.org/
Membro dell'Osservatorio internazionale per la coesione sociale (OCIS https://osservatoriocoesionesociale.eu/)
Attività di Peer-review nelle seguenti riviste:
Mondi Migranti, Rivista Italiana delle Politiche Pubbliche, IRAS, Comparative Migration Studies, Journal of European Social Policies, Journal of Ethnic and Migration Studies, Policy Studies, Autoonomie Locali e Servizi Sociali, Territory,Politics and Governance, Innovation. The European Journal of Social Science Research, Regional and Federal Studies.
Peer-review degli abstract presentati alla conferenza Espanet e alla conferenza IMISCOE.
Altre attività didattiche
31 gennaio 2019 lezione nel dottorato di Sociologia Università di Trento. Titolo della lezione:The politics and the policy-making of international migration
Incarichi accademici e attività organizzative
2017-2020: Coordinatrice del corso triennale di Scienze della Società e del Servizio Sociale e del corso magistrale in Lavoro, cittadinanza Sociale, Interculturalità.
Componente di Collegi didattici, Comitati e Commissioni di Dipartimento, Commissioni di Ateneo
Componente del collegio didattico dal 2011 ad oggi.
Da ottobre 2020: membro della Commissione paritetica docenti-studenti
Attività e incarichi esterni
Membro dell'Osservatorio per la coesione sociale OCIS https://osservatoriocoesionesociale.eu/