COLAPINTO Cinzia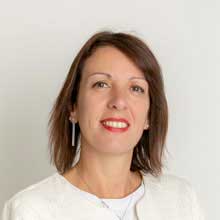 Dati relazione
| | |
| --- | --- |
| Periodo di riferimento | 11/08/2014 - 10/08/2017 |
| Afferenza | Dipartimento di Management |
| Ruolo | Ricercatori universitari |
Attività didattica
| A.A. | Insegnamento | Codice | Voto (max 4) | Voto medio area (max 4) |
| --- | --- | --- | --- | --- |
| 2014/2015 | ECONOMIA E GESTIONE DELLE IMPRESE - STRATEGIC MANAGEMENT | LM5110 | 3 | 3.2 |
| 2014/2015 | GESTIONE DELLE IMPRESE E MARKETING | ET0036 | 2.8 | 3 |
| 2015/2016 | COMUNICAZIONE D'IMPRESA | EM7014 | 2.9 | 3.1 |
| 2015/2016 | GESTIONE DELLE IMPRESE E MARKETING | ET0036 | 2.9 | 3.1 |
Tesi
| Anno solare | Tipologia | Tesi Relatore | Tesi Correlatore |
| --- | --- | --- | --- |
| 2014 | Corso di laurea magistrale | | 2 |
| 2015 | Corso di laurea | 4 | |
| 2015 | Corso di laurea magistrale | 4 | 2 |
| 2016 | Corso di laurea | 9 | |
| 2016 | Corso di laurea magistrale | 7 | 5 |
Finanziamenti
Interazione in sistemi economici complessi: Innovazione, contagio e crisi
Ricerche sviluppate e in corso
INTERNAZIONALIZZAZIONE E RUOLO DELLA DISTRIBUZIONE NELLE STRATEGIE DI MARCA: I PRODOTTI MADE IN ITALY AD ALTO VALORE SIMBOLICO IN DIVERSI CONTESTI SOCIO-CULTURALI. IL MERCATO CINESE.
LA TERRA DI MEZZO: IL "MESO" APPROCCIO ALLE STRATEGIE E ALLE AZIONI DI RECIPROCA INTERNAZIONALIZZAZIONE EUROPA - CINA
Online generations
Pubblicazioni realizzate nel triennio
Jayaraman, Raja; Colapinto, Cinzia; La Torre, Davide; Malik, Tufail (2017), A Weighted Goal Programming model for planning sustainable development applied to Gulf Cooperation Council Countries in APPLIED ENERGY, vol. 185, pp. 1931-1939 (ISSN 0306-2619) (Articolo su rivista)
Jayaraman, R.; Liuzzi, D.; Colapinto, C.; Malik, T. (2017), A fuzzy goal programming model to analyze energy, environmental and sustainability goals of the United Arab Emirates in ANNALS OF OPERATIONS RESEARCH, vol. 251, pp. 255-270 (ISSN 0254-5330) (Articolo su rivista)
Colapinto, C.; Jayaraman, R.; Marsiglio, S. (2017), Multi-criteria decision analysis with goal programming in engineering, management and social sciences: a state-of-the art review in ANNALS OF OPERATIONS RESEARCH, vol. 251, pp. 7-40 (ISSN 0254-5330) (Articolo su rivista)
Colapinto, C.; Liuzzi, D.; Marsiglio, S. (2017), Sustainability and intertemporal equity: a multicriteria approach in ANNALS OF OPERATIONS RESEARCH, vol. 251, pp. 271-284 (ISSN 0254-5330) (Articolo su rivista)
Porlezza, C.; Colapinto, C. (2017), Managing Innovation: The Networked Form of University in the XXI Century , Managing and Leading Creative Universities-Foundations of Successful Science Management: A Hands-On Guide for (Future) Academics in INTERNATIONAL SERIES ON INFORMATION SYSTEMS AND MANAGEMENT IN CREATIVE EMEDIA, Tampere, LugYmedia, pp. 287-302 (ISBN 978-952-7023-16-7) (ISSN 2341-5576) (Articolo su libro)
Colapinto C.; Manzi G. (2016), Music listening in the 21st century: Italian consumer attitudes to Internet radio in THE RADIO JOURNAL, vol. 14, pp. 213-230 (ISSN 2040-1388) (Articolo su rivista)
Jayaraman, Raja; Colapinto, Cinzia; Liuzzi, Danilo; la Torre, Davide (2016), Planning sustainable development through a scenario-based stochastic goal programming model in OPERATIONAL RESEARCH, vol. NA, pp. 1-17 (ISSN 1109-2858) (Articolo su rivista)
Gavinelli, Laura; Colapinto, Cinzia; Zenga, Mariangela ; Chiodini, Paola (2016), Strategic choices in recessionary period: an exploration on Italian SMEs in MERCATI E COMPETITIVITÀ, vol. 3, pp. 135-158 (ISSN 1826-7386) (Articolo su rivista)
Colapinto, Cinzia; Sartori, Elena; Tolotti, Marco (2016), How the Innovation Diffusion Models from the Past can Help us to Explain Marketing in the New Media Era in Campbell C.; Ma J., Looking Forward, Looking Back: Drawing on the Past to Shape the Future of Marketing in DEVELOPMENTS IN MARKETING SCIENCE: PROCEEDINGS OF THE ACADEMY OF MARKETING SCIENCE, Springer International Publishing, pp. 726-732 (ISBN 978-3-319-24182-1; 978-3-319-24184-5) (ISSN 2363-6165) (Articolo su libro)
Jayaraman, Raja; Liuzzi, Danilo; Colapinto, Cinzia; La Torre, Davide (2016), A Goal Programming model with satisfaction function for long-run sustainability in the United Arab Emirates , IEEE International Conference on Industrial Engineering and Engineering Management, IEEE Computer Society, vol. 2016-, pp. 249-253, Convegno: IEEE International Conference on Industrial Engineering and Engineering Management, IEEM 2015, 2015 (ISBN 9781467380669; 9781467380669) (Articolo in Atti di convegno)
Colapinto, Cinzia; Gavinelli, Laura; Zenga, Mariangela; Di Gregorio, Angelo (2015), Different approaches to the pursuit of internationalization by Italian SMEs in JOURNAL OF RESEARCH IN MARKETING & ENTREPRENEURSHIP, vol. 17, pp. 229-248 (ISSN 1471-5201) (Articolo su rivista)
Colapinto, Cinzia; La Torre, Davide (2015), Media planning and preferences: a fuzzy goal programming model in INTERNATIONAL JOURNAL OF MULTICRITERIA DECISION MAKING, vol. 5, pp. 167-181 (ISSN 2040-1078) (Articolo su rivista)
Jayaraman, Raja; Colapinto, Cinzia; Torre, Davide La; Malik, Tufail (2015), Multi-criteria model for sustainable development using goal programming applied to the United Arab Emirates in ENERGY POLICY, vol. 87, pp. 447-454 (ISSN 0301-4215) (Articolo su rivista)
Aouni, Belaid; Colapinto, Cinzia; La Torre, Davide; (2015), Parameter estimation through the weighted goal programming model in INTERNATIONAL JOURNAL OF MULTICRITERIA DECISION MAKING, vol. 5, pp. 263-273 (ISSN 2040-1078) (Articolo su rivista)
Colapinto, Cinzia; La Torre, Davide (2015), Multiple Criteria Decision Making and Goal Programming for Optimal Venture Capital Investments and Portfolio Management , Multiple Criteria Decision Making in Finance, Insurance and Investment, Springer, pp. 9-30 (ISBN 978-3-319-21157-2) (Articolo su libro)
Aouni, Belaid; Colapinto, Cinzia; Torre, Davide La; Liuzzi, Danilo; Marsiglio, Simone (2015), On Dynamic Multiple Criteria Decision Making Models: A Goal Programming Approach , Multiple Criteria Decision Making in Finance, Insurance and Investment, Springer, pp. 31-48 (ISBN 978-3-319-21157-2) (Articolo su libro)
Ganzerla L.; Colapinto C.; Rocco E. (2015), The open innovation paradigm: Can Digital Storytelling generate value for the Educational Field? in Ganzerla L.-Colapinto C.-Rocco E., The Evolution of the Internet in the Business Sector: Web 1.0 to Web 3.0, IGI Global publication, pp. 332-353 (ISBN 9781466672635) (Articolo su libro)
Aouni, Belaid; Colapinto, Cinzia; La Torre, Davide (2014), A Fuzzy Goal Programming Model for Venture Capital Investment Decision Making in INFOR, vol. 52, pp. 136-144 (ISSN 0315-5986) (Articolo su rivista)
COLAPINTO C.; SARTORI E.; TOLOTTI M. (2014), Awareness, persuasion, and adoption: Enriching the Bass model in PHYSICA. A, vol. 395, pp. 1-10 (ISSN 0378-4371) (Articolo su rivista)
C. Colapinto; E. Benecchi (2014), Dynamics and Motivations of Media Marketing: The Role of Globalization and Empowerment in ABSTRACT AND APPLIED ANALYSIS, vol. 2014, pp. 1-9 (ISSN 1085-3375) (Articolo su rivista)
B. Aouni; C. Colapinto; D. La Torre (2014), Financial Portfolio Management through the Goal Programming Model: Current State-of-the-Art in EUROPEAN JOURNAL OF OPERATIONAL RESEARCH, vol. 234, pp. 536-545 (ISSN 0377-2217) (Articolo su rivista)
Colapinto C.; Benecchi E. (2014), The Presentation Of Celebrity Personas In Everyday Twittering, Managing online reputations throughout a communication crisis in MEDIA CULTURE & SOCIETY, vol. 36, pp. 219-233 (ISSN 0163-4437) (Articolo su rivista)
Francesca Checchinato; Cinzia Colapinto; Alice Giusto (2014), Advertising in the luxury sector in China: standardisation or adaptation? A comparison between China and Italy , The Globalisation of Chinese Business: Implications for Multinational Investors, Chandos Publishing Oxford, pp. 243-266 (ISBN 9781780634494; 9781843347682) (Articolo su libro)
Partecipazione a comitati editoriali di riviste/collane scientifiche
International Journal of Business Research and Management
Descrizione dell'attività di ricerca svolta nel triennio e gli obiettivi futuri
My research interests focus on the combined areas of adaptive decision making and intellectual styles by illustrating the broad range and scope of decision making and intellectual preferences. It is evident that the decision-making process is one of the most crucial skills of today's leading managers in the complex and dynamic knowledge-based society. In particular, leadership often involves complex decision-making with many different actors and stakeholders. Managers and entrepreneurs have to identify and choose alternatives based on their values and preferences. In practical applications, it is easy to find situations in which the Decision Maker wishes to optimize several and conflicting objectives. The Goal Programming (GP) model, a well-known strategy for solving multi-criteria decision problems, takes into account simultaneously objectives in a problem for choosing the most satisfactory decision. In detail, in a GP model the Decision Maker looks for a solution which minimizes the deviations between the level of the objectives and the goals set for them. The deviations will be positive if the goal is surpassed, otherwise negative. The GP models have received a lot of attention because of their applications to concrete problems in marketing, quality control, human resources, portfolio management, production, and other areas. Recent contributions in this area include the analysis of complex multi-criteria optimization models and innovative applications to economics and finance.
My current projects examine the efficacy of entrepreneurial education: I am involved in two main projects: the former is in Veneto with Fondazione Ca' Foscari (lead by prof. V. FInotto); and the latter in Kazakhstan by evaluating the impact of the SME Executive Development Program at the founder-CEO level.
These projects will assess the impact of The Programs using a multi-method evaluation study. Thus, we will employ surveys, structured interviews, focus groups sessions and participant observation to establish the efficacy of The Program.
Altri prodotti scientifici
Membro del progetto di ricerca "Population dynamics, sustainable economic growth, energy and the environment" - Khalifa University, Abu Dhabi, UAE (2015/2016)
Relazioni invitate presso convegni o workshops
1) Stochastic Dynamic Multiple Objective Optimization with Application to Financial Portfolio (con D. La Torre, F. Ben Abdelaziz) MOPGP2017, October 2017, Metz (France).
2) The difficulties of the access to credit for the SMEs: an international comparison (con R. Calabrese, A. Matuszyk, M. Zenga), SMTDA, 1-4 June 2016, University of Malta, Valletta, Malta.
3) A Goal Programming Model with Satisfaction Function Applied to Sustainability Related Goals of the United Arab Emirates (con R. Jayaraman, D. Liuzzi, D. La Torre), International Conference on Industrial Engineering and Engineering Management - IEEM15, 6-9 December 2015, Singapore.
Seminari su invito tenuti presso altre Università, Centri di Ricerca, Aziende, etc.
Fuqua Business School, Entry Mode Degree of Control, Firm Performance and Host Country Institutional Development: A Meta-Analysis (with C. Giachetti and G. Manzi), September 2016
Altre attività scientifiche
Scientific committee - ICMFII 2016 http://icmfii.com/
Reviewer per:
A) Annals of Operation Research; International Journal of Multi-Criteria Decision Making; Journal of Innovation and
Entrepreneurship; Media, Culture, and Society; New Media and Society.
B) SMS, EURAM.
Altre attività didattiche
2016/2017 COMUNICAZIONE D'IMPRESA EM7014 2.9 / 3.1
2016/2017 GESTIONE DELLE IMPRESE E MARKETING ET0036 2.9 3.1
2017/2018 COMUNICAZIONE D'IMPRESA EM7014 3.2 / 3.1
2017/2018 GESTIONE DELLE IMPRESE E MARKETING ET0036 3.1 3.1
Incarichi accademici e attività organizzative
Coordinatrice dei seminari del dipartimento di management
Altre informazioni
A completamento delle precedenti informazioni, si segnalano:
a) i periodi di congedo per maternita': 7 aprile-29 maggio 2015; 16-20 maggio 2016; e 3-8 luglio 2017.
b) sono stata relatrice di 2 tesi triennali e 3 magistrali discusse nella sessione di luglio 2017.