VAIA Giovanni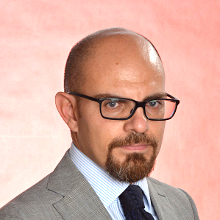 Giovanni Vaia graduated in business economics at the University of Naples with honors. He gained his Doctorate in Organisation and Technology from the University of Molise/Naples in Italy. Now he is completing his second PhD in Information Science at Turku School of Economics.
He is Assistant Professor with tenure at Ca' Foscari University Venice at the Department of Management where he teaches Business Administration, Digital Management and Global Sourcing.
Giovanni Vaia's interests include organization design and general management with a specific focus on digital transformation, information systems, network governance and outsourcing, performance management.
Today he is the founder and the Scientific Director of the Digital Enterprise Lab (DEL) at Ca' Foscari Venice. Digital Enterprise Lab (DEL) was founded to contribute to the scientific development in the digital area, where a strong integration of ICT, business strategy, marketing, organization and innovation are required. DEL supports companies in their exploitation of new technologies, and stimulates their process of innovation through the offering of educational courses and possible experimental instruments. Topics addressed at DEL may be applied in all kinds of business areas, e.g. Healthcare, Finance and Insurance, Consumer Goods and Retail, Fashion, Manufacturing, Multiutility, etc.
Giovanni is responsible of the digital transformation and organization optimization in public and private companies. 
Short bio
Assistant Professor with tenure, Department of Management /Ca' Foscari University of Venice
2016-Present - DEL FabLab - Scientific Director
Scientific Director at the DEL FabLab, a unit on manufacturing 4.0 at Ca' Foscari University. Within the Lab, we develop research streams on digital products in different industries, in collaboration with private companies.
2014–Present  - Digital Enterprise Lab (DEL) - Scientific Director
University Ca' Foscari, Venice (Italy)
2016–Present - Provost Delegate to the management of the digital agenda with the City of Venice
2016–Present - Member of the Department Committee about the Bachelor Degree on Digital Management
2014–2017 - Expert at European Commission – DG Connect. Expert within the European Forum on e-leadership and the management of computing and informatics in Higher Education;
Expert – impact assessment - about projects CONTREX, DREAMS, PROXIMA at DG CONNECT; Rapporteur call ―ICT4-2015‖); Rapporteur.
2014–2016 - Member of the management board of Ca' Foscary Digital Press.
Visiting researcher at Kogod School of Business - American University - Washington DC and affiliated to the Global Sourcing Research Interest Group at Loughborough University - UK 
He has published the book (with Giorgio Bongiorno and Daniele Rizzo) CIOs and the digital transformation. A new leadership role, Springer and scientific papers, among others, on JOURNAL OF INFORMATION TECHNOLOGY, MIS QUARTERLY EXECUTIVE, JOURNAL OF INFORMATION TECHNOLOGY TEACHING CASES, AFRICAN JOURNAL OF BUSINESS MANAGEMENT, ECONOMIA & MANAGEMENT
LINKS
Le informazioni riportate sono state caricate sul sito dell'Università Ca' Foscari Venezia direttamente dall'utente a cui si riferisce la pagina. La correttezza e veridicità delle informazioni pubblicate sono di esclusiva responsabilità del singolo utente.