MORIGGI Angela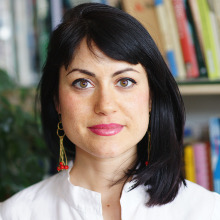 Angela Moriggi collaborates with Ca' Foscari University of Venice since November 2013. Currently she acts as Field Expert (cultrice della materia) for the Dept. of Asian and North African Studies. Previous to that, she was Research Fellow for the Dept. of Environmental Sciences, Informatics and Statistics and for the Dept. of Asian and North African Studies.
Since April 2016 she is based in Helsinki, where she works as Researcher at the Natural Resources Institute Finland - Luke. She is also External PhD candidate at Wageningen University (NE), and EU Marie Curie ITN Fellow of the project SUSPLACE (Sustainable Place Shaping).
She has for several years worked as social scientist in international projects related to sustainability issues in China, as part of highly multidisciplinary teams. She has (co-)authored papers on public participation in environmental governance, gender vulnerability to climate change, sustainable water management, environmental activism etc. In parallel, she was also Project Manager of a number of EU-funded projects involving partners from Europe and China.
Her current PhD project focuses on "Green Care" - referring to a diverse number of practices where nature is purposefully used for wellbeing, social inclusion and pedagogical aims. The research investigates the transformative innovation processes triggered through the practices with a place-based approach. The empirical work is carried out in Finland, in partnership with social entrepreneurs of an ecological sheep farm, a biodynamic farm and a nature-tourism company.
From a methodological point of view, she has experience with mixed-method, combining both quantitative and qualitative analysis, such as Sustainability Impact Assessment using Multi-Criteria-Decision Analysis (MCDA). Currently, she is experimenting with a wide array of participatory techniques, inspired by action-research: photo-voice, Theory U workshops, art-based methods for co-creation, and of semi-structured interviews coupled with participatory mapping exercises.
Her full academic CV is available for further details upon request.
Ultima modifica: 23/06/2018
Le informazioni riportate sono state caricate sul sito dell'Università Ca' Foscari Venezia direttamente dall'utente a cui si riferisce la pagina. La correttezza e veridicità delle informazioni pubblicate sono di esclusiva responsabilità del singolo utente.