Bridge year

The Ca' Foscari Bridge Year aims to improve the study experience of international students at Italian universities by providing an adequate mastery of the Italian language and a solid background knowledge of the main disciplines of future study.
Who should take the Bridge Year?
Students wanting to improve their Italian language skills before beginning their studies at a university in Italy
Students wanting to strengthen their background knowledge in the discipline they are planning to study
Students planning on enrolling at Ca' Foscari University but who do not have 12 years of schooling at the end of high school
2019/2020
The programme runs throughout the academic year, from November 2019 until August 2020 (10 months).
The Bridge Year offers two blocks of courses: an Italian language component of around 800 contact hours, and an optional thematic study track made up of four 30 hour courses, (120 contact hours in total).
---
Italian language block
The Italian language block consists of 800 hours of intensive Italian language study over the course of the academic year. At the end of the programme students are expected to reach an upper intermediate level (B2 according to the CEFR: Common European Framework of Reference for languages).
Registration for the CILS exam (official Italian language certification) is included.
4-Course Study Track
Study tracks will run from February 2020 until August 2020 (7 months). Each study track consists of 4 courses for a total of 120 hours, and will be activated based on a minimum number of enrolments for each track.
Students choose one track from the following:
Economics and Science (Ca' Foscari)
Elements of Constitutional Law
This course will cover the principal elements of Italian constitutional law from the historical context in which it arose, its establishment, its qualities and characteristics, the forms of State and Government and the relationships between the two, as well as social rights and implications within the economy and international relations.
Elements of Economics and Management
This course is divided into two main modules and aims to provide students with the fundamental concepts of micro- and macro- economics that will be required during the first year of undergraduate studies. The first module on micro-economics will cover basic notions and definitions such as markets, domand and supply and market equilibrium. The second module introduces the main variables and actors (the Government, the central banks, foreign trade) in macroeconomics and how they interact.
Mathematics
This course provides the background necessary for enrolment in introductory undergraduate Mathematics courses and covers: mathematical terms, axioms and theorems; natural, rational and real numbers; algorithms, algebra and polynomials; elements, sets and operations; functions; equations and inequalities; geometry.
Computer Science
The aim of this course is to teach students how to resolve a variety of issues by developing skills in data analysis, elaboration and communication through the use of IT tools. Students will learn the steps in making decisions along with electronic data manipulation and the principal support tools and procedures utilised within computer science.
Humanities (Ca' Foscari)
Introduction to Comparative Literature
This course offers a gradual approach to literary texts in various languages and cultures in which students will read, analyse, interpret and contextualise the works within their respective historical and cultural contexts. Students will become familiar with analyis techniques as well as with sources and bibliographical tools, both online and traditional.
Introduction to International Studies
This course will begin with an introduction to the international system and to international relations, and will then go on to present students with the fundamental notions concerning the history of international relations throughout the 19th and 20th centuries, leading into the 21st century, focusing in particular on political and economic relationships between the main actors and on the principal social and cultural changes that have influenced international law and policy in this period.
Introduction to Linguistics
This course provides students with a basic background in the main subject areas required for undergraduate studies in languages and linguistics. It offers an overview of general linguistics and philology through literature in the field as well as with the support of analytical tools so that the student will not only examine the course content, but will also become familiar will the specific lexicon used.
Introduction to Art History
This course offers a chronological survey of the major artistic styles of Italian art from the Early medieval period up to the mid 1800s and the Neoclassical art. At the end of the course, students will be able to identify the main periods of Italian art history within their historical and cultural context and analyse the characteristics of prominent works of art.
Architecture and Design (IUAV)
Introduction to Italian Architecture
This course, through different modules, aims to develop knowledge and skills in order to face the Italian admission test for all BA programmes in Architecture.
Different modules are focusing on:
art and architectural history;
design workshop;
physics and mathematics.
Introduction to industrial design
Starting from a theoretical module about what industrial design means, this course aims to improve knowledge and skills in order to face the IUAV admission test for Product and Visual Design and Interior Design BA programmes (taught in Italian).
Different modules are focusing on:
industrial design history;
product design and visual communication;
drawning sessions (product and interior design).
Two admission test simulations will take place by the end of the course.
Introduction to Fashion Design
Studying fashion and visual arts requires sacrifice.
This course, considering all pecularities of IUAV fashion and visual arts BA programmes, is focusing on:
fashion history;
modern art history;
Italian art and fashion system;
Introduction to planning and urban design
This course is focusing on different issues related to the modern planning and urban design: climate change, energy, place identity, city and territory resilience, social equality and inclusion, participation, management of specific applications for planning and urban design in ICT.
Eligibility
The Ca' Foscari Bridge Year is principally designed for students who are planning on enrolling in an Italian-taught degree programme in Italy but who do not know Italian, or who wish to improve their Italian language competency before starting their university studies. The programme can also be taken by those students who wish to enrol at Ca' Foscari University but do not have 12 full years of schooling, or in the case of American students, who do not have 3APs.
Eligibility for Bridge Year
Students applying for the Bridge Year need to meet the following obligatory eligibility requirements:
have finished their 11th year of schooling OR are currently enrolled at high school in their 11th year of schooling
hold a high school diploma, school leaving certificate, or equivalent, or will have one at the completion of the current school year
hold any University entrance qualification required in their home country in order to access University studies (Gao Kao, 3 O-levels, ÖSYS, etc.).
NB: in the case of students still enrolled in their final year of high school, enrolment in the Bridge Year is conditional on the student receiving both documents in points 2 and 3.
University enrolment following Bridge Year
Upon successful completion of the full Bridge Year, students can apply for their chosen degree programme through the Ca' Foscari Welcome office.
Participation in the Bridge Year does not entitle students to directly access their chosen degree programme; students must take an entry test, where necessary. For further information on enrolment at Ca' Foscari as an international student please visit the webpage.
NB: Students who only have 11 years of high school, or American students who do not have 3 APs, but who complete the Bridge Year, will become eligible for enrolment at Ca' Foscari University. Eligibility for enrolment at other Universities is not guaranteed. Students who are planning on enrolling at other Universities or Tertiary Institutions should contact the appropriate office at the Institution in question.
---
Applications
Required documents
Final secondary education leaving qualification (or Certificate of Enrolment, if you are currently attending the last year of secondary School and your final leaving qualification is not yet ready) and eventual English or Italian translation;
Certificate of any University entrance qualification required for accessing university studies in your country of origin (Prova de Aferiçao or Prova Geral de Acesso ao Ensino Superior in Portugal, Vestibular or Exame Nacional do Ensino Médio in Brazil, Gao Kao in China, 3 O-levels in the British system, etc.);
Valid ID (for EU and Italian applicants only) or passport;
Valid Residency Permit (for non-EU applicants residing in Italy);
Transcript of Records;
Letter of motivation
Dates and deadlines
Applications for the Bridge Year are now open.
The deadline for all applications is September 20th, 2019.
Students requiring a visa are strongly advised to apply early.
Lessons start on november, 4th 2019.
For more information, please contact foundation.cfsie@unive.it.
---
Fees and scholarships
Fees
Total tuition for the Italian language block is €5,000. Tuition includes all teaching activities (800 hours), tutorials and access to University facilities and services. Extra curricular activities, transport, accommodation and living expenses must be covered by the student.
Tuition costs are to be paid in two installments:
€1.000 10 days after receiving the invitation letter (to be reimbursed should your visa application not be accepted)
€4.000 one month after the programme starts
4-course study track (optional)
Tuition for each study track is €1,500. Tuition includes all teaching (four 30-hr courses, 120 hours in total). Study tracks will be activated based on a minimum number of participants once students arrive in Venice (and can therefore be paid at a later date).
Payment details
Payment must be made by bank transfer/wire to the following account:
Account name: Ca' Foscari School for International Education (CFSIE)
Account number: 46603825
Bank name/address: Banca Popolare FRIULADRIA, San Marco 4121 Salizada San Luca, 30124 VENEZIA
IBAN: IT 96 U 05336 02020 000046603825
Reference: "Bridge Year 2019/2020 - student name"
For international transfers: SWIFT code: BPPNIT2P326
All transfer fees are to be covered by the student.
NB: students must send confirmation of payment to foundation.cfsie@unive.it
---
Scholarships
There are four scholarships for the Ca' Foscari Bridge Year, based on merit and motivation, consisting of a reduction of €2.500 per student, to be applied to the second instalment of tuition. Students wishing to apply for a scholarship are required to read the scholarship call below and fill out the application form to be sent at the following email address: foundation.cfsie@unive.it
Fee waivers
Students who successfully compete the Ca' Foscari Bridge Year and then enrol in a degree programme at Ca' Foscari will receive a fee waiver on the first payment for tuition fees, and for all future payments provided they complete 42 ECTS per year.
Bridge Year students receive comprehensive pre-departure arrival information and assistance with the visa process, and upon arrival will find out how to access students services at Ca' Foscari such as fully equipped libraries (open late), student cafeterias, campus-wide wifi, the buddy programme for international students, and more.
Housing
The Housing Office can assist Bridge Year students with finding accommodation if needed: find out more on their webpage.
To find out more about what the University has to offer, read through the Ca' Foscari Welcome Guide.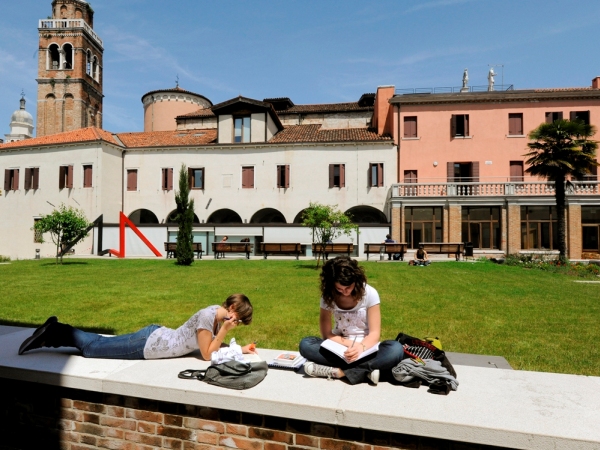 Enrolment in your Master's degree
Before enrolling in a Master's degree at Ca' Foscari, EU and non-EU students holding an international qualification must first request a preliminary online evaluation of their qualifications.
Last update: 15/01/2020