With a network of over four-thousand collaborators, three-thousand visits to the online platform each week and 80 publications per year in 16 different languages, Edizioni Ca' Foscari (ECF), Ca' Foscari's digital University Press, has built a significant presence in the scientific publishing world.
Completely Open Access, ECF is the only Italian University Press that strictly operates following the 'Gold Road' criteria, i.e. sharing free and easily accessible contents right after their publication. On their website, you can also find out how many times a title has been read or downloaded, as well as the location of the readers.
Whether you're a part of Ca' Foscari's community or not, ECF will be glad to help you publish your work!

How does it work?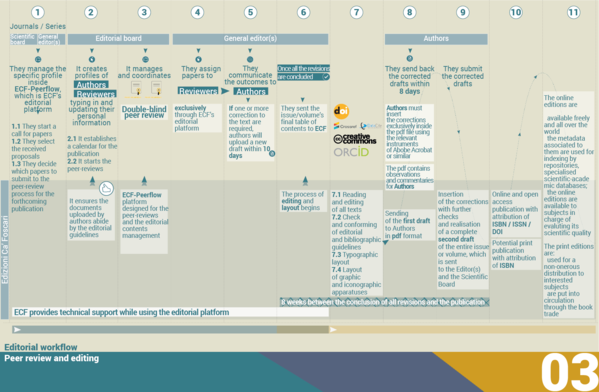 Open Access publications are characterized by a meticulous scrutiny of their scientific quality. Members of the ECF scientific committee carefully examine each potential volume using a double-blind peer review system. This process allows 2 anonymous experts in the field to ascertain the quality of the contents, using a specific evaluation grid.
To guarantee the highest degree of neutrality towards the contents of the volume, the proofreaders don't get to know the identity of the author and the authors have no clue on who is going to edit their paper.
After the contents have been evaluated and accepted, the entire texts is published and made available to everyone, normally within 8 weeks from the peer review. These very tight deadlines are made possible also thanks to the software that ECF has acquired and developed, like the 'Updoc' system, which allows the user to format the texts in a certain layout and review the final product, all in a single operation. The editorial contents are also equipped with standard metadata that come in handy for the creation of indexes or for more accurate searches.
Publications are free not only for the readers, but also for the authors. Production costs are entirely borne by competent institutions, like Universities or single Departments.
The price of 8 euros every 2.000 characters (spaces included) plus tax is consistent with the digital publishing market, and it gets cut down to 4 euros for Ca' Foscari members.
Furthermore, ECF has recourse to the Copyleft, a form of licensing that leaves certain rights to the authors while still permitting the free distribution of the product.
Ca' Foscari's editorial work is registering a steady increase in the number of website visits – 6.700 only in January 2019
The annual journal Annali di Ca' Foscari - Serie orientale was recently added to Scopus, the most prestigious scientific research index in the world. Moreover, for the first time Ca' Foscari will be listed in Scopus as a scientific journal publisher, amongst other international Universities. This acknowledgement will grant more international visibility to our Institution and positively affect our score in the QS World University Rankings.


More information on how to publish with ECF can be found on their website.