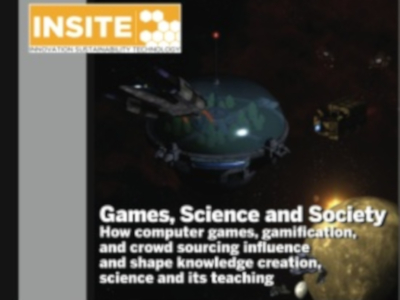 Games, Science and Society: How computer games, gamification, and crowd sourcing influence and shape knowledge creation, science and its teaching
When new communication technologies become accessible to many, this may have tremendous impact on society: social bonds change and re-arrange massively both in quantity and quality, leading to potentially massive changes in social dynamics and eventually society. This is especially true for the new possibilities currently opening through the combination of internet, DIY technologies, smart devices, computer games, and new media. At this workshop we discuss the new technologies and their impacts on science, how it might change, and how it will be taught. We discuss novel ideas to use the new technology in knowledge production and dissemination. We show already realized accomplishments in the field of crowd sourcing scientific knowledge production such as scientific discovery games, that involve the interaction and coordination of people through online platforms. With these platforms it becomes possible for the first time to understand the processes of knowledge production on a quantitative basis.
The workshop will be structured in a series of short oral presentations and provide ample room for discussing potential projects, synergies of collaborations of the present experts, and needed science funding calls. The workshop will further focus on issues of next-generation science and education, future teaching technologies, and concrete projects. We will also cover some key mathematical technologies necessary for the big-data handling to make full use of the data generated by the new technologies.
Invited speakers
Sebastian DETERDING, Steffen FRITZ, Laure KLOETZER, Kai KUIKKANIEMIAriel LINDNER, Vittorio LORETO, Alberto LUSOLI, Patrick MARCHAL, Zoran POPOVIC, Tomas RAWLINGS, Francois TADDEI, BosiljkaTADIC, Antoine TESNIÈRE, Stefan THURNER, Adrien TREUILLE, Christos TSIAPALIS, Arnaud VINCENT