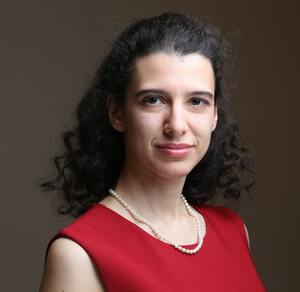 Maria Mannone
Research Themes
Mathematics and the Arts, complexity and the arts.
Focus area: categorical modeling of forms in music and in nature,
music-sound interactions via mathematics,
quantum formalism applied to music
Short Bio
Maria Mannone (Palermo, 1985) earned her Master in Theoretical Physics as well as three Masters in Composition, in Conducting, and in Piano in Italy. In Paris, at IRCAM – UPMC Paris 6 Sorbonne, she earned her Master 2 ATIAM in Acoustics, Signal Processing, and Informatics applied to Music. In the US, at the University of Minnesota, she achieved her Ph.D. in Composition.
She's author and co-author of several research papers and of five books. Three of them have been published by Springer. Her latest book, "Mathematics, Nature, Art" has been published in 2019 by Palermo University Press.
She presented her research during conferences and invited lectures in Europe, America, and Asia. Maria created the CubeHarmonic, a musical instrument based on Rubik's cube, currently under development in collaboration with the Tohoku University in Sendai, Japan.
She is a member of the editorial board and editor in training of the Journal of Mathematics and the Arts.
She thought the course "Sounds, Gestures, Diagrams," with pedagogical application of her research, and has been teaching it in Music Conservatories and Universities of Italy and Europe.
Contacts
Email: mariacaterina.mannone@unipa.it
Address: Dipartimento di Matematica e Informatica, Università di Palermo, via Archirafi 34, 90123 Palermo, Italy
Last update: 13/04/2021