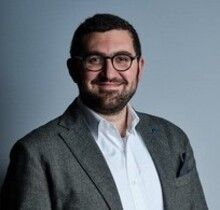 Samir Suweis
Short Bio
Dr. Samir Suweis is Assistant Professor (RTDB) at the University of Padova, Physics and
Astronomy Department. He co-lead the Laboratory of Interdisciplinary Physics (www.liphlab.com).
Research Themes
His main research themes can be classified in three broad areas: 1) The formulation of simple
principles to explain self-organization and emergent simplicity in nature; 2) Data analysis and
complex network modeling and non-linear dynamics in socio-ecological systems; 3) Criticality in
living systems, with a particular focus on brain criticality. In particular, his work focuses on the
study of complex living systems under a theoretical framework provided by statistical mechanics. It
addresses a wide range of related topics, including ecosystem organizations, ecological networks,
stochastic modelling of ecosystems dynamics and eco-hydrological processes, sustainability and
ecosystems services, brain networks and whole brain models.
Contacts
Last update: 26/04/2021