Articles (Journals & books)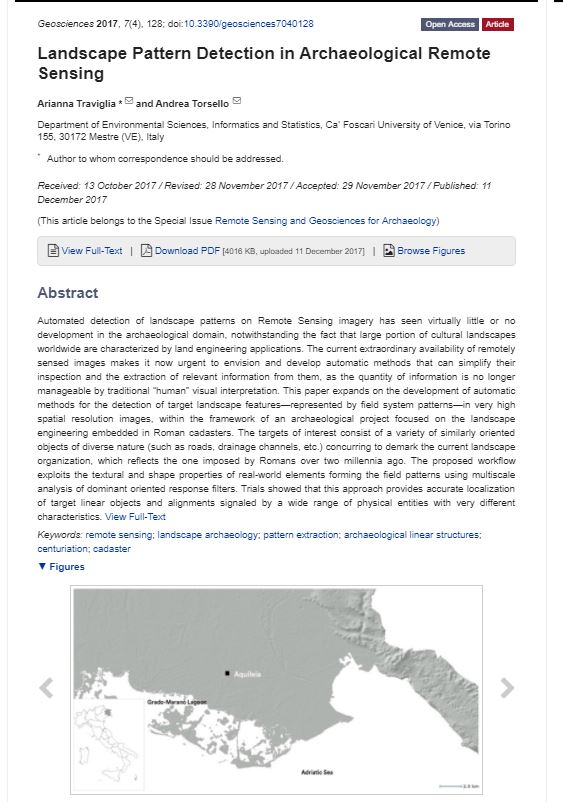 Landscape Pattern Detection in Archaeological Remote Sensing
By Arianna Traviglia and Andrea Torsello
Automated detection of landscape patterns on Remote Sensing imagery has seen virtually little or no development in the archaeological domain, notwithstanding the fact that large portion of cultural landscapes worldwide are characterized by land engineering applications. The current extraordinary availability of remotely sensed images makes it now urgent to envision and develop automatic methods that can simplify their inspection and the extraction of relevant information from them, as the quantity of information is no longer manageable by traditional "human" visual interpretation. This paper expands on the development of automatic methods for the detection of target landscape features—represented by field system patterns—in very high spatial resolution images, within the framework of an archaeological project focused on the landscape engineering embedded in Roman cadasters. The targets of interest consist of a variety of similarly oriented objects of diverse nature (such as roads, drainage channels, etc.) concurring to demark the current landscape organization, which reflects the one imposed by Romans over two millennia ago. The proposed workflow exploits the textural and shape properties of real-world elements forming the field patterns using multiscale analysis of dominant oriented response filters. Trials showed that this approach provides accurate localization of target linear objects and alignments signaled by a wide range of physical entities with very different characteristics.
Tags: remote sensing; landscape archaeology; pattern extraction; archaeological linear structures; centuriation; cadaster.
Bibliographic Info: A. Traviglia and A. Torsello, 2017. Landscape Pattern Detection in Archaeological Remote Sensing. Geosciences, 7(4), 128; doi:10.3390/geosciences7040128
Publication Date: Dec 2017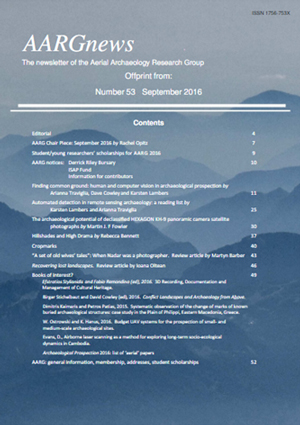 Finding common ground: human and computer vision in archaeological prospection
By Arianna Traviglia, Dave Cowley, and Karsten Lambers
The (slow) emergence of semi-automated or supervised detection techniques to identify anthropogenic objects in archaeological prospection using remote sensing data has received a mixed reception during the past decade. Critics have stressed the superiority of human vision and the irreplaceability of human judgement in recognising archaeological traces, perceiving a threat that will undermine professional expertise. However, as a number of published works and ongoing research demonstrate there are major benefits in developing this broad agenda. This paper provides a general review of the issues from a synergistic rather than competitive perspective, highlighting opportunities and discussing challenges
Tags: Object recognition, Object detection, Computer Vision, Remote Sensing, Digital Archaeology, Object Recognition (Computer Vision).
Bibliographic Info: Finding common ground: human and computer vision in archaeological prospection. AARGnews 53, 11-24
Publication Date: Sep 2016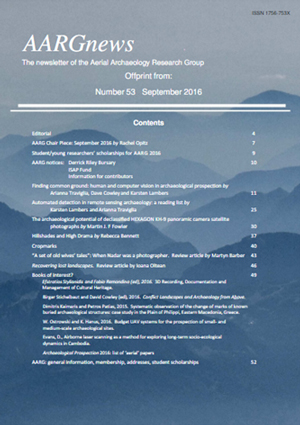 Automated detection in remote sensing archaeology: a reading list
By Karsten Lambers and Arianna Traviglia
The applications of automated object detection in remote sensing archaeology have grown consolidating current perspectives at September 2016, and in support of the preceding paper on the broader issues of human and computer vision in archaeological prospection (Traviglia et al.).
Tags: Computer Vision, Object recognition, Object detection, Archaeological Remote Sensing, Aerial Archaeology, Digital Archaeology, .
Bibliographic Info: Lambers, K. and A. Traviglia, 2016. Automated detection in remote sensing archaeology: a reading list. AARGnews 53, 25-29.
Publication Date: Sep 2016
Last update: 29/08/2022