Foundation year
The Ca' Foscari Foundation Year is a propedeutic year-long programme, designed to prepare international students for studying English-taught degree programmes at an Italian university. Students will take courses on modern European history, English and Italian language, as well as a basic introduction to the main disciplines of future study.
Who should take the Foundation Year?
Students who have less than 12 full years of schooling at the end of high school
Students wanting to improve their English language skills before beginning an undergraduate degree at a university in Italy
Students who studied in the American school system and do not have the three Advanced Placement exams required to enrol at an Italian university
Students who studied in the British school system and do not have the three A-levels required to enrol at an Italian university
2019/2020
The Foundation Year programme runs throughout the academic year, from October 2019 until June 2020 (8 months).
The programme offers two main study tracks, each of which consists of 30 credits and additional 30 credits of general preparation for studying at an Italian university on topics within modern European history, as well as English language and basic Italian.
---
Track A: Economics and Science
This set of courses is designed for students wishing to apply for a degree course in English in the fields of economics, management or science. Four courses are offered: Mathematics, Introduction to Law, Critical Thinking, and Computer Science, for a total of 30 credits.
Mathematics - 12 credits
Terms and forms of mathematical language: logical connectives; implication; quantifiers; definition; axiom; theorem.
Natural and integer numbers. Rational and real numbers. Properties of powers. Logarithms and their properties. Algebraic expressions and polynomials. Percentages.
Elements and sets. Subsets and operations between sets.
Functions. Composite and inverse functions. Real functions of real variables: monotone; periodic; even; odd . Graph of a function. Transformations of function graphs. Linear, quadratic, exponential and logarithmic functions.
Equations and inequalities: rational; irrational; with absolute value; exponential; logarithmic.
Coordinate systems in the plane and in the space. Distance in the plane. Line, circumference, ellipse, hyperbole and parabola.
Critical thinking - 6 credits
Instructor: Matteo Giannasi
The course will explore the foundations of critical thinking, to provide awareness of our own beliefs about the world, where they come from and why we might have them—with a focus on how power and politics shape the ways that we understand the world, and how critical thinking can serve as a resource to empower people.
fundamental thinking, reasoning, and language abilities
statements, arguments, beliefs, and evidence
think critically about media
use critical reasoning to address problems
critical thinking about difficult moral and societal issues
communicate more effectively
Introduction to Law - 6 credits
Introduction to the phenomenology of legal systems in modern and contemporary Western experience. Common aspects. The national States and the Constitutions. Formal sources and customary.
Civil law and common law. The traditional legal partitions. From the Constitution to the other branches of law
The impact of the European Union on national systems, from the point of view of public law and private law. Fundamental rights.
The legal regulation of relations between private subjects. Patrimonial relations and personal relations. The fundamental institutes of relations between individuals: obligations and contracts; rights on things and immaterial resources; responsibility; person and family models.
Computer science - 6 credits
Topics
Introduction to computational thinking
Computer fundamentals: how computers store and transmit data; how hardware and software operate on data; levels of abstraction in computing
Element of programming and data structures
Element of management of digital data: collecting, storing, searching
Special topics: history of computing, social/ethic issues in computing, artificial intelligence
Track B: Humanities and Arts
This set of courses is designed for students wishing to apply for a degree course in English in the fields of Humanities such as literature, languages, linguistics, art history. Four courses are offered: Italian Literature, History of Italian Art, Philosophy, and Introduction to Classics, for a total of 30 credits.
Italian literature - 12 credits
Instructor: Federico Tanozzi
The course will provide an introduction to and a broad overview of the Italian literature through its key authors, from Dante Alighieri, through the Renaissance, to our days.
Students will work on texts of world-known poets, novelists, playwrights, including "libretto d'opera". At the end of the course students will be able to identify the main period of Italian History (late medieval, Renaissance, Counter-Reformation, Enlightenment, Romanticism and Modernity) and associate themes and ideas to specific epochs.
Art history - 6 credits
Instructor: Myriam Pilutti Namer
This course offers a chronological survey of the major artistic styles of Italian art from the Early medieval period up to the mid 1800s and the Neoclassical art. At the end of the course, students will be able to identify the main periods of Italian art history within their historical and cultural context and analyse the characteristics of prominent works of art.
Philosophy - 6 credits
Instructor: Charles Wolfe
This course is designed to enable students to read and analyse philosophical texts and topics. It will cover the development of Western philosophical thought throughout the ages, providing students with the key philosophical concepts and questions, as well as insights into the historical and theoretical context surrounding the development of the framework of Western philosophy, from its ancient origins (Plato, Aristotle, Saint Augustine) and through key-figures of the Middle Ages and early modern period (Saint Thomas, Descartes), up to modern day (from Kant to Hegel). Students will gain an understanding of the main schools of thought and their approaches (e.g. metaphysics, idealism, materialism, empiricism, etc.) and will become acquainted with a variety of philosophical issues (e.g. the mind-body problem, the nature of beauty and goodness, and the relation between human freedom and necessity) which are key to critical thinking and problem-solving skills.
Introduction to Classical studies - 6 credits
Instructor: Antonio Pistellato
This course will provide an introduction to the history and literature of ancient Greece and Rome based on extracts from key authors and texts such as Homer, Virgil, Greek tragedy and Latin love poetry. By addressing these texts in their cultural and historical context, students will gain a basic knowledge of Classical culture and society. The course will help students identify the Classical roots of European culture, and of Italian culture within it.
General university preparation
All students take classes in modern European history, English (the equivalent of a B2 level) and Italian (A1-A2) in order to meet the entry requirements for studying at an Italian university.
Modern and Contemporary European and Italian History - 12 credits
Instructor: Giulia Bonazza
This course will provide an overview of the major cultural and political developments that have defined modern and contemporary European history, and of Italian history within it. Starting from the French Revolution and the rise of Nation States, the course will then analyse the rise of Fascism in the context of the two World Wars, following the development of European politics during the Cold War and until its end. The course will pay special attention to the transition from Italian Fascism to the Republic and the challenges faced by the post-war Italian state and Italian society. At the end of the course students will have gained a general knowledge of the key concepts and main periods in modern and contemporary European and Italian history.
Eligibility
The Foundation Year is principally designed for students who have finished high school but who do not have the 12 years of schooling required to enrol at an Italian university and/or the formal qualification required for University entrance in their home country.
Eligibility for Foundation Year
Students applying for the Foundation Year need to meet the following obligatory eligibility requirements:
have an adequate mastery of English (a minimum of B1 according to the CEFR)
have finished their 11th year of schooling OR are currently enrolled at high school in their 11th year of schooling
hold a high school diploma, school leaving certificate, or equivalent, or will have one at the completion of the current school year (NB: in this case enrolment in the Foundation Year is conditional on the student receiving a High School Diploma)
How does this apply to me?
You are eligible for the Foundation Year if you meet the above critieria, and are in one of the following specific situations:
YES if you studied in the American school system and do not have the 3 APs required to access tertiary studies in Italy
YES if you studied in the British school system and do not have the 3 A-levels required to access tertiary studies in Italy
YES if you studied in a system where a) there are only 11 years of schooling, or b) the 12th year is optional
YES if you have 12 years of schooling and any exam required for university entrance in your home country, but still want to improve your English and your background knowledge before enrolling at an Italian university
Eligibility for University enrolment following Foundation Year
Upon successful completion of the full Foundation Year, students will be eligible for enrolment at Ca' Foscari. Participation in the Foundation Year does not entitle students to directly access their chosen degree programme; students must take an entry test, where necessary.
Students can apply for their chosen degree programme through the Ca' Foscari Welcome office. For further information on enrolment at Ca' Foscari as an international student please visit the webpage.
NB: Eligibility for enrolment at other Italian Universities students is not guaranteed. Students who are planning on enrolling at other Universities or Tertiary Institutions should contact the appropriate office at the Institution in question.
---
Applications
Required documents
Final secondary education leaving qualification (or Certificate of Enrolment, if you are currently attending the last year of secondary School and your final leaving qualification is not yet ready) and eventual English or Italian translation
Certification of English language - level B1 (see the following webpage) or proof of having studied at least one full year of high school in English
Valid ID (for EU and Italian applicants only) or passport
Valid Residency Permit (for non-EU applicants residing in Italy)
Transcript of records
Letter of motivation
Applications for the Foundation Year 2020/21 will open in February 2020.
---
Fees and scholarships
Fees
Total tuition is €5.000. Tuition includes all teaching activities (150 hours + 230 hours), tutorials and access to University facilities and services. Extra curricular activities, transport, accommodation and living expenses must be covered by the student.
Tuition costs are to be paid in two installments:
€1.000 10 days after receiving the invitation letter (to be reimbursed should your visa application not be accepted)
€4.000 one month after arriving in Venice (November 1st, 2019)
Payment details
Payment must be made by bank transfer/wire to the following account:
Account name: Ca' Foscari School for International Education (CFSIE)
Account number: 46603825
Bank name/address: Banca Popolare FRIULADRIA, San Marco 4121 Salizada San Luca, 30124 VENEZIA
IBAN: IT 96 U 05336 02020 000046603825
Reference: "Foundation Year 2019/2020 - student name"
For international transfers, SWIFT code: BPPNIT2P326
All transfer fees are to be covered by the student.
NB: students must send confirmation of payment to foundation.cfsie@unive.it
---
Scholarships
There are four scholarships for the Ca' Foscari Foundation Year, based on merit and motivation, consisting of a reduction of €2.500 per student, to be applied to the second instalment of tuition. Students wishing to apply for a scholarship are required to read the scholarship call below, and fill out the Application form to be sent at the following email address: foundation.cfsie@unive.it
Fee waivers
Students who successfully compete the Ca' Foscari Foundation Year and then enrol in a degree programme at Ca' Foscari will receive a fee waiver on the first payment for tuition fees, and for all future payments provided they complete 42 ECTS per year.
Foundation Year students receive comprehensive pre-departure arrival information and assistance with the visa process, and upon arrival will find out how to access students services at Ca' Foscari such as fully equipped libraries (open late), student cafeterias, campus-wide wifi, the buddy programme for international students, and more.
Housing
The Housing Office can assist Foundation Year students with finding accommodation if needed: find out more on their webpage.
To find out more about what the University has to offer, read through the Ca' Foscari Welcome Guide.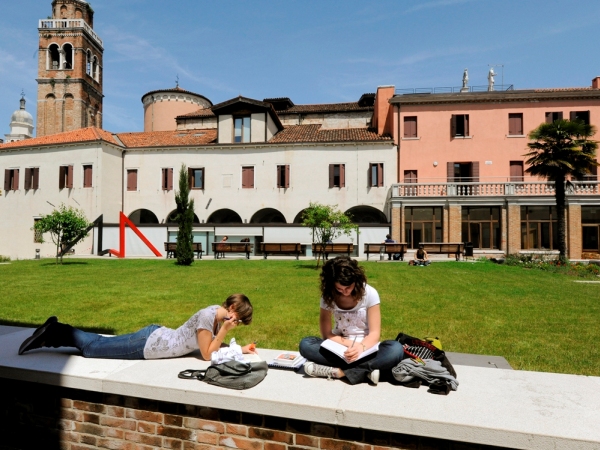 Last update: 13/02/2020