Venice has a long history of innovation which started 1600 years ago that deserves to be shared. Over the centuries, many ideas originated in the city, such as double-entry bookkeeping, bank-to-bank transfers, government bonds, and even quarantine, to name a few.
In line with this tradition of innovation, Venice School of Management is strongly oriented towards developing and transferring its know-how to society and organisations. The School aims indeed to promote entrepreneurial skills, innovation, and social welfare on a local, national and international level.
VSM collaborates with companies and institutions to support them through its research activities, and to co-design tailored-made training programmes.
The School is fully committed to its role as a platform to promote collaboration and create innovative learning models by involving all local stakeholders.
Areas of consulting, applied research and training
Venice School of Management collaborates with companies, locally, nationally and internationally, to support them in embracing changes and making a positive impact on their communities, thanks to research projects specifically tailored to the following areas of expertise:
Accounting and Finance
Economic and financial analysis, Cost analysis, False accounting, Management accounting, Accounting principles and civil norms, Project management, Reporting
Entrepreneurship
Start-up, Strategic assessment of SMEs, Entering new markets, Entreprenurial finance
Firm Reporting
Financial & managerial reporting
Methods and Models for Firms' Decision making
Logistics, Software, Passengers and freight transportation, Employee turnover, Pricing financial derivatives, Competitive auctioning, Supervised neural networks, Management of contracts, Corporate culture e performance measurements
Organization and Management of Human Resources
Strategic planning, Organizational behavior, HRM, Assessment and development of social and emotional skills, Network Development, Start ups, Entrepreneurship, Organizational structures and processes for innovation, Internationalization, Crowdsourcing management
Sustainability
Corporate social responsibility, Energy efficiency, Local sustainable development, Sustainability management, Sustainable mobility, ESG reporting, Sustainable finance
Strategy, Marketing and Innovation
Strategic innovation, Strategic plan design, Re-configuration of business models, Events, Networking, Business process reengineering, Business processes, Business networks, Marketing plan desig, Social media marketing
Labour law and Taxes
Labour law and taxes for businesses, public administration, labour law, Trade union and labour relations
Hire our talents
A getaway to top talents
Our goal is to train future leaders and innovative minds who can make a positive impact on society and change the world for the better.
And as one of Europe's leading global business schools, we play a significant role in fuelling this change.
The Ca' Foscari University Career Service is the perfect partner to identify young minds who may be a perfect fit for the opportunities the job market offers. By partnering with HR representatives, the Career Service has the goal to connect strong talents from the University and of Venice School of Management with organisations that wish to support the development of their potential and help them embrace their future.
The Career Service works in close connection with companies and business partners to organise corporate presentations, career days and training seminars, to develop initiatives on specific areas and meet the needs of a fast-changing labour market.
Students and graduates are prepared to set their career to professional success thanks to initiatives such as recruiting events, trial interviews, visits to local companies, job hunting materials, internships.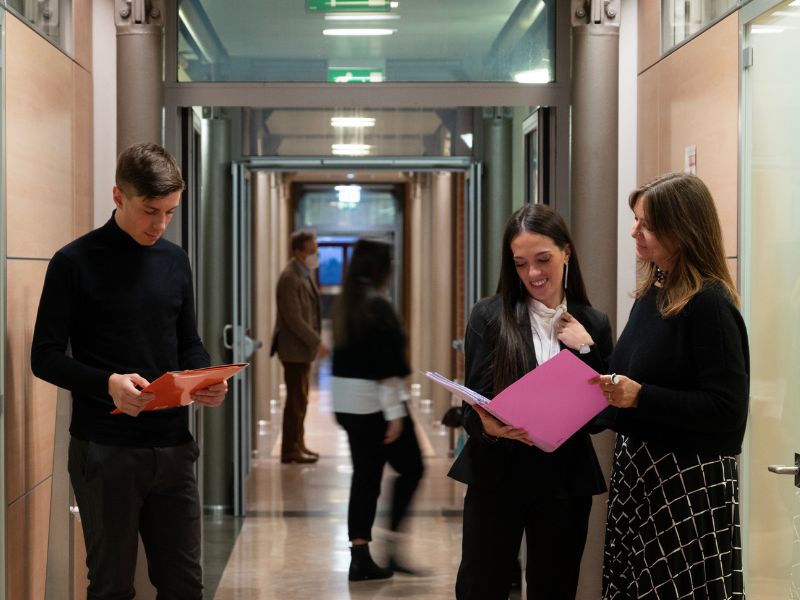 Our partners
Venice School of Management has always considered innovation in teaching and excellence in research as a mark of distinction, with the aim of building a coherent and constructive dialogue with local and national brands.
All our projects are conceived with the objective to promote a positive impact on the world and society. In particular, in the field of entrepreneurship, we promote business incubators and accelerators focused on sustainability and social entrepreneurship, and invest in post-graduate and executive training.
Partner companies have the chance to actively participate in the creation of new synergies between the worlds of higher education and business, the establishment of more collaborative opportunities, and the development of new knowledge.
The companies we are working with are: