Marco Polo/Turandot

The Marco Polo / Turandot Programme a.y. 2022/2023 will not start due to insufficient number of applications


The Marco Polo and Turandot program was launched by CRUI, the Conference of Italian University Rectors. Its goal is to contribute to reinforcing scientific cooperation between Italy and Asia and to increase the number of Chinese students enrolled in Italian universities.
The aim of the program is to provide Chinese students with proficiency in Italian language and culture and to prepare them for enrolment at Italian Universities or Higher Education Institutions.
At Ca' Foscari, the program is offered at the Ca' Foscari School for International Education (SIE), a school which is dedicated to international students and programs.
Marco Polo/Turandot at Ca' Foscari University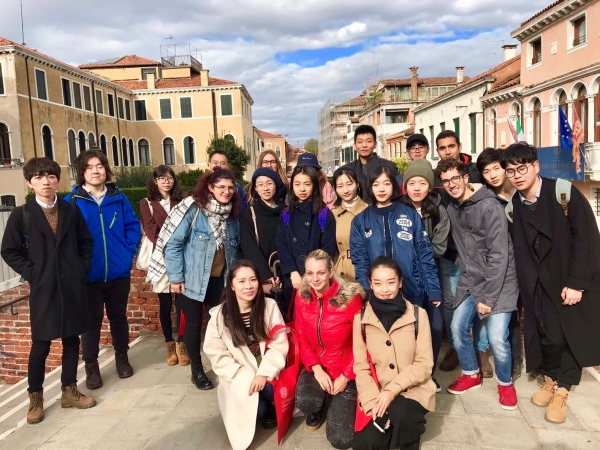 The Italian language programme for Marco Polo/Turandot students is offered by Study in Venice, an association which reunites four of Venice's higher learning institutions: Ca' Foscari University, Iuav University, the Accademia di Belle Arti of Venice, and the Conservatorio "Benedetto Marcello". The four institutions formed an association in 2017 with a view of work together and provide academic services to international students in Venice, including courses in Italian language and culture.
The programme is organised by the School for International Education at Ca' Foscari, a University which enjoys worldwide reputation in the field of language teaching, and has a strong decade-long tradition of research on language teaching and training for teachers of Italian as a foreign language.
The programme offers an innovative and pragmatic approach, focusing on the use of language in real communication. Core features include:
in-class lectures
language practice and support tutorials
in-depth workshops focused on diverse language aspects
Italian culture workshops and visits of museum and interest spots in Venice
language learning tandem with students enrolled in Ca' Foscari's Chinese classes
The Marco Polo / Turandot Programma a.y. 2022/2023 will not start due to insufficient number of applications.


Course of Italian language
The course is based on the Common European Framework of Reference (CEFR) for languages as an intensive language course (at least 100 hours per month), with supervised mandatory attendance (also web-based) and a 4 module structure with a final period of catch-up/reinforcement work. Lessons take place from Monday to Friday in classrooms equipped for language teaching with full multimedia access.
Before the course starts students are required to take a placement test. Students will then be placed in classes of no more than 20-25 students based on the individual test results.
The classes will be arranged according to a communicative approach and through a functional and notional method to meet the students' requests for real communication needs.
They will be held by native language experts in multimedia classrooms equipped with the latest devices for language learning.
Language classes also include:
In-depth workshops focused on the development of language skills according to standards of CILS tests listening, reading and writing
Italian language and culture workshop introducing some hours of Italian culture hints that describe our country.
Visits in Venice and the surrounding area.
Tutoring hours provided for language catch-up and reinforcement of the skills acquired in class and for the development of speaking skills
A language Tandem programme with Chinese learning students from Ca' Foscari. The purpose is to facilitate their integration in the Italian University background.
At the end of each module, an online test will be provided in order to check the improvements achieved and monitor any possible difficulties. Students will take a final test as last step of the course and will obtain a certificate of the skill level reached.
The enrollment fee also includes the Italian official language certification CILS (B1 or B2) that will be held in Ca' Foscari by August, 2023 (special session).
Preparatory Courses
Thanks to our Study in Venice partners, alongside the Italian language course offered at the Ca' Foscari School for International Education, students can choose to register for a package of preparatory courses, aimed at introducing them to their future area of study. Students can sign up to these courses upon arrival in Venice.
Assessment and certification
Evaluation will take place throughout the programme. Students will be tested at the end of each term so as to check progress and monitor any difficulties, and at the completion of the entire programme they will sit a final exam in order to receive a certification from the SIE. Students will also be able to sit the official Italian language certification CILS (Certificate of Italian as a Foreign Language) at Ca' Foscari in August 2022.
At the end of the programme students are expected to reach an intermediate level (B1 or B2).
Attendance
Attendance is obligatory. A minimum of 70% of the attended hours is required to access the final test.
University Services
Chinese speaking staff will be available for assistance and support to the students.
The Ca' Foscari Welcome Unit will provide students with information about the University and help them in the procedures for obtaining valid visas and residency permits in Italy.
Accommodation
Ca' Foscari University can provide accommodation for incoming students through its Housing Office. Costs vary according to the type of lodging.
Procedure for Extra EU students
The Welcome Unit is the office at Ca' Foscari that provides support to international students with their arrival in Venice, and in particular with:
Stay Permit ("Permesso di soggiorno")
Students who are not residents of the European Union need to apply for a Stay Permit once they arrive in Venice.
Taxpayer's Code ("Codice fiscale")
The taxpayer's code is used as a form of identification throughout Italy and is necessary in order to enrol at an Italian university. It is made up of 16 characters and numbers which represent your personal information (name, date of birth, place of birth, gender, and so on).
More information on living in Venice can be found here.
Carta Conto
Students in the Marco Polo programme will receive a University ID card called "Carta Conto". It can be used to access university services such as:
University cafeterias
University libraries and loans
printing and photocopying
It is also possible to use it as a chargeable debit card.
Last update: 01/02/2023