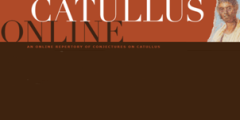 "Catullus Online" and Digital Latin: Radical Innovation or Media Change?
On-line
Dániel Kiss (Universitat de Barcelona)
"Catullus Online" and Digital Latin: Radical Innovation or Media Change?
ABSTRACT
Digital scholarly editions are still rare in one of the oldest fields of textual scholarship, namely classical Latin philology. This paper will use the example of "Catullus Online", developed by Dániel Kiss and currently under upgrade, to study the challenges and possibilities of the digital turn in classical Latin textual scholarship. At first sight, one might regard this shift as an instance of media change, a process of shifting texts from one medium to another. The history of Latin texts offers several parallels for this, with the passage from handwritten books to manuscripts offering the most helpful comparison. But if we regard texts as static bodies of data, this is inaccurate from the point of view of textual scholarship, which studies their transformations, limitations and uncertainties; and it is restrictive from the point of view of digital humanities, which offers tools not only for the presentation of texts, but also for their study and manipulation. The challenge is to harmonize the conceptual requirements of textual scholarship with the practical opportunities offered by digital technology.
Dániel Kiss studied Classics with Persian at Oxford and went on to write a doctoral dissertation in Latin philology at the Scuola Normale Superiore di Pisa. His discoveries as a graduate student, including a neglected archive of philological notes at the University of North Carolina at Chapel Hill, led him to embark on a longer research initiative on the poems of Catullus and to construct Catullus Online (2013), a pioneering digital critical edition of a major work of Latin literature. He has spent a year as a virtual Visiting Scholar at the Venice Centre for Digital and Public Humanities. He is currently working as a Ramón y Cajal Fellow at the University of Barcelona.
Link for subscription: bit.ly/39dK6vA
Relevant information will be provided on vedph.github.io/seminarseries
For further information please write to vedph@unive.it
Language
The event will be held in English
Organized by
Dipartimento di Studi Umanistici; VeDPH
Downloads