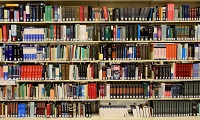 Book Conservation and Digitization
on line
Alberto Campagnolo. Book Conservation and Digitization. The Challenges of Dialogue and Collaboration. Leeds: Arc Humanities 2020.
Questo libro mette in luce le sfide e i problemi che sorgono nel trasmediare i beni librari nel digitale, sia dal punto di vista di coloro che si occupano di preservarne la fisicità per le generazioni future, e di chi si occupa della loro digitalizzazione, della digitalizzazione delle informazioni ivi contenute, e della gestione dei dati digitali. Nell'esaminare una gamma di progetti e approcci al difficile equilibrio tra conservazione e digitalizzazione, e incoraggiando un dialogo tra i vari professionisti che potrebbero sembrare avere scopi e compiti contrastanti, questo libro si presenta come strumento per chi si occupa di ricerca, policy maker, e chi lavora praticamente nel campo, e vuole dimostrare come un dialogo tra campi apparentemente opposti non sia soltanto possibile, ma sia anche desiderabile e proficuo. Solo con una collaborazione sinergica tra tutte le persone coinvolte nei processi di digitalizzazione, restauratori inclusi, infatti, si possono creare oggetti culturali digitali che rappresentano più organicamente gli originali e la loro materialità, incoraggiando e rendendo possibile nuove ricerche e aprendo nuovi orizzonti del sapere.
All'evento prendono parte Paolo Eleuteri del Dipartimento di Studi Umanistici e tre degli autori dei casi studio: Ángela Núñez Gaitán, Responsabile del laboratorio di restauro, Biblioteca Apostolica Vaticana, autrice di "Conservation Towards Large-Scale Digitization at the Vatican Library"; Flavio Marzo, Restauratore dirigente, Cambridge Colleges' Conservation Consortium, author of "BritishLibrary/Qatar Foundation Partnership and the Digitization Project: A Case Study about Conservation Processes within Mass Digitization of Library Material"; Caroline De Stefani, Responsabile del laboratorio di restauro, London Metropolitan Archives, author of "The Great Parchment Book Project".
Link per la registrazione: https://bit.ly/2StcEg5
Contatti: vedph@unive.it
Language
The event will be held in Italian
Organized by
Dipartimento di Studi Umanistici, VeDPH
Link
https://arc-humanities.org/products/b-66111-111110-80-6518/
Downloads