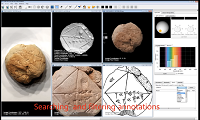 Tools for Making Sense of Cultural Heritage Data
on line
Speaker: Holly Rushmeier, Yale University
Abstract: A challenge in cultural heritage documentation, analysis and communication is that relevant data is available in a wide variety of forms. Tools are needed to manage text, numerical output from instruments, images (both 2D and 3D), video and more. Further, a cultural heritage professional needs to observe all of this data to make informed decisions and communicate the basis for them. In this talk I will talk about tools for two scenarios – the data and analysis relevant to an individual object, and the data and analysis relevant to an entire site. I will provide examples of software we have developed and using the software to make sense of diverse data sets.
Biography: Holly Rushmeier is the John C. Malone professor of Computer Science at Yale University. She received the BS (1977), MS (1986), and PhD (1988) in Mechanical Engineering from Cornell University. Since receiving the PhD she has held positions at Georgia Tech, NIST and IBM TJ Watson Research. Her area of interest is computer graphics. Her current research focuses on material appearance modeling, applications of perception to computer graphics, and applications of computer graphics to cultural heritage preservation. Her past projects include a project to create a digital model of Michelangelo's Florence Pieta and models of Egyptian cultural artifacts in a joint project between IBM and the Government of Egypt. She is coauthor of the text "Digital Modeling of Material Appearance." Dr. Rushmeier has served as the co-chair of the ACM Publications Board, the Editor-in-Chief of ACM Transactions on Graphics and as co-Editor-in-Chief of Computer Graphics Forum. She is an ACM Fellow, a Fellow of the Eurographics Association and recipient of the 2013 ACM SIGGRAPH Computer Graphics Achievement Award.
The seminars are part of the Technical Art History Series in Advanced Imaging Technologies for Cultural Heritage organized by the Rijksmuseum, the Computational Imaging group at CWI Amsterdam, and the Venice Centre for Digital and Public Humanities.
Contact: vedph@unive.it
LINK for subscription: https://bit.ly/3hvxN3J
Language
The event will be held in English
Organized by
Rijksmuseum; CWI; VeDPH
Downloads