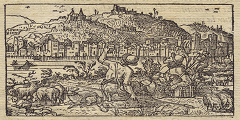 LYON 16ci - A Visually Searchable Database for Book Illustrations Printed in Lyon
The printing industry in Lyon during the Renaissance is characterized by the importance given to illustrations. The number of books printed in the sixteenth century is around 25000, of which at least 2000 are illustrated. Printers of the city published the first illustrated book in France, namely the Mirouer de la Redemption de l'Umain Lignage (1478), which was translated into French by the monk Julien Macho. The early printers who worked in the city, such as Barthélemy Buyer, Mathieu Husz and Jean Syber used German woodblocks at first, but they soon started to commission new illustrations for different types of books (among which books of emblems, bibles, herbalia, descriptions of exotic countries and anatomical illustrations).
The Lyon16ci website is the result of the cooperation between Dr. Barbara Tramelli's project "The Illustrated Book in Lyon 1480-1600", supported by the Equipex Biblissima (2016-2019) and by the Venice Centre for Digital and Public Humanities (2020-2021), and the Visual Geometry Group at the Department of Engineering Science of the University of Oxford. In between digital humanities, art history and book history, this website can be used to answer a wide range of research questions: which types of books were illustrated in Lyon? Which iconographic subjects became popular during the century? How did printers and artists exchange printing material, tools and ideas?
This database can be searched using an image as a search query as well as using text keyword for searching metadata assigned to the illustrations. Such a visual and text search capability allows research scholars to track and investigate the production, use, circulation and copying of woodblocks, iconographic subjects and artistic styles within the 16th-century illustrated editions printed in Lyon. The database is publicly accessible and accepts contributions of new illustrations and metadata from research scholars from all over the world. Lyon 16ci is being developed by Dr Barbara Tramelli (Ca Foscari University, Venice/St. Benet's Hall, Oxford), and Dr Abhishek Dutta (VGG, Oxford).
Organized by
VeDPH
Link