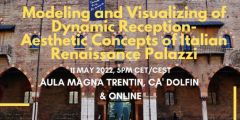 Modeling and Visualizing of Dynamic Reception-Aesthetic Concepts of Italian Renaissance Palazzi
Aula Magna Silvio Trentin, Ca' Dolfin, Dorsoduro 3825/E and online
Seminars in Digital and Public Humanities
Seminars series organized by Venice Centre for Digital and Public Humanities (VeDPH), Department of Humanities, Ca' Foscari University Venice Spring Term 2022 - 5 p.m. CEST/CET - (The seminars will be held both in Venice and online as virtual events).
11 May 2022 - Lisa Dieckmann (Universität zu Klön)
"Modeling and Visualizing of Dynamic Reception-Aesthetic Concepts of Italian Renaissance Palazzi"
Abstract:
The aim of the envisaged research project is the modeling, interlinking and visualization of the complex space and time reference systems of the pictorial programs within Italian Renaissance palazzi. Therefore the topography of the representation rooms and the topography of the iconographic programs are taken into account, considering also viewer's guidance ("Betrachterführung") and historical events. A modeling concept will first be developed on the basis of the Villa Farnesina in Rome and
the Palazzi Ducale in Urbino and Mantua. CIDOC-CRM will be used as a formal reference ontology for the development of the model and maybe enhanced by further domain-specific elements. The presentation will give an overview of the envisaged project and connect it to the broader context of digital art history.
Further info and all materials about seminars will be available at vedph.github.io/seminarseries
For registration in presence
For registration online
Contact: vedph@unive.it
Language
The event will be held in English
Organized by
VeDPH, DSU
Downloads