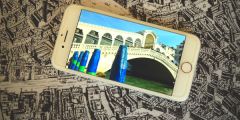 VeDPH Seminars Series in Digital and Public Humanities, Autumn Term 2022
Sala Milone, DSU and online
VeDPH Seminars in Digital and Public Humanities, Autumn term 2022
The VeDPH is glad to inform you that the new series of seminars in 'Digital and Public Humanities' will start soon. The series is organized by the Venice Centre for Digital and Public Humanities (VeDPH) and the Department of Humanities of the Ca' Foscari University, Venice.
Here is the full programme:
21 Sept: Paolo Berti, "Performing Hybrid Spaces: Art, Media and Ludic Practices"
5 Oct: Agnese Macchiarelli, "Medieval Latin in a Bilingual Context Between Philology, Linguistics and Digital Humanities"
26 Oct: Nevio Danelon, "Neuroscapes and urban archeology: Intervisibility between necropolis, acropolis and urban settlement"
16 Nov: Sean Williams, "Anecdotes, Presentism, and Public Humanities: Historical and Theoretical Reflections on Practice"
7 Dec: Francesca Dolcetti, "Values-Led Design Theory and Praxis: A Critical Framework for Archaeology and Heritage"
All the seminars will be held both in presence and online, starting at 5.00 p.m. CET/CEST
Further info and all materials about seminars will be available at vedph.github.io/seminarseries
For registration in presence will follow updates, on the single events, on our channels.
Link for subscription: https://bit.ly/3q28uJD
Contact: vedph@unive.it
Language
The event will be held in English
Organized by
VeDPH; DSU
Downloads