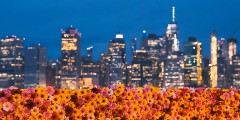 International conference - Toward a Sustainable Attitude: Aesthetics, the Arts, and the Environment
Ca' Foscari University of Venice, Aula Magna Ca' Dolfin and Aula Baratto Ca' Foscari
INTERNATIONAL CONFERENCE
Toward a Sustainable Attitude: Aesthetics, the Arts, and the Environment
Venice, October 6-8, 2022
Ca' Foscari University of Venice, Aula Magna Ca' Dolfin and Aula Baratto Ca' Foscari
Together with NYU Tandon and Universität Bern, on October 6-8, 2022, Ca' Foscari hosts the international conference "Toward a Sustainable Attitude: Aesthetics, the Arts, and the Environment". Set to start at 2PM on Thursday, October 6, in the Aula Magna of Ca' Dolfin and end at noon in Ca' Foscari's Aula Baratto on Saturday, October 8, the conference investigates sustainability challenges from a philosophical and artistic perspective. Two aspects will be explored particularly, the first one related to the way sustainability is sensed and understood in different cultural and social contexts, the other one to the way artists contribute to the debate on sustainability at an experiential and conceptual level. The conference is based on the fieldwork done in art and sustainability at Ca' Foscari in the last eight years, especially through the Sustainable Art Prize founded by Sustainable Ca' Foscari at the art fair of ArtVerona and its subsequent public art projects developed in Venice.
The conference is organised and funded by Ca' Foscari's Venice Centre for Digital and Public Humanities at the Department of Humanities, Sustainable Ca' Foscari and the Department of Philosophy and Cultural Heritage.

The complete programme of the conference is attached.

Organized by
Department of Humanities; VeDPH
Downloads