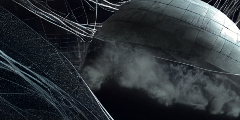 Ars Hybrida & The Practice of New Media Art / Masterclass with Iury Lech
Venice Biennale, Arsenale, Campo della Tana Castello 2169/F, Venice
Masterclass with Iury Lech
Exploring the creative development of audiovisual artworks, artificial intelligence, and curatorial processes
The event is held as part of the Digital and Public Art teaching within the MA in Digital and Public Humanities, and VeDPH.
Organisers:
Paolo Berti (paolo.berti@unive.it)
Stefania De Vincentis (stefania.devincentis@unive.it)
Roundtable discussion:
RE:SOURCE The 10th International Conference on the Histories of Media Art, Science and Technology
A workshop by
Venice Centre for Digital and Public Humanities (VeDPH)
Department of Humanities, Ca' Foscari University of Venice
Digital stochastic processes and their core random function in the art of new technological media confronted with the indeterminate times of the future.
Iury Lech is a transdisciplinary digital artist descended from the Ukrainian diaspora and settled in Spain from a very young age, that has developed his creativity working within the realm of video-art, music and literature, being part of the few pioneers in the Spanish electronic and digital audio-visual scene that in the 80's/90's began to develop visual-aural performances and video art works. His open and unclassifiable style permeates the tired avant-garde concept by means of textures that brings alive hypnotic visual and sonic atmospheres and an alternative way to conceive New Media Art experimentalism.
Beside the artistic activities he is responsible for the founding, direction, and programming of MADATAC, the INTERNATIONAL FESTIVAL OF CONTEMPORARY AUDIO-VISUAL & NEW MEDIA ART, an independent project initiated in 2009 and ongoing through the 12th edition.
MADATAC [Biennial of New Media Art & Digital Technologies], is an internationally renowned Festival, an iconic, universalist, pedagogical event specialized in the dissemination, production and exhibition of the art of new digital media, with a long history in the city Madrid, which for its 12th edition will also host the IX International Symposium on Cyberculture and New Media Art and will have Ukraine as a special guest country. MADATAC aims to serve as an exchange, dissemination, exhibition, production and knowledge of disruptive and immersive proposals in which artists, technicians, scientists and educators are working, in order to articulate innovative proposals of the language of the new digital and audiovisual media and interrelate art, science, technology and creative processes connected to a transdisciplinary perspective.
The workshop will be an open discussion on new media art creation and the presentation of the project Transmadatac Virtual Museum, an audiovisual art and advanced technologies on-line interactive cross-platform, dedicated to exhibit, promote, watch, acquire and collect new media artwork.
Language
The event will be held in English
Organized by
Department of Humanities (Paolo Berti, Stefania De Vincentis); VeDPH; in collaboration with Biennale Sessions
Downloads