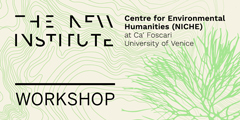 A workshop with Elizabeth Povinelli
Ca' Bottacin, Dorsoduro 3911 Venice
MOVING WATERS: Art and Political Ecologies of the Ancestral Present
Workshop with Elizabeth Povinelli
20 September - 21 September, 2022
This workshop, funded by the Wenner Gren Foundation, is part of an itinerant that moves across four locations in Italy: the Comune di Carisolo, Trentino; Università Ca' Foscari Venezia, NICHE; Università di Bologna, Department of Arts; and Casa delle Agriculture in Salento, Puglia. Two locations are situated within university settings and two within ecological and artistic research projects. These locations have been selected for several reasons. First, they bring together two historically impoverished areas, the Alpine north and the Mediterranean south, and two historically wealthy areas, the industrial history of the Emilia-Romagna region and the trading crossroads of Venice. Second, three of the locations face potentially dramatic social and economic challenges due to climatic changes—glacial melting's effect on the ski tourism economy and interruption of pastoralism in the high mountain pastures by capital speculation (Carisolo); the high tides in Venice; and the spread of deadly bacterium and parasites through intensive monocultural agriculture (Puglia). Third, the three sites struggle with how to return to local communal heritage without triggering xenophobic nativism. And, finally, perhaps more pragmatically, principals of this project (Roberta Raffaetà, Elizabeth A. Povinelli, Ivo Povinelli, Massimiliano Mollona, Luigi Coppola) have ongoing research, artistic, and praxis-based projects in these sites. This results in a rich, yet organic movement between university-based research discussions and practice-based approaches to aesthetics and political ecology.


The workshop examines the turn to ancestral socioecological and political traditions in Italy to find conceptual and empirical resources to face contemporary socioecological crises. We ask how collective artistic and ecological practices seeking to reorient the ancestral pasts toward rapidly shifting ecological futures intervene in a multiplicity of political forms, including Indigenous survivance, White Nativism, and decolonizing alliances. We focus on two Italian regions, the Alpine region of Trentino and southern tip of Puglia. Both regions represent historically impoverished regions and, although the trajectory of wealth has changed since the Second World War, both face the ecological consequences of climate change, mass tourism, and land speculation, and the rise of right-wing nativism. Climate change's threat to the glaciers now threatens its economy as decisively as ecological damage from warming seas and monocultural
agriculture threatens Salento's centenary olive trees. And in both regions, white nationalist parties have arisen exploiting these ecological crises for political purposes. While set in Italy, this workshop is part of a broader research project studying Indigeneity and white nativism in the context of settler colonialism. Rather than a failure of late liberal settler critique, this project understands the rise of white nativism to be a part of a contemporary cultural counterreformation in urgent need of study.


The workshop in Venice will be hosted by NICHE (THE NEW INSTITUTE Centre for Environmental Humanities at Ca' Foscari University of Venice) it is by invitation, and will be led by Cristina Baldacci and Roberta Raffaetà.
They will convene the core group and other invited home and regional scholars and artists to discuss the relationship between artistic research, critical science studies, and the political economy of contemporary crisis of climate change and rising seawaters. We will reflect on the political and social effects of climatic alterations in Venice.

Language
The event will be held in English
Organized by
Niche and others