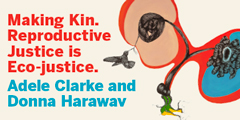 Making Kin. Reproductive Justice is Eco-justice
Teatro Ca' Foscari, Calle Larga S. Marta 2137 e online
Making Kin. Reproductive Justice is Eco-justice.
Adele Clarke e Donna Haraway in conversation with Angela Balzano (University of Turin), Antonia A. Ferrante (University of Liège and IUAV), Federica Timeto (Ca' Foscari University of Venice)
On the occasion of the Italian translation of Making Kin. Not Population (Fare parentele, non popolazioni, Derive&Approdi 2022), the translators and editors discuss with Adele Clarke and Donna Haraway around reproductive justice according to a transnational, intersectional and multispecies feminist perspective.
Haraway and Clarke will be participating online.
If you intend to participate in person, please let us know by filling in this form. Thank you.
If you whish to participate online via Zoom please use this link.
In collaboration with Teatro Ca' Foscari
Language
The event will be held in English
Organized by
NICHE, Teatro Ca' Foscari
Downloads