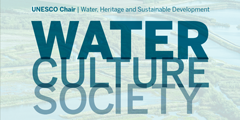 Water, Culture, Society / Lecture Series
Online / in presence
Water, Culture, and Society: Between Ancestral Practices and Freshwater Multifunctionality
The second series of lectures and webinars organized by the UNESCO Chair on 'Water, Heritage, and Sustainable Development' and THE NEW INSTITUTE Centre for Envrironmental Humanities (NICHE) at Ca' Foscari University of Venice will be held in presence and online from 29 September to 6 December 2022.
The complete program will be published soon. The first event in the series is a lecture by Sarah Nuttall: On Pluviality: Rain as Method (September 29th, 3.00 pm CEST online)
Topics of the series include:
indigenous water beings and multi-species democracy
ancestral knowledge and hydro-technologies
cosmological and legal frameworks
sustainable groundwater management
This year'sprogram is organized in cooperation with the UNESCO Chair on 'Rivers and Heritage' (University of Tours, France), the UNESCO Chair on 'Water and Culture' (University of the Republic, Montevideo, Uruguay), and the Global Network of Water Museums (WAMU-NET).

Language
The series will feature lectures in English, Spanish, and French
Organized by
UNESCO Chair / NICHE
Downloads