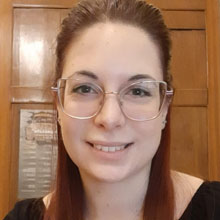 Chiara DE BASTIANI
Position

Researcher
Telephone

041 234 5722
E-mail
Scientific sector (SSD)

FILOLOGIA GERMANICA [L-FIL-LET/15]
Website

www.unive.it/people/chiara.debastiani (personal record)

Office
Office hours
Office hours during the first semester, a.y. 2023-24
During the first semester of the a.y. 2023-24 office hours will take place every Tuesday from 2 to 4 p.m. in the lecturer's office (Ca' Bernardo, First Floor, Library Entrance). You are kindly asked to write an email to book your slot (chiara.debastiani@unive.it).

Notices
Ricevimento settimana 11-15 Dic.- Office hours next week (11th-15th Dec.)
Published on 06/12/2023
Si avvisa che il ricevimento di martedì 12 dicembre è spostato a mercoledì 13 dicembre dalle ore 10 alle ore 12.
Office hours on Tuesday, Dec. 12th, are moved to Wednesday, Dec. 13th, from 10 to 12 a.m.
follow the feed