Meeting and event spaces
Ca' Foscari offers its venues, true historical, artistic, cultural and architectural "gems" in the heart of Venice, to external bodies and institutions. The Aula Mario Baratto, the Auditorium Santa Margherita and other locations may become the ideal setting for cultural, scientific, teaching events as well as for courses, press conferences, formal dinners, conventions and corporate or private events.
University spaces are available for hire by both University groups and external users on weekdays and/or public holidays, including evenings for one or multiple days. It is possible to combine the hire and use of more than one venue to better satisfy event and activity needs.
Covid-19 rescue management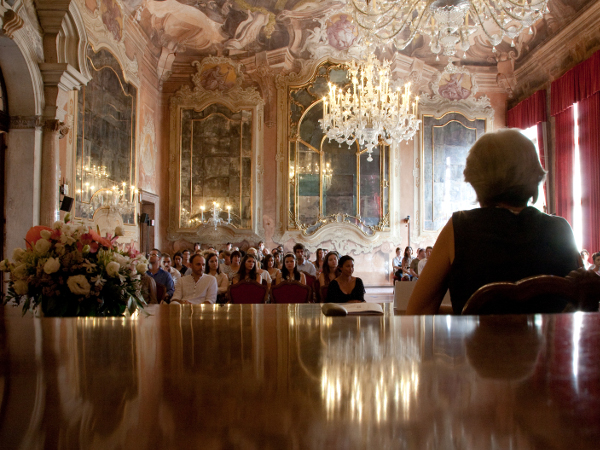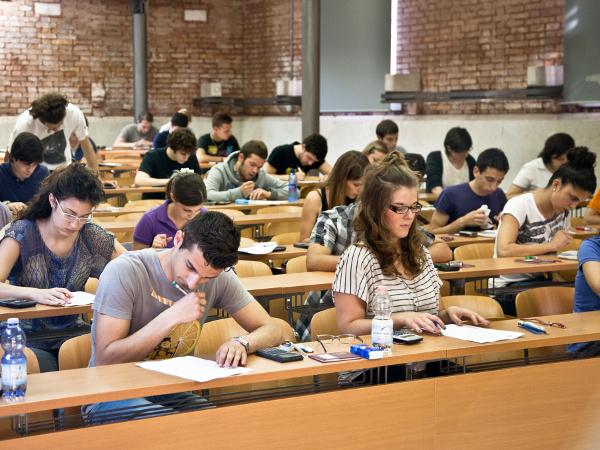 Check out our photo gallery with vintage pictures of our venues from 1868 onwards.
For more information on availability and fees, and support in the choice of the best venue:
The Ca' Foscari University Foundation, an instrumental body of the University, is available not only to the University but also to companies and external bodies, to provide design and management consultancies for art exhibitions and corporate and institutional events.
Visit the Ca' Foscari Foundation website at the Conferences and Exhibitions page [ITA] for information on design services and exhibition spaces.
In order to organise an event providing participants with Wi-Fi access, you need to contact the University Space Management Office and provide them with the following information:
Event code: a very brief description of the event (in a few characters);
Description of the event: detailed description of the event;
Event manager: the event manager will be responsible for creating passwords and authenticating users. The manager will also act as liaison in case of improper use of the network by users, and will answer for failure to check/enter ID data for the individual users. If necessary, managers may revoke;
Event start and end date: dates cannot be changed once communicated.
The event manager will receive an email with the login and password requested to access the procedures creating temporary users as described below.
How to create temporary users: normal method
Go to the following page: http://intra.unive.it/phpapps/umanag/guest/ticket_admin.php and authenticate yourself using the credentials that will be sent to you by ASIT.
After authentication, just click on the "Add a user" link and fill in form with information requested (all fields are compulsory).
Note that newly created users will not be automatically active, and will need to be activated (preferably, although not necessarily, after checking that given information corresponds to information listed on ID) by clicking on the "Enable" link next to the user name.
Once activated, users may use their credentials.
To provide credentials, print the form (available in Italian and English) by clicking on "New Password".
Please note that a new password will be generated each time a request is made to print credentials!
Instructions concerning the procedure to create temporary users: the users request an account
Se la creazione degli account per tutti gli inviatati dovesse risultare eccesivamente onerosa, è possibile seguire un'altra strada che consite nell'inviare via e-mail il link alla seguente pagina a ciascun invitato:
intra.unive.it/phpapps/umanag/guest/ticket_user.php?evento=<codice evento>
Tale pagina permette all'interessato di registrare autonomamente i propri dati e di ottenere, presso la propria casella di posta elettronica, la lettera con le credenziali, creando il relativo account.
Rimarrà onere del responsabile attivare gli account generati con questa modalità (possibilmente previa la verifica della correttezza delle informazioni sul documento di identità), attraverso l'interfaccia, e con le modalità descritte in precedenza.
How to create temporary users: sending credentials via text message
This procedure is particularly useful in case of "last-minute arrivals" or delegates who have not had the opportunity to register.
Provided these delegates have a cell phone with an Italian service provider, they can obtain their credentials by texting wifi <codice evento> (charged as per the user's rate plan) to +39 339 9941246. They will receive a text reply with their credentials, which can be used without the need for activation by the event manager. In this case no further ID information is requested, because already linked to the mobile number supplied by each single user.
How do temporary users access Wi-Fi
After receiving their credentials, users must follow the procedure below (the consolidated practice in conferences):
Connect your device to the University Wi-fi network (the network name starts with Unive_WiFi).
Go to your browser and ask to open a page at random. After selecting the link Conference guest access here from the Ca' Foscari Wi-Fi portal page, you will be asked for your username and password.
Once you have logged in, minimise the connection page to an icon. You can now access the network.
Temporary users accessing the Internet are also required to comply with the university data transmission regulations [IT].
Lecture rooms
Technical assistance in using multimedia instruments in lecture rooms is provided by the university staff as pre-established in the contract.
Staff will grant indications on the location of the rooms and provide assistance to guarantee the use and preparation of the instruments that are rented with the room to facilitate an autonomous use.
Meeting venues
In these rooms, technical assistance with multimedia instruments is provided with in different forms; please read the description on the web page of each venue for more information.
Additional technical assistance
Additional technical assistance may be offered upon request of the users or if the university identifies the users' needs, the company Eurotecnica Salmaso Srl in the context of the management contract for the multimedia instruments.
Such technical assistance is at full charge of the user at a fixed hourly rate by technical staff to satisfy the technical needs related to the organization and management of activities and events.
The hourly rate for such services is EUR 36 + VAT/hour. This rate is valid for both weekdays and public holidays, on daytime and evenings.
Rental/ set up of multimedia instruments
At the moment of reservation, sending an email to mvianell@unive.it, it is possible to request the following instruments on loan:
2 pairs of amplified acoustic speakers, each with a wired microphone and stands
1 pair of amplified acoustic speakers with a wired microphone
1 amplified acoustic speaker with a radio microphone and a stand
1 audio mixer TASCAM M-1016
2 video portable video projectors
1 tripod portable projection screen (2x2m)
1 pantograph portable projection screen (2.32x2.06m)
After checking the availability of the instruments, the office will confirm the reservation to the user.
Last update: 27/09/2022