SANTAGIUSTINA Carlo Romano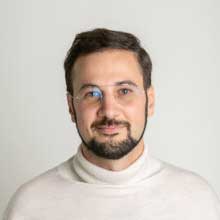 BEHAVIOURAL ECONOMICS - [EM2Q09] VENEZIA (159986): BEHAVIOURAL ECONOMICS: TELEMATIC EXAM (MARCH 26, 2PM)
Published on 16/03/2020
Dear Students,
You can register (from today to March 23rd) to the exam of Behavioural Economics through your Personal Area.
The exam will officially take place on March 26th at 2pm.
Once the registration to the exam will be closed, I will send a Google Hangouts Meet invitation to those that have registered to the exam session. The email will be sent to your @stud.unive.it email account.
You will be able to access the exam using the link in the email.
Depending on the number of students registering to the exam, it is possible that the oral examination may be conducted over several days. In this case, I will ask you before the 26th to inform me about your availabilities.
The exam will consist of three (3) questions for attending students and six (6) questions for non-attending students.
All questions will concern topics treated in the official material of the course (lecture slides + book sections in the syllabus + audio commented slides available on Moodle).
By March 23rd I will upload on Moodle some examples of questions.
Kind regards,
C. Santagiustina
BEHAVIOURAL ECONOMICS - [EM2Q09] VENEZIA (159986): Office hours (only) by appointment, via Skype
Published on 16/03/2020
Office hours (via Skype) only by appointment, please send an email to: carlo.santagiustina@unive.it

follow the feed