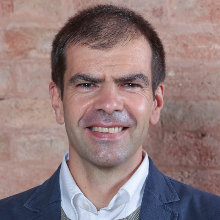 Office hours
Orario di ricevimento a.a. 2021/22 - 2° periodo di lezione
Il docente riceve il giovedì, dalle ore 14:00. Gli studenti sono pregati di prendere visione della sezione 'Avvisi' o delle pagine Moodle del docente per maggiori indicazioni o variazioni.
Office hours - 2nd term a.y. 2021/22
Office hours are held on Thursdays at 2 pm CET. Students are advised to check Professor Dindo's Moodle webpages or the 'Notices' section for more information and updates.

follow the feed