OMODEO Pietro Daniel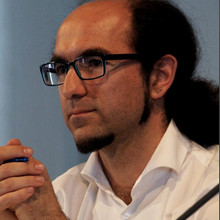 Pietro Daniel Omodeo is a historian of science and philosophy and a professor of philosophy of science.

His research focuses on science, philosophy and literature in the early Modernity, as well as on historical epistemology. He has been working on the ontological and epistemological premises of medieval and early-modern natural philosophy and science up to the rise of mechanic visions of the world. Moreover, he has been investigating the history of cosmology and physics, in particular post-Copernican astronomy, mechanics and physico-mathematics. His inquiry into the history of science expands on the wide cultural interconnections of early scientific debates as well as on their socio-institutional embedment. His work on historical epistemology focuses on political epistemology along Gramscian lines of investigation. It comprises a critical assessment of the agendas underlying the historiography of science.

Omodeo is the Principal Investigator of the ERC Consolidator Project Institutions and Metaphysics of Cosmology in the Epistemic Networks of Seventeenth-Century Europe, a comparative inquiry of early-modern cosmologies in their institutional, political, and confessional-ideological settings.

He is also the Principal Investigator of the FARE project Positioned Cosmology in Early Modernity: The Geo-Praxis of Water-and-Land Management in Venice, which received funding from the Italian Ministry of University and Research.
updated on 12 June 2020
Ultima modifica: 13/06/2020
Le informazioni riportate sono state caricate sul sito dell'Università Ca' Foscari Venezia direttamente dall'utente a cui si riferisce la pagina. La correttezza e veridicità delle informazioni pubblicate sono di esclusiva responsabilità del singolo utente.