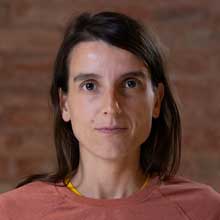 Valeria MAGGIAN
Position

Associate Professor
Roles

Department's Delegate for Communications

Telephone

041 234 9150
E-mail
Scientific sector (SSD)

SCIENZA DELLE FINANZE [SECS-P/03]
Website

www.unive.it/persone/valeria.maggian (personal record)

Office

Department of Economics
Website: https://www.unive.it/dep.economics
Where: San Giobbe

Office hours
Office hours
Room 119, first flooor, A building, Department of Economics in San Giobbe. In March 2023, office hours are scheduled on Thursday from 14:00 to 16:00. In order to book a slot in presence), please send an e-mail to valeria.maggian@unive.it before 17:00 on Tuesday.
Thesis supervision
Undergraduate and graduate dissertations can focus on positive and negative externalities, public goods, gender inequality in education, in the job environment, and in the socio-economic area overall, experimental and behavioral economics (as, for example, the development of social and moral norms, non-standard preferences as altruism, equity, etc.). I expect students to develop their own ideas, and I suggest them to use google scholar for inspiraton.
Notices
ECONOMIA DELL'ARTE E DELLA CULTURA AVANZATO E FISCALITA' DEI MERCATI CULTURALI - 2 - [EM3E02-2] (208574): Ricevimento "collettivo" Economia dell'arte I e II
Published on 09/05/2023
La docente organizza in data 01.06.23 alle 10.15 un ricevimento "collettivo" on-line per gli studenti del corso Economia dell'arte e della cultura avanzato e fiscalità dei mercati culturali I e II. Il ricevimento ha l'obiettivo di permettere agli studenti di porre alla docente dubbi, questioni, difficoltà riscontrare nello studio della materia, al fine di sentirsi "preparati" in vista dell'esame. Si consiglia quindi agli studenti di presentarsi al ricevimento con delle domande specifiche, anche dopo una consultazione con colleghe e colleghi.
Il link per accedere all'incontro è il seguente: https://unive.zoom.us/j/83104825750
follow the feed